With increasing disposable incomes, a new breed of women travellers has emerged, writes Mannika Chopra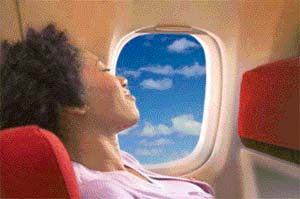 Statistics say that globally, women travellers are increasingly forming the highest growth segment in the travel industry. A recent report, brought out by the Singapore-based Mastercards International, nails the argument.
Based on a survey of 13 countries in the Asia Pacific region, including India, the report shows that the ratio of men to women travellers has catapulted from a 90:10 ratio 30 years ago to a 60:40 level currently. This suggests that today 56 million of the 139 million travellers in this region are women, and by 2011, if the growth continues with the same intensity, they may even surpass men.
In India, a gender breakdown of travellers is almost unheard of. The Ministry of Tourism has no data. Trade bodies like the Indian Association of Travel Operators (IATO) and the Federation of Hotels and Restaurants of India (FHRI) also have no data in this regard.
For an accurate segmentation of 300 million domestic tourists in 2004, an intensive web search also proves unproductive. The only authentic gender information on the five million inbound tourists and the six million outbound tourists estimated this year (2005) lies with the notoriously secretive Immigration Department.
Despite this appalling lack of data within the trade and official establishment, there is an absolute conviction that women are coming into their own as far as travelling is concerned. Far from being simply part of conventional pilgrimage tours, women are travelling as business executives, as part of leisure groups and even solo.
Subhash Goyal, President of IATO, and proprietor of Stic Travels, believes that the increase in this segment has been 30 per cent over the past three years. He recalls how in the late 1970s he had organised a group of 100 women from the Lakshmi Club of Ludhiana to travel to Japan.
"At that time it was an unheard of for so many women to travel abroad without the supervision of their husbands or any male escorts. Now my company routinely organises such groups."
The upper crust hotels are promoting the security and special facilities they provide for the physical and psychological well being of their female guests. For instance, chains like the Oberoi Group and ITC Limited provide dedicated floors for their female clientele. The Leela Kampinsky in Mumbai has a wing reserved for its women guests. The Taj's Residency in Bangalore provides a screen next to the guest's bed to see who is ringing the bell.
Specially deputed women butlers for room service, intimate breakfast rooms, companion services, screened calls, women tour guides are all apart of the deal to make a harried women executive feel "safe" for a steep price.
Ankur Bhatia, who runs Amadeus, an online travel booking, says, many travel agencies give special discounted fares to women and throw value add-ons to their itineraries like a shopping spree to attract women.
In a sense, the escalation in this segment was waiting to happen. Ever since the 1991 economic reforms took place, travel for personal pleasure lost its exalted status. As disposable incomes increased among the women, so did the confidence levels.
"The propensity to travel was more the result of affluence than biology," explains Nina Rao, who teaches Travel and Tourism in Delhi University and is associated with an NGO, Equations, that focuses on tourism policy issues. The urge to cross the seven seas was further triggered by technology. Access to information available on the internet fuelled the market potential. Women grabbed the opportunity and were willing and happy to travel independently.
But somehow, even today, women travellers in India are far from being adventurous divas, ditching the daily grind, struggling against odds to conquer the last frontier. They don't appear as radical disturbers of the peace. For the most part, these tourists come from elite background opting for safe group tours reminiscent of the package tours originally started by Thomas Cook for the women in the Victorian era in the 1900s.
Typically, today, independent women travellers are in the age group of 20s to late 60s. The younger travellers tend to be single, working women and more creative in their choice of destinations. The older travellers, unburdened by familial responsibility and economic disadvantages are forming a new segment: Well past their 50s, they are old enough to use prudently accumulated life savings and not too young to be hampered by demanding husbands and children.
Unlike their western counterparts, Asian women travellers still hanker for family connections, so they relish the shared experience while travelling. Women travelling for pleasure may be a privileged activity; it may not have caused a social transformation but its very presence is changing mindsets leading to progressive thinking. — WFS