Insaniyat amidst insanity
Some recollections of 1947



A view of the Wagah border from the Pakistan side: Political boundaries apart, hearts are not divided
Usha and Rajmohan Gandhi travel to Lahore to talk to people about the Partition and the memories it has left behind: some painful and others that recount acts of courage and compassion. This unearthing of the dark and the noble, they hope, in the first of a series of articles, will assist in the healing of the subcontinent.
1947 – the dawn of freedom, Partition and the birth of a new country. The trauma, too, of perhaps the biggest migration in history and the killing of between half a million and one million people, the loss of homes, lands, all possessions. But if in the midst of such madness there were traces of humanity, of some insaniyat, we wanted such instances recorded. During a nine-day visit to Lahore from July 16 to 25 this year, we were able to make a tiny beginning ourselves in this direction.
When our friend Dr Mubashir Hasan mentioned our interest to Nazir Naji, a Jang columnist, Naji inserted a note in his July 20 column, asking readers possessing accounts of help given to the "other" in 1947 to phone Dr Hasan's number, for the benefit (Naji added) of researchers from India. We met most of our interviewees as a result of phone calls made in response to Naji's note. The rest reached us through friends.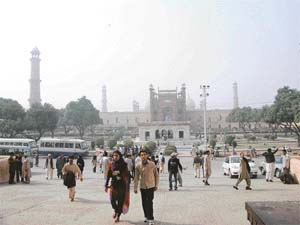 The Lahore Fort: Mute witness to bloodshed and mayhem during the Partition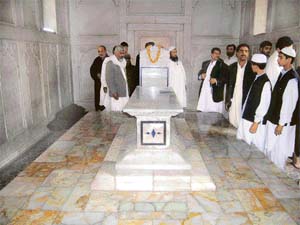 Memories of a poet: The mausoleum of Allama Iqbal, who once had believed in Saare Jahan Se Accha Hindustan Hamara
The more than two dozen people we interacted with recalled 1947 gestures for or by the "other", on both sides of the new border. In interviewers and interviewees alike, the exercise of unearthing such memories seemed to refresh faith in human nature's potential for compassion and courage. We are encouraged therefore to invite The Tribune's readers to conduct such an exercise themselves, if they have not already done so.
Living around most people in both Punjabs, and often in their very homes, are older persons with 1947 memories or with memories related by those no longer living. These memories deserve to be sought out sensitively and recorded faithfully.
It is our belief that an accurate recording of what was done in 1947 by both parts of the subcontinent's human nature — the dark and the noble — may assist in the healing of the subcontinent as a whole and the two Punjabs in particular.
***
We met Chaudhry Muhammad Hayat, a retired Squadron Leader from Pakistan who had played for the joint services cricket team, in his small first-floor room in a crescent-shaped office complex in Lahore's Defence Housing Area. Now 76, Hayat, a grave-looking man, works as a consultant. He came originally from village Snauk Khurd, 6-7 km east of Gujrat on the road to Jalalpur Jattan.
Hayat recalled: "North of this was the village of Nichra where many Nichra Jats lived. There was one dera where five or six Hindu families lived, some of whose members were educated and served in Rawalpindi. Everyone lived in aman and chayn and took part in each other's joys and sorrows.
"One boy of my age, Chunni Lal, studied with me. I used to visit his home and well remember his father Haveli Ram. His two brothers were working in Pindi. Chunni Lal and I sometimes ate in each other's homes.
"Two miles south of our village was a big village called Snauk Kalaan. In this village one-fourth were Hindus, hardworking, educated. One of them was Narain Das, an affluent man helpful with donations."
But Hayat's hero is "Bhagat Saab."
"Nobody knew or needed to know the real name of Bhagat Saab. I first met him in 1939 when I was in the fourth class. He was 60-65, had a short beard, a white turban, a pink and white complexion. He enjoyed smoking the hukka. We boys kept the angithi burning for him. He knew all the principals and headmasters of Gujrat tehsil and used to get the fees excused for poor boys, especially poor Jat (Muslim) boys.
"I was with him in Snauk Kalaan when he said something in Narain Das's ear. Narain Das asked his son to bring some money. He brought Rs 30. Bhagat Saab gave the money to me."
Hayat broke down while narrating this incident. But he added: "Bhagat Saab also said to me 'hisab rakho'."
Hayat's father removed him from school in the sixth class but on Bhagat's persuasion re-enrolled him after four-five months. He went on to matriculate in first division and to a successful career. Had it not been for Bhagat, he told us, he might just have been cutting grass in his village.
"I will never forget what he said when we sat with him one day, 'None decides where he is born. None decides his religion. God sends us to different homes with different religions. We get our religion through God's choice. Can we be blamed for it?' "
"On August 10, 1947, people said to Bhagat, 'bhag jao'. 'I will not leave,' he said. He lived alone, as his wife was dead. Two sons and a daughter lived elsewhere.
"He moved to live with us, in a shed near our well. One day he heard that his daughter and son-in-law had been killed and was greatly troubled. Then news came of a train arriving from the east with bodies of dead persons – poori gaddi katal ho gayee. After this, Bhagat Saab, now 70 or so, became very shaken and ill."
Hayat says he took Bhagat Saab on the back of a bicycle to a hakim in Sialkot and back – a journey of two nights and a day. But there was no improvement. Then a train with Hindu refugees heading for India was stopped near Gujrat. "All on the train were killed," said Hayat. "I saw the scene." Here, Hayat could not hold back his tears.
"After two-three days, Bhaga Saab gayab ho gaye. He just disappeared`85. Inse achha insaan maine nahin dekha."
After he left there were attacks on the village but the villagers refused to join in the frenzy. "Leaders of the village brought Hindus and Sikhs to safety`85and at 2 am one night took them on foot to safety at a camp for Hindus and Sikhs in Gujrat. I walked with the party. In the camp I looked for Bhagat Saab. Lekin Khuda ka banda tha, oopar chala gaya."
***
Prof. Hasan Askari Rizvi's family – or at least a good number of them – migrated from Patiala state between September 1947 and January 1948. Some family members died on the trains that were attacked. Professor Rizvi, who has taught in Pakistan and the USA, spoke to us of his maternal grandfather, Jamil Husain Rizvi, a Muslim League leader, who was practising law in Patiala state. Jamil Husain's life, the professor said, was saved by a Sikh police officer, Sardar Teja Singh, who gave a timely warning.
Later the professor brought for us a 1973 book written by his grandfather entitled Pakistan Today. In this book, Jamil Husain Rizvi (who became Advocate-General of West Pakistan and retired as a judge of the High Court) recounts the suffering and deaths of Muslims in Patiala. But he also gives examples of how help came from unexpected quarters.
During the summer of 1947, Maimoona, a cousin of his and a TB patient, was living in a house at Dharampur hill station along with her daughter aged eight and son aged five. She was under the treatment of Dr Khushdeva Singh. With troubles that flared up she feared for her life and wrote a letter asking her cousin Jamil Husain Rizvi to request Dr Khushdeva Singh to take her into his hospital.
Rizvi sent this letter on to the doctor with a cryptic message: "Wrongly addressed to me, should have gone directly to Dr Khushdeva Singh." The doctor sent a reply, "As long as Maimoona is here her safety is my responsibility."
After Maimoona was evacuated to Pakistan, Rizvi learnt the whole story. The doctor had said to her: "Maimoona, you were my patient till today, now onward you are my daughter. You will come along with me to the hospital."
Adds Rizvi in the book: "Dr Khushdeva Singh not only took Maimoona and her other family members to the hospital but he called one or two prominent Muslims in the night and told them they should go away to the nearby Digshai Cantonment in the cover of night and take refuge with the British Army personnel there, otherwise they would be killed. Thus he was instrumental in saving almost the whole Muslim population of Dharampur."
Maimoona and her children remained in the hospital under Dr Khushdeva's protection for two months and when the killings abated, he took them with a police escort to her father. A draft for Rs 500 which she later sent to the doctor (to return what she had borrowed from him) was sent back with a letter that said: "Maimoona, how could a father after spending any money on his daughter take it back from her?"
The second part of this series by Usha and Rajmohan Gandhi will be carried next week