'I was different from other actresses'
Sharmila Tagore has never been out of the news despite her long absence from films till recently. Debuting with a Satyajit Ray film, she still retains that extra aura, says Shoma A. Chatterji after meeting her in Kolkata recently.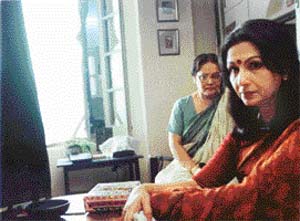 Versatile actress: Sharmila Tagore in Shubho Muhurat
Elegance personified several times over. That is how one would describe Sharmila Tagore. The beauty of Kashmir ki Kali has mellowed into quiet dignity. Gone is the young lady who, after a dream debut in Satyajit Ray's Apur Sansar as a child bride, did a volte face by posing in a two-piece bikini for a magazine cover at a time when it was nothing short of blasphemy. A graceful grandmother, mother to three successful children, wife to an international celebrity, she wears several hats in addition to essaying an occasional character role in films as polarised as Shubho Muhurat (Bengali) and Viruddh.
Looking back, she says, "I realise I was very different from other actresses of my time. My behaviour was grossly misinterpreted. I felt I was making mistakes all the time. I'd wear clothes that were not suitable. Everybody would be wearing a sari and Iturn up in jeans. I was also accused of being snooty and arrogant, which I was not. I didn't know that one was expected to lead a certain lifestyle."
This, however, is not borne out by facts. The style statements she made with her distinctive bouffant hair-do or stiffly bobbed wig with stand-out curls at the edge, the deep-necked choli seductively knotted at the centre, thick, black false eyelashes, were the rage of college girls across the country in the 1960s.
This changed when she stepped into another phase of her career with Aradhana.
Despite her long years in Mumbai where she shone at the marquee for more than a decade, followed by her stay in Delhi after her marriage to Mansur Ali Khan Pataudi, Sharmila says, "I am proud to be a Bengali and to have spent considerable time in Kolkata which occupies a special place in my heart. One must concede that Kolkata has an edge over the rest of the country with three Nobel laureates, an Oscar winner and talents in other fields having carved a niche on the world map. I'm very happy to be a part of the Bengali film industry once more," says she, obviously referring to her roles in Gautam Ghose's Abar Aranye and Rituparno Ghose's Shubho Muhurat.
She is no mean award winner either. She won the Best Actress Award from the Filmfare magazine for her performance in Shakti Samanta's Aradhana, the National Award for her brilliant dual role of a mother and her prostitute daughter in Gulzar's Mausam, apart from Lifetime Achievement Awards from Filmfare and the BFJA.
With her dimples still intact, Sharmila holds her work in the five films of Satyajit Ray very close to her heart. "My first two films with Ray were shot during my holidays. My career in films began as a blend of chance and pressure, with a generous dose of curiosity thrown in," she says. Sharmila becomes nostalgic as she talks about her first day in front of the camera.
"Manik-da (as we all called Ray) decided to begin my shooting for Apur Sansar with the scene that shows me stepping into my husband's small apology of a flat as his bride. I was only 14 years old at the time. He gave me very specific instructions like - 'one step ahead, two to the right, then three towards the window, stop.' I had never faced a movie camera before. I did exactly as I was told and Manik-da seemed to be okay with the shot."
She adds, "Somewhere along the way, there was a kind of blurring of lines between Aparna, the character I was playing, and Sharmila, the real me. Just as Aparna, the newly wed bride was crossing the threshold of her husband's house, I was stepping in front of the camera for the first time in my life. It was like entering a completely new world. It was a turning point but I was too young to realise it."
She is quite happy with the way her children's careers are shaping up. "My three children are into vocations of their choice. I chose not to interfere though I'm there when they wish for guidance. Saif is not only proving his versatility but has also won the National Award. Soha's decision to quit her job to join films took me by surprise but it seems to have been a good one. I'd like her to do roles different from the ones I did. But she thinks otherwise. She wants to do roles like the ones I did in Mausam, Aradhana, Amar Prem and so on. She needed guidance for her debut film Iti Srikanto because it was in Bengali and based on a Bengali classic. I did guide her. But that's about it. We've brought up our children to be independent and I am happy to state that they are independent," she sums up. — TWF