M A I N N E W S
Y.K. Sabharwal appointed CJI
Legal Correspondent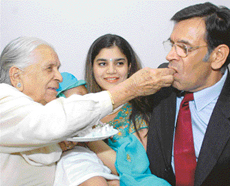 Newly appointed Chief Justice of India Y.K. Sabharwal shares happy moments with his mother at his residence in New Delhi on Tuesday.
— Tribune photo by Mukesh Aggarwal


New Delhi, October 18
The seniormost Judge of the Supreme Court, Mr Yogesh Kumar Sabharwal, was today appointed next Chief Justice of India to succeed Mr R.C. Lahoti, retiring on October 31.

"The President has appointed Mr Justice Yogesh Kumar Sabharwal as Chief Justice from November 1," a Law Ministry spokesman here said.

Mr Justice Sabharwal will have a tenure of one year and two months as Chief Justice as he will be superannuating on January 14, 2007.

Popularly known as Y.K. in the legal circles, Mr Justice Sabharwal was elevated to the Supreme Court on January 28, 2000, from the Chief Justice of the Bombay High Court.

Born on January 14, 1942, he started his practice as lawyer in

the Delhi High Court and had been standing counsel for various government departments before being appointed as a Judge of the High Court on November 17, 1986.

Prior to his appointment as Chief Justice of the Bombay High Court on February 3, 1999, he also had been the Acting Chief Justice of the Delhi High Court for quite sometime.

Known for his expertise in civil and constitutional matters, Mr Justice Sabharwal also had held the posts of the Delhi High Court Bar Association President and Secretary and had been a member of the Bar Council of India.

He came into limelight while dealing with a PIL on the JMM bribery case in 1996, which he heard with Mr Justice D.K. Jain, now Chief Justice of the Punjab and Haryana High Court for months before ordering a CBI inquiry into the matter.

Among other important cases dealt by him as a high court Judge were the allotment of hundreds of petrol pumps by former Petroleum Minister Satish Sharma from his discretionary quota, which were eventually cancelled by the court and banning of unabated constructions in the unauthorised colonies in Delhi.

Mr Justice Sabharwal has also served as Chairman of the Supreme Court Legal Services Committee, Executive Chairman of the National Legal Services Authority, Chairman of the COFEPOSA Board and Chairman of Selection Committee for Appointment of the judicial member of the Railway Claims Tribunal.

As a Judge of the Supreme Court, the recent judgement on Bihar Assembly dissolution was one his major verdicts.