PARADISE BLIGHTED
Wails for the dead, moans of the injured and cries for relief and shelter continue to resound in the Valley, where relief work is on a slow trudge. Sridhar K Chari reports from Srinagar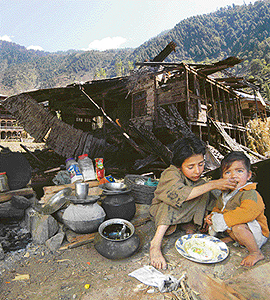 RENDERED HOMELESS: The quake has left many children to fend for themselves. Here's a young girl feeding her sibling amidst the ruins of their house in Kamal Kote, 130 km from Srinagar.


—

Photo by Amin War

After passing through numerous security personnel crouching behind sandbags and barbed wire, one finally gets to exit Srinagar airport. Heavily fortified gateposts open to reveal a white and green board that welcomes you to Kashmir, paradise on earth. It is possible to shrug off the incongruity. After all, this is a frontier state, part of which is claimed by a neighbour with whom we have fought many wars, a state whose people have been divided by a bloody line of control, where militancy, both local and foreign-aided, has taken a dreadful toll on human life for the last 18 years, and where an all-pervasive military presence and counter-insurgency operations have resulted in a deep sense of alienation amongst the people. Putting on a brave face is a part of state strategy, not to mention international diplomacy, and moreover, it is getting better, isn't it?
But it is impossible to digest the irony of another board, 100 kilometres away, welcoming you to Uri, Paradise of Kashmir. Uri tehsil and the neigbhouring Tangdhar tehsil, are both on the Line of Control, close to the epicentre of the October 8 quake in Muzaffarabad in the Pakistan-occupied Kashmir on the other side of the Line of Control (LOC). The villages in the two tehsils bore heavy damage from the quake, with whole settlements being flattened. Kamal Kote, Adusha, Mahadiya, Julla, Jabla, Chambkoot, Teetwal and Gund Saidiayan are a number of villages where buildings made of wood, stone, or brick, crumbled under the shearing forces unleashed by the quake.
The Army, deployed right across the LOC and in the border villages, in innumerable posts and bunkers, swung immediately into action, rescuing and treating the injured, and distributing relief material. Ideally, this emergency action should have been followed up with a coherent disaster response characterised by organised and systematic rescue, resource mobilisation, relief and rehabilitation.
Nothing of the sort happened. Instead, the civil administration struggled to cope, and there was a large gap in procuring and delivering required relief materials. When rains hampered rescue work and threatened to expose victims to the killing cold and wet conditions on the second day itself, there was a loud cry for tents. Three or four days of good weather that followed were completely wasted. Eight days into the aftermath, there were people still crying out for tents, when it again began to pour heavily. And those with tents were fighting off water. Whatever happened to all those designs of all-weather make-shift shelters, which could be put up in a flash, at least during demonstration? In spite of disaster after disaster, there's a gap, evidently unbridgeable, between conceptualisation of programmes and their implementation.
Remoteness and inaccessibility often pose serious problems at disaster sites. In the December 2004 quake and tsunami — which devastated the Andaman and Nicobar islands, with its clutch of scattered islands close to the epicentre — getting relief to the victims and evacuation was hampered by the remoteness of the islands and the fact that jetties were washed away by the tsunami. All operations had to be conducted by air, which has its own limitations.
Many of the Uri and Tangdhar villages are on high mountain slopes. Motorable dirt roads can only be driven on in good weather, and beyond, steep mountain tracks make their way to a point where they can go no more. On the other side is Pakistan.
***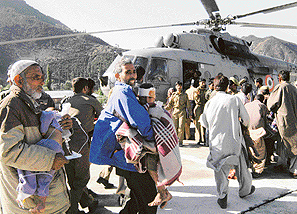 Armed for relief: Army helicopters carrying the injured from affected areas for treatment to Srinagar.

—

Photos by Amin War

The consequences of losing one's way in the mountains, even in clear weather in broad daylight, can be quite serious. Clambering up a steep mountain slope, holding on to little tufts of dry grass, and struggling to find a foothold on loose gravel and soil, with several hundred feet of a drop below, focuses the mind wonderfully.
Regaining the path is only a small consolation. It is, after all, less than a foot wide. High up in Mahadiya, a couple of hours trek up from Kamal Kote in Uri tehsil, clusters of dwellings have been devastated by the quake. The village has suffered several hundred deaths. Life has to go on, and people who have lost children, brothers, sisters, spouses, fathers and mothers, trek down to get hold of what relief material they can in Kamal Kote.
As they trudge back to whatever is left of their homes, a mountain spring is a welcome place of rest. There are more people there, a group of women washing vessels, and an Army team, led by a Major, which is going right up to Sikki, within hailing distance of Pakistani posts on the other side of the LOC.
By the side of the spring are fresh graves. How many are buried here, we ask the women. Eight, including four children, is the matter-of-fact reply. That is when we notice that what looked like a single grave is a double grave, with children.
They don't have enough tents. Says a woman: "We are having a hard time sleeping in the night. We just keep clutches of makki grass on top of us and go to sleep. It is scary, as there are many animals here. We are particularly worried about our children. They will die either from exposure to rain and cold or get attacked by animals."
"Most people want to stay near their homes, even if they have lost everything there," says a defence ministry spokesman, echoing an observation made in many disaster sites. "I must add, though I know it sounds churlish at a time like this, that inhabitants of mountain villages have a tendency to just wait for relief to be delivered to them." The shock from a disaster of this magnitude can be deep-rooted. There are people in the upper reaches who have to be urged to go down and collect relief. The sick and the infirm cannot do it anyway.
In Uri town, a complex containing the offices and residential quarters of government officials, including police, doctors and the teshsildar, was almost completely devastated.
Dr S.M.Arif breaks down when he relates how he escaped the quake. "I was in the room, when the shaking started. I saw one wall fall, and ran to the back, where there was a door. But the door was blocked. Then I ran to the front, where in another room, the entire window fell outwards. I was in the first floor, and I saw a cable wire running across on the outside. It struck me that I should jump, and catch that wire, and that was my only chance of life. I jumped and got saved." A section of the wall, with his nameboard, is still standing.
Dr Arif sleeps in a vehicle in the night. During the day, he and other colleagues occupy the rooms in the hospital building, which survived the quake. "Look at the state of these buildings. You tell me, can anyone who has survived this actually sleep inside a building during the night, especially when the earth is still shaking from aftershocks?"
***
The Army's relief effort is not entirely without incidents. In Handwara, a stone throwing attack on an Army group results in a violent reprisal. The United Jehad Council had promised to stop "operations" in quake-affected areas. While Uri and Tangdhar did not witness militant activity, Poonch, also earthquake-affected, saw a violent encounter in which two jawans and other militants were killed. On the very day of the quake, there was an infiltration bid, in the Nowgam sector of Kupwara district (Tangdhar is in Kupwara), in which eight militants were killed. Sporadic incidents continued through the relief operations. A woman fidayeen blew herself up in Srinagar. Shabir Choudhary, Chairman of the Diplomatic Committee of the Jammu and Kashmir Liberation Front, has said that several training camps in PoK, housing 3000 militants of "various nationalities" had been hit by the quake. "They are either killed, injured, or are under the rubble."
When all the rubble has been cleared, the dead are buried, the injured healed, and the survivors rehabilitated, strategic stock will be taken of the aftermath of the earthquake. The Srinagar-Muzaffarabad road, known to Kashmiris as the Jhelum Valley Road, has been damaged by the quake and blocked by quake-triggered landslides. It will be a few months before the fortnightly Caravan-e-Aman, the peace bus, can ply again to connect divided families.
While the Indian Army lost 45 of its personnel, some 400 Pakistan soldiers have been killed on the other side. Will a powerful natural disaster change mindsets on both sides of the border? Kashmiris still talk about India as another country, even as they express happiness at the help they have received. The government is also in political flux, with an impending handover of the chief ministership from the Mufti Muhammed Sayeed government to a Congress CM, originally scheduled for November. Making borders irrelevant is a difficult task. Even this natural disaster, perversely, seems to have largely kept to the Line of Control, with the line of devastation dividing the Kashmiri south from the Urdu and Pahadi north of the state. From paradise compromised to paradise blighted to paradise returned will be a long journey.