Most metrosexual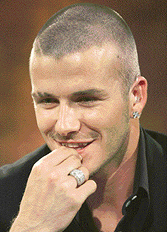 David Beckham

British football superstar David Beckham has topped a list of the world's top five metrosexuals.
According to the New York Post, the list created by Vanity Fair magazine, placed Beckham at the top.
The article said: "There is such a thing as overdressed, even if you're three-quarters naked. And David in a sarong will be permanently etched in our brain as just that.
Next in line was Jude Law, about whom the magazine said: "He excused his infidelity with a counter-attack - Sienna (Miller) just wasn't fulfilling his needs. He's self-focused, and a lot less strong than we realised." Orlando Bloom was third on the list and this is what the magazine had to say about him: "It's hard to nail a reason why, but somehow he's just too pretty." The list was rounded off by rapper P. Diddy and pop singer Robbie Williams. — IANS