Back to the future
The time is ripe for the captain, coach and selectors to build Team India for the 2007 World Cup, writes Abhijit Chatterjee
The Indian selectors are no longer looking for short-term gains. The 2007 cricket World Cup is their top priority. A fairly new captain will lead a youthful Team India in the upcoming one-day series against Sri Lanka. Kiran More and Co. have preferred untried players over some of the seniors, which clearly shows that their aim is to build a team which can serve Indian cricket in the long run.
Rahul Dravid has been given a great opportunity to prove his worth as captain.
Mismatch
Ramandeep S. Bajwa
The Super Series turned out to be a super turn-off. The concept was interesting but its execution was flawed. Far from being a competitive cricketing contest it ended as an one-sided affair with Australia steamrolling the 'world class' World XI without breaking into a sweat.

Australian leg spinner Stuart MacGill was the star of the Super Test, overshadowing legends like team-mate Shane Warne and World XI's Muttiah Muralitharan (right).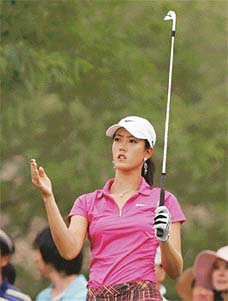 Wie's woe: Golf's glamour girl Michelle Wie, on her professional debut in the Women's World Championship, finished fourth but was later disqualified due to an error on her scorecard resulting from a relief drop she made during the third round. — Photos by AP/PTI/Reuters
THE NEWS
Roller-coaster ride for Narain
Alan Baldwin
Narain Karthikeyan's first Formula One season both began and ended with a bang. He announced his arrival on the biggest track of them all by finishing 15th in the season-opening Australian Grand Prix, where he was mobbed by excited Indian fans. In the concluding race, last week's Chinese Grand Prix, he survived the biggest crash of his career.
Golf bonanza
K.R. Wadhwaney
After a delay of several months, the Indian Open is ready to tee off. The prestigious golf tournament will begin on October 27. In its 41-year history, the Indian Open has seen many brilliant performers and exciting contests. P.G. (Biloo) Sethi of Delhi is the only amateur to have won it (in 1965). Ali Sher, also of Delhi, a hardcore caddy-turned-professional, is the only Indian to have won the title on two occasions, both at the Delhi Golf Club course, in 1991 and 1993.