Wednesday, October 26, 2005

Career Hotline
Be a shooting star
Q I am interested in fashion photography and dream of photographing some of the top models someday. What are the prospects?
— Parvesh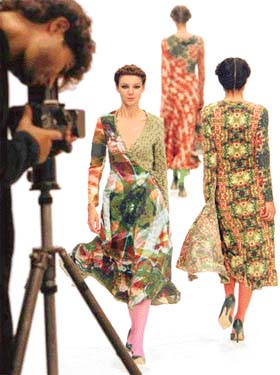 A Fashion photographers breathe life into pictures by brilliantly orchestrating the elements of light, juxtaposition of objects, colour, composition and a beautiful subject. Photography is about split-second decisions to capture that fleeting moment that can be easily missed with the blink of eye.
A fashion photographer is essentially an artist, using exotic locales as his canvas, gorgeous models as his muse and the camera, lenses and an array of supplementary equipment as his paintbrush. However, even the best looking model and the most breathtaking backdrop can look drab and jaded if you don't have the technical skills and understanding of blending colours, backdrop, texture of garments or the ability to control the play of light and shadow.
Some perfectionists will wait endlessly for that one picture-perfect moment to capture a breathtaking sunrise that will form the backdrop of the picture. And if your reflexes are not sharp the moment passes and you may never be able to recreate it ever again!
The fun part is that you get to jet set to fancy locations, hang out with the rich and the famous and draw a fat salary if you make it big. However, it also means heavy investments as the bill for digital cameras, lenses, film, outdoor shooting paraphernalia, tripods, lights and flashbulbs etc can run into lakhs.
As a beginner you start by shooting portfolios for aspiring models and actors. The Internet offers an excellent opportunity to market and display your work. Make sure you are familiar with the latest digital technology and printing techniques to get the best results. Once you make it big you can take up assignments with big designers and fashion houses or even a fashion channel.
In the beginning it is difficult to break even but once you make it big in the world of fashion photography you can charge up to Rs 1 lakh per day. Talented and successful photographers are role models and sought after in social circles — often as much as their glamorous models.


Leave an imprint in forensics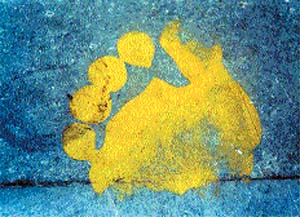 Q I have done B.Sc (Physics). Can you please tell me whether I am eligible for a diploma course in Forensic Medicine?
— Surinder Singh
A Most of the Diploma courses in Forensic Medicine require an MBBS degree.
However, Punjabi University, Patiala, and Dr Bhimrao Ambedkar University, Agra, offer MSc in Forensic Science to BSc graduates (50 per cent agg). So does the Indraprastha University's LNJN National Institute of Criminology & Forensic Sc (www.nicfs.org), Rohini, Delhi (M/o Home Affairs, GoI). Courses: 1) MA/MSc in Criminology. Elig: BA/BSc (50 per cent); 2) MSc in Forensic Science. Elig: BSc (50 per cent)
Besides these, there are other diploma courses in Criminology & Forensic Science. While some are for meant for sponsored police officers or those working in Social Welfare Departments, the others require an LLB degree.
You could also study Clinical Toxicology (study of poisons, their effects, detection and treatment) separately or do a Masters in pharmacology & Toxicology (NIPER).
Be a high-flier
Q I am a small town girl with big dreams. I would like to become a pilot but I am facing stiff opposition from my family.
— Hemlata Kaur
A Indian women have found their wings and are soaring high in search of new horizons. There have been many before you who have cherished the dream of being a part of the booming aviation sector.
You can draw inspiration from Urmila K Parekh, the first Indian woman to obtain a pilot's license way back in 1930 or Prem Mathur who has clocked in the maximum flying hours — 18,500.
Saudamini Deshmukh was the first lady captain in the world to fly an all-women crew IATA schedule flight in 1985 while at 26, Capt Nivedita Bhasin became the youngest pilot in world aviation to command a jet aircraft. These women have shown great determination, grit and self-discipline to chart their own course.
If you are 16 years old, and have passed Class X, you can enrol for the Student Pilot License (SPL). If you are 17 and have cleared Class 12 you can directly enrol for the Private Pilot License (PPL). However, the PPL is not mandatory. You can even obtain a CPL straight after your SPL if you have passed Class XII (PCM) and are 18 years old. To obtain a CPL you need to clock 250 hours of flying experience including solo, cross-country and day and night landing not to mention clearing theory papers.
A big deterrent though is the formidable costs involved. However, if you plan to do the course from IGRUA the Rajiv Gandhi Foundation offers a scholarship for two women pilots on merit-cum-means of Rs. 3,00,000 each per batch.
Disability no disqualification
Q Last year, my son's leg was amputated after a road accident. He is a graduate with excellent communication skills but he feels no big firm will hire him due to his disability. I am very worried and despondent about his future. Please advise.
— G.P. Gill
A I fully understand your anguish but feeling helpless doesn't help. Moreover, why should your son allow what he can't do interfere with what he can do?
What would have been construed as a disability earlier need not be so in today's age. Let me give you an example.
It's no secret that the biggest challenge facing India's sunshine BPO industry — is the high attrition rates. Right from the entry level to managerial level they are as high as 30-50 per cent.
Call centre recruitment heads are confounded by horror stories where an employee switched eight jobs, each time with a fatter pay package — without putting in a single day of work! According to one estimate, the BPO job-hop is eating into 25 per cent of the revenue of most companies.
BPOs like Genpact (formerly Gecis), TransWorks, Progeon Ltd and 24/7 Customer, which did not have a single physically challenged person on their rolls up until last year now boast of at least fifteen 'differently-abled' employees. And what's more, these companies swear by their new set of employees who may be physically disadvantaged but bring with them stability and a high level of commitment to the job.
For now, this is an unwritten recruitment policy that has come into effect and your son has a good chance of gaining employment in areas like quality control, email processing, data entry, voice and accent training or in the human resource cell etc. Knowledge Process Outsourcing (KPO) is yet another option. Do ask your son to read up on it on the Internet.
Moreover, nothing stops him from pursuing higher studies alongside. In fact, I would urge him to do so — albeit through the distance learning mode.
Online tuition may be yet another option which is catching up. Indian tutors are coaching students in the US and Europe via internet. These are just a few sample options. There are literally hundreds of other opportunities — professional as well as entrepreneurial which can be explored. As parents you can play a critical role in building your son's self-confidence - even if it means gently pushing him to overcome his initial diffidence. Don't let a physical disability confine his mind or spirit — get him a good prosthesis and encourage him to go out and conquer the world. The future belongs to those who seek it.
Master art of mehendi
Q I would like to become a mehendi artiste. Please advise.
— Shalini Kapoor
A Of late, mehendi has gone international with music diva Madonna, supermodel, Naomi Campbell and Gwen Stefani endorsing it as a style statement. Designer mehendi has become a body art and is no longer restricted to adorning the hands and feet of the blushing bride.
Mehendi artists both male and female have been cashing in on this trend. No festival — be it Karva Chauth, Teej or Id — is complete without the application of mehendi. In fact, its promotional value is being exploited by brand outlets offering free mehendi application to potential customers. Hip and happening mehendi tattoos are extremely popular with Gen Next.
But it's the sound of wedding bells that make the cash registers ring for popular mehendiwalis.
The talented ones are booked months in advance. Earnings during the wedding season can fetch anything between Rs. 2,000 to an astronomical Rs. 10,000 for bridal mehendi while it is Rs 75 per bridesmaid. If you are really good or associated with a top beauty parlour you can even notch up to a lakh a month during this period.
Word-of-mouth publicity is very important to find new clientele. Besides a fast yet steady hand, a good mehendi artist is also needs to be up to date with popular styles. The Gujarati and Marwari styles depict the entire baraat while the Mughal and Arabic designs use enlarged floral patterns. Zardosi, cartoon motifs for kids, armbands, anklets, nail polish, portraits and navel tattoos are other fashionable styles. You must keep introducing new patterns and master the trick of making the colour darker.
The best way to start out is to learn the craft from an experienced artist. Some mehendi designers even hold basic and advanced courses in cone making, application and design.
Art of the matter
Q I have just completed my BFA and I am interested in art direction or set designing for films. Can you please suggest some relevant courses and what does it entail?
— Chandrachur Singh
A Whether it's the opulent sets of a mega budget film like Devdas or a more modest, minimalist set for parallel cinema or recreating the historical aura of a period film like Mangal Pandey, the set designer has to put it all together from scratch and make it look real.
Being an art director means not just dressing up the set but each and every frame of the film. This includes deciding the overall colour palette, design and construction of the set, set decor, props, pictures, vehicles, wardrobe, makeup and hairstyles.
Your work must be both aesthetic and authentic to meet the specific requirements of the script. The job profile is an exhaustive list of `selecting the right location; conceiving visuals in3-D, work in close co-ordination with the film director, cinematographer and costume designer to develop the feel and look of each frame to supervise the decoration and sticking to the budget allocation. You must be able to think on your feet and come up with creative solutions if there is a sudden change in shooting schedule.
Proliferation of the multiplex culture necessitates `guerrilla filmmaking' which follows break neck shooting schedules. The new breed of young and energetic art designers bubbling over with artistic ideas put in close 10-12 hours per day.
It is no longer Okay to shoot the film and pray that everything will fall into place. In this new environment the art director or production designer needs to invest a lot of time in pre-production planning. Then there are the technical aspects like leaving space for the camera and crew, headroom for lights and mikes etc which need to be factored in.
For film buffs this is an ideal opportunity to learn while you earn and still have fun. A part of your work entails watching films to observe new trends and innovation in design. For a fresh graduate it is best to start work under an established art designer and pick up tricks of the trade while you are on the job. Once you have established yourself in the film fraternity you can command anything up to Rs 10 lakh or even more for a film.
Any good course in interior design offers a good launch pad for starting a career in art design.
Paramilitary forces
Q I would be very grateful if you could tell me the procedure for recruitment of officers in the paramilitary forces.
— Harjeet Singh Dhillon
A Officers in the paramilitary forces i.e. BSF, ITBP, CISF, CRPF etc. are recruited by the Special Selection Board (SSB) of the Central Police Organisation (CPO) through a written examination followed by physical efficiency test and an interview.
Graduates between the age of 19-25 are eligible for taking the written exam that covers general awareness, reasoning, numerical ability, essay writing, written comprehension etc.
The physical test includes various events like 800 metre race, long jump, high jump etc. to assess your strength and stamina. Short-listed candidates have to undergo a medical examination. On selection, you will be appointed as an Assistant Commandant or Deputy Superintendent of Police.
Scope in software
Q I am in Class XII (maths with comp sc). Please give me some information about integrated MSc courses.
— Angad Dev Singh
A Other than the IITs which offer integrated MSc (as well as MTech) programmes in subjects like Biotechnology, Physics, Chemistry, Industrial Chemistry, Applied Geology, Exploration Geophysics, Maths & Scientific Computing, and IT, several other universities offer such programmes e.g. Birla Institute of Technology & Science (BITS) (www.bits-pilani.ac.in)
Pilani (Raj) H N B Garhwal University, IIITM Gwalior (MSc IT), Satyabhama Instt of Science & Tech, (Deemed Univ), Chennai (TN), AVC College of Engg, Mannampandal (Sw Engg), etc.
As in the case of undergraduate courses, admission to all integrated courses is on the basis of the respective entrance exams (JEE, AIEEE or state-level entrance tests).
Pursuing an integrated course helps only when you are absolutely sure of your choice of subjects right at the outset (Class 12). In which case, it saves you a year or so.
Also, unlike the usual BTech/BE or BSc course after which you have to take an entrance exam like GATE etc, for admission to MSc programmes in the IITs for instance, you directly move into the postgraduate level of the integrated programme.
For detailed listing of various universities and IITs offering integrated courses, you could refer to the Universities Handbook (Association of Indian Universities publication) in your school library.
Paper technology beckons
Q What is wood & paper technology? Where is this course offered?
— Ravender Khosla
A Wood and paper technology is all about applying chemical, physical and engineering principles to analyse the properties and behaviour of wood and wood products. It is used to develop processes for converting wood into paper and other products.
The course will teach you how to classify and test wood and develop wood-based products. You will also learn about the latest manufacturing and processing technologies, and how to design and develop related equipment and systems.
You can pursue BTech Pulp & Paper Tech:
IIT - Roorkee, Roorkee 247667, (UP) (www.rurkiu.ernet.in)
Amravati University, Department of Chemical Technology, Near Tapovan, Amravati 44602 (www.amtuni.com)
Nagpur University, Laxminarayan Institute of Technology, Amravati Road, Nagpur 440010
Soar out of anonymity
Q I am from a village in Punjab but dream of becoming an airhostess. Do you think my rural background will hamper my progress? What are the prospects?
— Dewinder Kohli
A The Bharat-India divide is fast closing in and you'll be surprised by the number of applicants from rural and small towns queuing up for airhostess jobs.
No one is saying that it is going to be easy. But if you have the grit and determination you can surely get your wings for this high flying job. To qualify you should be below 25 years, a clear complexion, pleasing personality, height (154 cm - 170 cm barefoot), weight (in proportion to height), stamina and normal eyesight. The minimum qualification is Class 12, though most airlines prefer graduates or diploma holders in hotel management/ catering/ travel and tourism.
Proficiency in English and Hindi is an absolute must while familiarity with a foreign language is desirable. Most airlines advertise for vacancies specifying the desired qualifications. Upon selection, the airline will put you on a rigorous training programme. Besides learning how to tie a perfect sari, you will be trained on in-flight services like identifying various wines and cheeses to serving meals, and handling passengers. The training will also include tips on transactional analysis, personal grooming, voice training, emergency evacuation and first aid.
The career of an airhostess typically spans eight to ten year after which you can move onto working as a Ground Hostess or Check Hostess.
Initially, the pay plus allowance will add up to Rs 20,000 - 25,000 while international carriers offer double the amount. A senior airhostess can earn up to Rs 75, 000 per month.
The opening up of the skies and entry of new domestic and international airlines translates into opportunities galore for aspirants. You can also apply for a job in private carriers by large corporates and business tycoons.
The writer is a noted career consultant
Please send in your query, preferably on a postcard, along with your full name, complete address and academic qualifications to: Editor, Jobs and Careers, The Tribune, Sector 29, Chandigarh-160030, or at careers@tribunemail.com