Wednesday, October 26, 2005
Put your best foot forward
With the footwear sector growing by leaps and bounds, this is the right time to step into the shoes of a footwear designer, writes Usha Albuquerque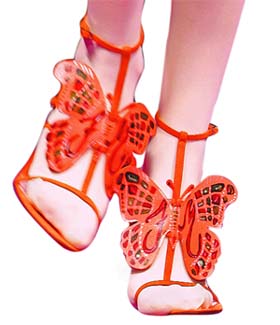 IT is said clothes maketh a man. And with the shirt and tie, or suit, go the shoes. At one time interviewers usually judged a candidate by the shoes he wore. Today, with the variety of footwear available that may be difficult, but nevertheless, footwear is an important part of one's total look. In the present world of high fashion and beauty awareness, a person's character is defined by the kind of clothes and shoes worn. Of course, much of this fashion hype has been created by manufacturers eager to push sales. And the rising demand for specially designed and manufactured clothing and accessories is a fallout of this phenomenon.
Footwear is one area that has seen a boom. The increase in demand and choice for footwear has led to a spurt in the number of companies dealing with footwear production and export. At one time footwear was only made from leather, but today there is a huge spurt in the use of different materials — from plastic and canvas to jute, rubber and even cloth.
That's where the new areas of work are in this fascinating career. While the traditional Indian "chappals" and other footwear are still made by hand in the unorganised village sector, the manufacturing of shoes is now a highly mechanised process, involving the use of sophisticated machinery, and skilled manpower. And seeing the huge opportunity several private sector companies, and big international names have come into the country for the design, production and export of footwear.
Footwear can be broadly classified into three different categories. These include: shoes made with leather, those made from synthetic materials, and those made from other fibres.
Work, my foot
There is also a proliferation in varieties of shoes, whether for men, women or children and for different activities — formal shoes, casual shoes, sports shoes, trekking shoes and so on. And they come in all colours, shapes and sizes.
Most of the work in the footwear industry is highly mechanised and very technical covering the design, manufacturing and marketing of shoes.
Design: This involves creating new styles of footwear, and sometimes new uses for particular designs, keeping in mind the demands of clients, and the popular demand in the market. Designers work on patterns of footwear, the development of patterns and grading of patterns, according to which samples are made. The design process has now become highly mechanised, involving the use of computer aided design systems.
Manufacturing: Manufacturing of shoes is not a cobbler's job anymore. Whether manufactured by leading shoe companies, or by small-scale factories for sale in the domestic market, it is a highly mechanised process, handled by skilled technicians.
Marketing essentially involves the selling of the different styles of footwear to an expanding and ever demanding domestic market and for the export sector. This requires a basic eye for design as well as an instinct for what will sell.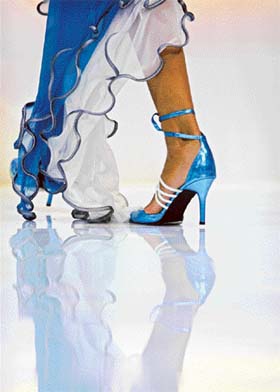 Get a toehold in industry
Footwear technology is a specialised field requiring trained professionals. Science graduates, with training in footwear technology, and designers with some specialised footwear design training can get into this career.
There are not many institutions in the country, offering courses in footwear technology. The Footwear Design and Development Institute (FDDI), located at centres in Noida, and Chennai, provides professional training in management, supervision and design of footwear. The institute was established in 1990, by the Ministry of Commerce, to encourage young people to join the industry. It has been aided by the United Nations Development Programme (UNDP), and most of its instructors have been trained abroad.
The institute provides an undergraduate diploma course in footwear technology for plus two students (3 years). Science and engineering graduates can apply for the PG diploma programme in footwear technology, while the diploma in Footwear Designing (DFD) is a one-year course for graduates in fine arts, or graduates in any other discipline, having a flair for sketching. The institute also offers a Footwear Management programme for which you need an engineering degree in mechanical or production engineering or leather technology, and several short courses too. Admission to the institute is on the basis of an entrance examination consisting of a written test and interview.
Course clues
The Central Leather Research Institute (CLRI) in Chennai also has provisions for training and research in the specific area of leather footwear. The institute offers long and short-term training courses to students who have cleared the plus two exam. It also offers B. Tech and M. Tech, as well as PG diploma courses in leather and footwear science and engineering. The CLRI has tied up with two leading vocational training institutions from France for providing highly rated modular training programmes for master technicians and supervisory staff.
Training talk
There is also the Central Footwear Training Centre (CFTC) based at Chennai that offers degrees and diplomas in footwear technology. Moreover, footwear science and engineering are offered at the post-graduate level as an M.Tech programme at the Alaggappa College of Technology, and also as a post-graduate diploma programme at the College of Engineering, Madras.
The Government Leather Institute, Agra and the Harcourt Butler Technological Institute, Kanpur, also offer postgraduate courses in footwear technology.
Footwear design is offered as a specialised course at the National Institute of Fashion Technology at Gandhinagar, and as a part of the accessory design programme at some other NIFT centres.
Skill set
A new and exciting field, footwear technology requires a flair for visual conceptualising and sketching, and creative and innovative skills. Thorough knowledge of science and machines is essential for managers and supervisors, since they have to handle advanced technology.
The Indian footwear industry is absorbing all the trained professionals it can get in an emerging industry with demands both in the domestic market and for exports. There is also a lot of scope for setting up of a private unit. This is because the initial investment is quite reasonable for small-scale industries. Moreover, the F.D.D.I. provides loans to students securing more than 70 per cent marks, (depending on their financial conditions). With big players such as Reebok and Nike making huge investments in this area, and the ever increasing demand for footwear for millions of Indians, without even their first pair of shoes, this is a career which will be marching into the future with big strides.
The writer is a noted career expert