Wednesday, October 26, 2005
Geriatric course beckons the young
Vishal Gulati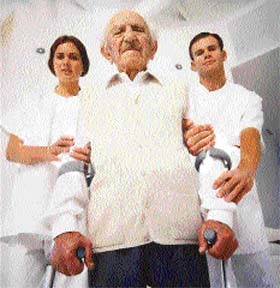 FOR persons interested in taking up the field of social work, particularly those keen on extending a helping hand to the aged, the Lions Club Chandigarh Central is conducting an eight-week live-in geriatric caregiver practical certificate course at the Lions Old-Age Home, Sector 15-D.
The club, a unit of the Lions Clubs International, USA, started this course in March.
"The course has been designed in such a way that a student can identify the problems of the aged persons and handle these without any difficulty," says Sanjeev Gupta, former president of the club.
Practical training
The course comprises practical as well as theoretical training. During the course, every student is attached with an inmate of the old-age home, whose strength is around 32. The students have to understand the behaviour, problems, habits, likes and dislikes, etc of the old people.
On every alternate day, a two-hour lecture session is organised. Doctors, physiotherapists and counsellors educate the students on how to handle an emergency, how to collect samples of urine and blood, how to examine body temperature and blood pressure, how to maintain their bank accounts and legal documents, how to handle electrical appliances, etc.
Out of the 200 hours of the course, 152 are devoted to practical training. Till date, the club has trained 38 students.
Work options
Says Gupta: "After completing the course, one can join as a helper in a hospital, old-age home or NGO. There are cases where the family canít devote full time for the care of elders, so they need family health workers. The course can be beneficial for students who are doing vocational courses. Even the demand of health helpers is good in the USA, Canada, Australia and other Western countries."
For admission to this course, the candidate must be physically fit and have passed Class XII. The candidate should be aged between 20 and 30. The course starts in the first week of March, May, July, September and November. The next batch starts on November 7. Every batch has a maximum of 10 students. After the completion of the course, a certificate is given.
Even the Punjab and UT Red Cross Societies are running training courses in first aid at Chandigarh. The courses can be beneficial for those desirous of making a career in social work.