GOOD MOTORING
Get Ďtyredí again
H. Kishie Singh
IT has been said time and again in this column that possibly the most important fitment on your car is the tyre. It is your only contact with earth. The real problem with worn-out tyres is that they are a menace and danger to society. This was illustrated in an ugly example last month. A bus with worn-out tyres had a tyre burst. The bus went out of control, left the road and rammed into a tree. A pregnant 25-year-old girl was killed and 22 people were hurt, some grievously. The dead womanís one-year-old daughter, who was sitting in her motherís lap was seriously hurt. The bus driver ran away from the scene. The bus company will be held responsible. An FIR was filed under Section 304 of the IPC ó death due to negligence.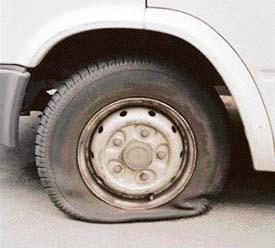 The DSP, who was at the scene of the accident, actually crime to my mind, said: "The tyres were not only worn out, they were threadbare." This is criminal. The bus company is saving money at the cost of human lives.
This did rocket the police into action but as usual in a couple of months all will be forgotten and it will be business as usual, which means worn-out tyres, faulty brakes and non-functioning wipers. All this puts the lives of road users at great risk.
Ever since I have been driving on Indian roads, most buses I see have only one wiper on the driverís side. With one wiper, the driverís vision will be down to 50 per cent in a rainstorm. Also, the length of the wiper blade clears only a small patch on the large windscreen. Drivers can often be seen peering through a window, which is inadequate for safe driving.
Just a glance from a distance can show the bus is not roadworthy if it has only one wiper. But I believe not a single challan has been handed out to such buses.
The bus operators and drivers are possibly ignorant about road safety but you can make your contribution to road safety. Make sure you have a good set of tyres. Winter is approaching and this can be hard on your tyres.
A tyre blowout can be caused by the heat generated through friction as the tyre runs over tarmac. In winter, a car parked in your garage in Chandigarh will have low tyre pressure. As you head out for Delhi, the tyre heats up as does the air inside and this hot air exerts pressure from the inside. Weak spots could be caused in the tyreís construction due to various reasons. The tyre could get bruised when it hits a pothole at high speed or its sidewall could become weak if it scrapes against a pavement. Tyres also get cuts from sharp stones. Such weakened spots are most likely to cause the blowout.
Another must, keep your tyre pressure as recommended. The immediate effect will be improved fuel consumption and we can all do with that what with the fuel prices being what they are.
ó Happy motoring