INSANIYAT AMIDST INSANITY
RECOLLECTIONS of 1947
He stayed on hoping the madness would end
Usha and Rajmohan Gandhi, in the last of the series on the Partition and the memories it has left behind, call upon people to record more such accounts ó some painful and some hope-sustaining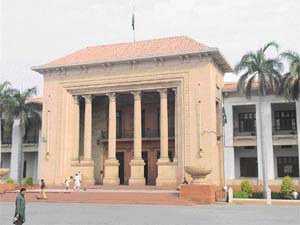 The Punjab Assembly building in Lahore: A witness to the times gone by.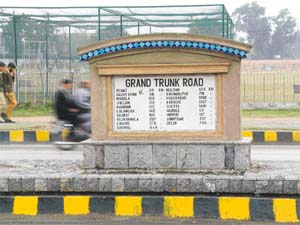 The famed GT Road: The link between the two nations survives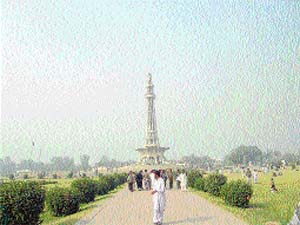 Minar-e-Pakistan: A symbol of nationalism
ó Photos by A.J.Philip
Samina Akram Sayed, daughter and wife of police officers, told us in Lahore of her fatherís role in 1947 in protecting Prem Pandhi, one of Indiaís tennis stars in the 1940s and later a distinguished leader in industry and education. Saminaís account put us on a trail that led to a first-floor office in New Delhiís Connaught Place where we met 86-year-old Prem Pandhi.
A son of Lyallpur lawyer Chamanlal Pandhi, Prem graduated from Lyallpur, excelled in tennis besides other sports, did MA in history at Lahoreís Government College, and later obtained law and BT degrees. A teaching assignment at the prestigous AitchisonChiefsí College followed, the tennis circuit continued, and then came a job with Bird & Co.
An older sister, Bimla, was married to police inspector Narinder Nath Chopra, who became an SP in 1947. Narinder lived in Lahoreís overwhelmingly Muslim Fort area along with his brother Kedar Nath, also a police officer, and their mother.
Along with Premís parents, Bimla and her two young sons and others in Lyallpur left for India on August 10, "just before the peak of the carnage." Prem stayed on in Lahore thinking the madness would soon end.
Around August 22, the two police brothers came in uniform to Prem Pandhiís office on the Mall Road, saying they had been transferred to Panipat and Delhi. They asked Prem to take them and their mother (waiting in a tonga on the road) to their Fort house in Pandhiís Ford Prefect, which was parked on the Mall Road. They said they were going to remove their belongings in three or four hired tongas.
Pandhi tried to dissuade them. The times are dangerous, he said. They insisted, saying the SHO in their area was a friend and had promised assistance. Prem took them in his car to the Fort home.
In three or four hours the tongas were loaded. But a couple of policemen came and said a big crowd had collected near the car and it was dangerous to go there. "Donít worry," said the brothers. "We are police officers and have revolvers."
The mother, her two sons and Prem Pandhi walked to the car and saw that the carís tyres had been deflated. A crowd of 100 or 200 persons carrying lathis and daggers pounced on the two brothers. "One brother was killed on the spot, the other seemed to have still some life left (he soon died), and the mother too was hurt (she was rescued.) But nobody touched me. I was dressed in shalwar kameez and Peshawari chappals and taken for a Muslim."
Policemen took Pandhi to the thana and asked him if he wanted to phone anyone. He phoned Anwar Ali, the DIG, whom he knew. Anwar Ali (the father of Samina Sayed) said he would come immediately and instructed the SHO to protect Pandhi. Ali arrived with two jeeps and men with sten guns and took Prem in one of the jeeps, guns pointing outside, to his home. Before leaving the thana, Anwar Ali said to Pandhi: "By now they know you are a Hindu. My men will shoot and kill, but I cannot guarantee that you will remain alive."
After two-three days in Aliís house (where he was locked up in the bathroom for safety whenever the DIG was not at home), Anwar Ali said to Prem: "You better go away. It is impossible to keep your presence a secret, with servants and all. I have found you a seat on a plane to Delhi. Here is your ticket. You will go confidently to the airport, driving my car. It will be safer that way. No attention will be drawn."
Pandhi recalled: "I drove to the airport, left the DIGís car there with the key inside, boarded the plane and reached Delhi." "I donít think I have paid Anwar Ali for the ticket," he added.
Samina Sayed visited India earlier this year and managed to meet Prem Pandhi. "We were in tears when we met. In 1947, I was a very young girl. All I knew was that this man who seemed in trouble was staying in our home and there was an air of secrecy about his stay."
***
Years ago we learnt from a friend in Pakistan of several of her relatives losing their lives in the 1947 frenzy. On this visit, we met (in her motherís home in Thokar Niaz Baig) others from her family, including Aunt Sughra who spent her early years in Jullundur. In 1947, Sughra was a young wife and mother in Delhi. Her husband, Abdur Rasheed, was a railway officer hailing from a family settled in rural areas near Jullundur, in villages Singhpura and Uggi.
We asked Sughra Rasheed for the names and ages of those who had been killed in August 1947 in Jullundur. She answered:
"Dr Badruddin, the father of my husband. He was 60. Fatima, his mother. She was 55. Jamila, their newly married daughter, my husbandís sister. She was 25. Tahira, their younger daughter, who was 22. Qutubuddin, my husbandís nana, who was also my dada. He was 80. Idu, a mulazim. Iduís wife Fateh. Five children of Idu and Fateh."
"The family was living in a Hindu mohalla on the main road with only two Muslim homes. Amne-samne was a Hindu family who had said to my husbandís family, donít go. I remember two girls from that family, Sheela and Dhannu.
"I donít think the family could have been involved. I think they were helpless before the attackers."
Her husbandís older brother Sharif, who was in Solan with his young wife and a two-month-old daughter, was protected by Hindu friends who helped him and his family to move across to West Punjab. But Sughraís nani Ayesha, who was part of a walking caravan trying to reach Pakistan, died on the way, as also the naniís sister Jeena.
Sughra nonetheless added: "Jullundur se itna pyar hai. As we get old itna Jullundur yaad aata hai. Jab koi Jullundur ki baat karta hai, dil mein kuch ho jaata hai."
If asked, a larger number on both sides can spell out the names, ages, and appearances of near ones who perished in the fires of 1947. If their now-distant yet still largely unmourned deaths are not to be in vain, perhaps we should remember the heroes of 1947, often simple neighbours who protected, concealed, and sent to safety men and women who went on to make significant contributions on both sides.
To repeat what we said in the opening piece: those who have access to people with recollections of 1947, the painful as well as the hope-sustaining, should make the effort to record them before the memories are lost for ever.
In these three articles we could share from only a few of our Lahore interviews of July this year, which were made possible ó we thankfully acknowledge ó through support from Friedrich Naumann Stiftung.