She sang from her soul
Begum Akhtar; The Story of My Ammi;
by Shanti Hiranand; Viva Books. Pages 170. Rs 1,295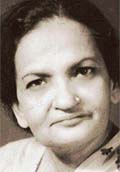 Mohabbat karne wale kum na honge teri mehfil me lekin hum na honge ó true to one of her last recordings, even 31 years after her death, people revere Begum Akhtar for her ghazals, knowing little about the person behind the rich voice.
A new book by one of the singerís disciples, throws light on the life and little-known aspects of the personality of Mallika-e-Ghazal, who for most connoisseurs of ghazal, has remained a mystery.
"She made a great deal of money, but gave it away generously to her immediate family and all those in need of help. As a teacher, she treated her advanced disciples like her own children," says Hiranand.
When she died, no one came forward to help. At the All India Radio, Ahmedabad, where she had gone for a programme, no duty officers turned up to help so that her body could be taken to Delhi. Even the hospital coldly told her assistants to remove the body once it had been embalmed.
Hiranand says they were not able to charter a flight to bring her body as it required a ministerís prior permission. "... these arguments and discussions just go to prove the utter callousness of the government of the time."
Begum Akhtar had such an aura and commanded such respect that even Pandit Nehru once is said to have got up as she reached the dais at Red Fort to perform. At her first concert in Calcutta in 1934, the Nightingale of India, Sarojini Naidu, after hearing Begum Akhtar, praised her.
"She was a fiercely independent-minded person and a brave character who drew her life path herself. She was among a small number of artists who grew up in feudal culture and sparkled in its aftermath.
"Spanning the transition from colonial times was in Begum Akhtarís case a transition also from being the wife of a respected lawyer of Lucknow," she says, adding "she (Begum) was candid enough to admit that she came from a tradition of tawaifs. But added that she earned her living from that profession with honesty."
So strong was her wish to get married and reach a respectable status in society that as part of an arrangement she gave up singing after her marriage, says the book. As her husband Ahmed Abbassi later admitted in an interview that this took emotional and physical toll on her. It became worse after her motherís death in 1950 and physicians advised him that "Unless I permit her to resume her singing and provide her with an emotional outlet, she might become deranged with sorrow. So I had to agree. Slowly she resumed her radio programmes and concert performances."
"...the influence of Abbassi Saheb and his love for Urdu poetry gave Ammi the clarity of her recitation of prose," says the author, noting that "over the years Ammi developed a style completely peculiar to her."
Her style was entrenched in the folk traditions of the region. Despite the fact that she trained intensively in the classical forms of Kirana and Patiala, she only bared her heart and soul through folk music.
Though she limited her instruments to the traditional sarangi, harmonium and tabla, much later she experimented with different sounds like the clarinet and violin.
A devout Muslim, she even went for Haj and claimed to have a personal equation with God. For days she would read the Koran like a true believer... on other days she would put the Holy Book away to one side saying she had a fight with Allah!
She accepted the prasad from a temple with equal reverence and as Hiranand recalls she once said "Krishna is the God of love and anyone who doesnít love Krishna cannot possibly sing."
"She would equally receive guests on both Holi and Divali... and on Divali, she would see to it that large oil lamps were lit. She was broadminded in that sense," says the book.