Mixed offering
Komal Vijay Singh
Post Box No. 99 and Other Stories
Edited by Ruskin Bond Rupa. Pages 98, Rs 50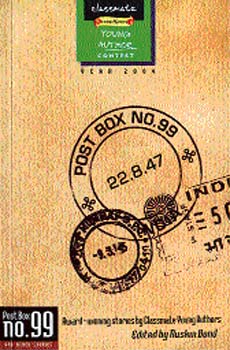 THIS is a mixed bag of fine and not-quite-so-fine stories written by 12 school-going authors. These award-winning stories are the end product of the Classmate Young Author Contest, which was designed in 2003 to discover new talent and encourage future young authors. In its second year, in 2004, the contest reached more than 2,000 schools and 40,000 schoolchildren in 12 cities nationwide. The stories were submitted by class 9 to 12 students. A panel of distinguished journalists, writers, editors and teachers sifted through the entries and short-listed the top two stories from each of the participating cities. The national jury then evaluated the 24 stories and came up with the top 12 finalists and winners. The author of the best story, Post Box No 99, was Jyoti Iyer from Lucknow.
The 12 stories take up a variety of themes. Jyoti's story, set in the Subcontinent in 1947, is a moving tale of friendship and nostalgia. It makes the reader believe that true friendship can survive the hardest of times. Akhila Phadnis' imaginative story, A Day in Paradise, is about the devil spending, or trying to spend, a day in heaven to win a bet with an angel.
Debi Talukdar's A Bald Man's Comb is a beautiful experiment with delicate human emotions. Writing a metaphorical story, she gives a gripping account of a man deserted by family, friends and colleagues, facing death from cancer. She relates effectively how, all alone, he finds the strength within himself to fight his illness. Shriya Pilgaonkar has penned a philosophical piece about a tormented eight-year-old boy who is intimidated by a world beset by turmoil and turbulence and wants an appointment with God.
Indrani Basu writes about a young athlete who has a recurring nightmare and how, aided by her best friend, she comes to term with it and emerges successful. Jeevan Austin has tried his hand at weaving a story of family love. L. Linda Beatrice's Ctrl-Alt-Del is a captivating tale of human drama. An intricate plot describes the dilemma of the protagonist when she has to decide what is morally right and wrong. Sreerupa Chowdhury gives a canvas to fear and guilt in a good suspense story. It is a surprise to find two damp squibs in the form of ghost stories by Neena Abhyankar and Romita Majumdar in an award-winning collection. Shail J. Deliwala's and Mohd Salman's stories are a mingle-mangle of science fiction.
The profiles of the 12 authors, given at the beginning of each story, are delightful. Their choice of career and favourite authors are quite revelatory. It is Agatha Christie, J. R. R. Tolkein, Roald Dahl, Paulo Coelho, Dan Brown, P.G Wodehouse and of course, J. K. Rowling who hold sway over their minds. Most of them wish for a career in journalism, advertising, teaching, law or psychology.