Lavish motifs on huqqa
Suraj Saraf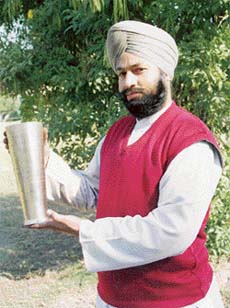 Sardar Inder Singh with a brass jug
SARDAR Inder Singh of Jammu, who belongs to a family of traditional pot makers, has such a rich collection of huqqas that he intends to make it to the Guiness Book of World Records.
The art of smoking comprises richly carved designs on smoking pipes of varied shapes and sizes, used in various parts of the world. Huqqa may be regarded as the most complex of smoking contrivances. Its water pot provides enough space for carving intricate artistic motifs.
In an auction of Mughal art in London last year by Christie's, a Mughal huqqa had fetched `A3 94000. It was decorated with sapphires and blue enamel. A collection of huqqa water pots by Inder Singh of Jammu does not contain as valuable pieces as the Mughal huqqa, but it is unique in its own way. First, it is the large number of huqqa water pots—close to 300— that makes this collection singular. Secondly, there are the luxuriant carvings— intricate, complex, linear, meandering, with occasional bird and human figures, inlaid or embossed—that instantly attract your attention even as you explore these impressive and lavish motifs.
They are also of various shapes and sizes. Though they all comprise a round and flat base, rising into an expanded middle and ending in a long neck into which fits the upper huqqa structure. They are all made of brass and may vary from around 15 cm to 40 cm in height.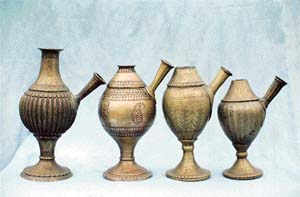 Some old huqqa water pots with ornamental designs on them
Asked as to how he had cultivated this passion, Inder Singh said they were traditional utensil makers. During his childhood, he saw people coming to their shop and selling old utensils, including a huqqa water pot occasionally, at throwaway prices. He also saw some others who would come to the shop and sift scrap material. They would choose some particular piece and pay a much higher price than what the shop had paid for it. This whetted his curiosity and by and by he learnt the secret behind it.
The elderly members of his family were considered expert metal casters. Occasionally some sculptor will also approach them for metal casting his art piece. This further fuelled his interest and he became almost a full-fledged art hunter. He spared no money or labour to acquire huqqa water pots despite financial constraints.. He was attracted to huqqa water pots because of their varied shapes and intricate carvings on them. Recently he acquired a water pot that has 25 peacocks engraved on it.
Over the years, his passion for art collection has spread to other fields too. He has set up a private museum in his house though is facing the problem of space shortage. His private museum named Himalayan Heritage Museum has the following art objects in it: 6,000 coins (the oldest coin is from Kushan period), 600 art objects (in brass, copper, bronze and white metal), 3,000 stamps, 3,000 match boxes, 100 woodworks, 85 manuscripts apart from stamps, textiles, paintings, belt buckles, gold plated buttons, statues, armoury, jewellery, etc.
At present Inder Singh is confining himself to collecting art and curio pieces from the Jammu region or adjoining locations. His mission is to collect such objects from all along the Himalayan belt.