Miniature paintings gain ground
The Rajasthani miniature tradition goes back to the 11th century. Depicting the colourful heritage of the desert state, these paintings attract foreign tourists as well as local buyers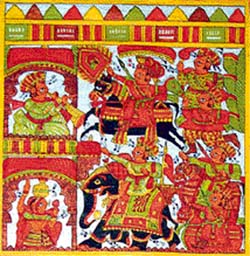 Handmade Rajasthani miniature paintings are fast gaining popularity
Handmade Rajasthani miniature paintings, depicting the rich and colourful heritage of the desert state, are fast gaining popularity in the international as well as domestic market.
The delicately etched canvases reflecting scenes from myth, legend, history and nature have admirers in plenty. Art lovers place a high premium on them.
In fact, the yearly business in these handmade miniature paintings is around Rs.1 billion ($22.5 million).
"In the last two years, there has been a spurt in demand for these paintings. Though foreign tourists are the main buyers, local customers have also started to buy them in good numbers," said Jeetendra Mudgal, who owns a shop here selling miniature paintings.
He said the paintings could cost anywhere between Rs 200 and Rs 500,000 depending on the artistís workmanship and its age.
With annual exports of more than Rs 500 million, this trade today is a major source of earning for about 10,000 families in the state that are directly engaged in it.
The miniature tradition goes back at least to the 11th century, with seven styles in different kingdoms developed in Rajasthan. The Mughal influence was seen in the depiction of the Mughal court style, yet the painters by the 17th century settled for traditional idioms and regional elements.
Though nowadays the use of synthetic colours is widespread, the traditional painters used mineral and vegetable dyes. Miniature paintings are often painted in glowing mineral and vegetable colours on handmade paper.
Sometimes the work is so delicate that to use gold and silver colours local artisans and painters have to use magnifying lenses.
Jaipur, Udaipur, Jaisalmer, Bundi and Kishangarh are the major centres of miniature paintings in the state.
For foreign tourists coming to Rajasthan, these paintings are a must.
"These are real masterpieces of art. The artistic work with gold paint is really mesmerising. Besides they look like antique paintings," said Theodra Strutz, an art lover from the US.
"These paintings show a real picture of age-old Indian culture and tradition. Having these antique artistic creations is indeed a matter of great pride. This is my second visit to India and, like earlier, I have purchased lots of these paintings," said Wani Peter, another American tourist.
These beautiful works of art have also carved a niche in the domestic market.
And most artisans and painters are happy with the brisk business the paintings are doing. "A boom in the painting business is good for us. Today we earn about Rs400-Rs500 daily. With the possibility of good earnings, we have also engaged our children in this trade," said Chandresh, a local artist. ó IANS