Television
Slick but not too original
Randeep Wadehra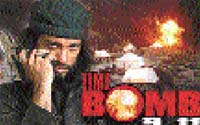 Terrorism related movies and telefilms have been in fashion in the West for quite some time now. In India these have arrived a bit late. In the earlier terrorist plots, Libya's Muammar al-Gaddafi used to be the arch villain out to nuke the United States. Now it is Osama Bin Laden's menacing spectre that looms large on the civilised world's horizon. Pakistan and Iraq too feature some thrillers, though Osama remains the star baddie — at least for now. The story of Time Bomb 9/11 begins when the US President is informed about Operation White Light, which would wipe out Osama. In PoK, Osama's son Usman gets to know about the imminent US attack. Osama, Usman and Zafar, Osama's right hand man, escape with a few others. But Zafar has been badly injured in the attack. In India, Varun Awasthi, an ace RAW agent attached to the Agency to Counter Terrorism, or ACT, is on his way to capture a terrorist in a hotel room. He learns of a plot to assassinate the Prime Minister, who is engrossed in fighting off a no-confidence motion against his Government.
Using this as a basic premise, the story line races from one lead to another, one suspect to another and one shootout to another. It is one exciting narrative that has several strings depicted simultaneously in each episode. Since the entire serial describes 24 hours in the real time life of the various characters, one is shown the passage of time during the narrative — one hour of episode time equals one hour of the characters' life too. 24 hours is significant, as that's the time-span within which Osama's cohorts would trigger off the portable nuclear device, nicknamed "dirty bomb", simultaneously in Washington, London, Tel Aviv and New Delhi. Kidnapping of the PM's daughter, exposure of a senior sleuth to radioactive rays during an encounter with the bomb carrying terrorists and close encounters between bad guys and the good ones keeps the viewer on the seat's edge. The denouement is not far off.
There is a bit of symbolism used in the serial. Osama's son Usman rapes Saira after killing her husband. The Kashmiri couple had given shelter to the aliens who pay back in this bestial manner. This is exactly what's happening in Kashmir, Pakistan sponsored terrorists of such diverse nationalities as Sudan, Afghanistan and, of course, Pakistan, have been provided support by a section of Kashmiri separatists.
The characterisation is superb. Varun Awasthi, superbly portrayed by Rajeev Khandelwal, is the action-oriented RAW agent who is rather stingy with words, but explodes into action at a frenetic pace. On the one hand he's fighting the charge of having a hand in the assassination attempt on the PM, and on the other he's trying to save his marriage that's already hit the rocks. He remains steadfastly patriotic. The role of PM Anirudh Prakash has been essayed by the redoubtable Kay Kay Menon. Honest and upright, the PM has to counter the machinations of his opponents, even as he has to keep the chin up on learning of his daughter's abduction.
The best scene is when he tries to convince the leaders of the other three countries that Osama is alive and planning to set off nuclear devices in their capital cities. Their disbelief leaves him dumbstruck. Kay Kay's understated emoting lends authenticity and dignity to the character.
Akashdeep Sehgal as the ruthless and brash Usman is quite convincing. Vallabh Vyas as Osama Bin Laden and Amrita Saluja as Roma Awasthi impress. Camera work is good but Ketan Mehta's direction has done wonders to the quality of the serial. It is slick and absorbing. It's a rare experience to have such an entertainer on our small screens. The only fly in the ointment was the plagiarism controversy raised by Fox Network — part of the 20th Century Fox group. However, the legal spat is over. The fly has been taken out and discarded. At least one fly.
There may be another if Dominique Lapierre & Larry Collins, the authors of Is New York Burning? have been watching the serial's September/October episodes. Some of these look 'inspired' by the best-selling novel. The post-explosion scenario, the spat between Usman and Ashraf over the exploding of the bomb, resulting in the latter's death. Instructions to the police to use special vans fitted with censors to sniff out the bomb and not revel to the public the real purpose behind this hectic search are some of the examples. But then great minds do think alike, what?
This deal's a steal


Madhavan hosting Deal Ya No Deal… Another crorepati
THESE days it doesn't take long for a popular show to spawn a few clones. So, if Star One can host a Super Sale and lure viewers with prizes ranging from microwaves and fridges to Santros and a Merc then there's no stopping other channels from following suit.
Now get set for Sony Entertainment Television's Deal Ya No Deal a reality game show that tests an individual's wits, speed and ability in making the right choices. Hosted by film star Madhavan, it combines instant decisions and blockbuster prize monies.
Explains Madhavan, "This is a great show. The contestant has 22 boxes to choose from. Each box contains a cheque whose amount can vary from a few rupees to Rs 1 crore. So it is anybody's luck what one gets."
The show's format is owned by Endemol and its international version Deal Ya No Deal has enjoyed high viewership in 43 countries including Australia, France, Germany, Italy, Russia, Spain and Switzerland.
Now it remains to be seen how this cut between Super Sale and a dumbed down version of Kaun Banega Crorepati fares among Indian viewers.
A hit in the making


Rati Agnihotri in Sixxerr… Over the fence
WHETHER it's a Greg Chappel-Saurav Ganguly spat or India's on-field dwindling fortunes, cricket continues to dominate the collective psyche of the small and big screens.
So, if Bollywood gave Lagaan and Iqbal, it is now the turn of Star One to hit a sixer! A new drama series Sixxerr is slated to go on air soon. Written by Shobhaa De with screenplay and dialogue by Sandeep Srivastav, this drama series, set against a cricketing backdrop, promises something different from the usual fare.
The series is directed by Sohail Tatari and stars Rati Agnihotri and veterans Pawan Malhotra, Deepak Qazir, Murali Sharma and S.M. Zaheer. The roles of cricketers are essayed by newcomers Pulkit Samrat and Dhruv Bhandari.
The one-hour weekly show is slated to go on air in December 2005 and going by the promos it promises exciting action, something our cricketers have failed to provide.