Not at the cost of character
Satish K. Kapoor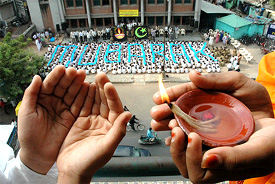 TEACHING COMMUNAL HARMONY: Students of Anjuman-e-Islam school in Ahmedabad gather in a formation to reveal the word "Mubarak" written in bold letters to greet everyone on Divali and Id.— PTI photo
THE past centuries witnessed tremendous progress in the fields of science and technology, making life better. While man probed the mysteries of the universe, he ignored the mystery of his own self. From necessities he moved to comforts and from comforts to luxuries, forgetting in the process the supreme source of comfort and bliss.
The technological revolution has given the human world much of its economic prosperity. However, bereft of moral tenor, it has brought in its wake social inequality, horrendous wars, persecutions, atomic devastation, and of late, ecological crisis.
The technological power unleashed by man can be contained only by the right kind of education, which combines science with spirituality, reason with faith, prajna with karuna, empirical knowledge with intuition and insight, keeping both progress and peace as its goals and is helpful in mitigating social evils.
Social change can be brought about by a qualitative change in man's perceptions, attitudes, habits, priorities and goals. The transformation of the individual is a prerequisite to the transformation of society, which, in turn, is the sine qua non for the creation of a just and human social order.
The prevalent system of education is not character-oriented, but information-oriented. It is consumerist and makes one selfish, self-centred, irreverent and cynical. It sharpens reason, but hardens the heart. It lays little or no emphasis on such basic values as truth, love, honesty, humility, compassion, forbearance and justice. It makes one conscious about one's rights, not duties.
It promotes materialistic outlook, and generates unhealthy competition.
While the primary task of education is to draw out the best in a person, students, overburdened with lengthy and abstruse syllabi and fearful of the spectre of examination and an uncertain future, find little time to acquire moral virtues or explore their creative potential.
The sculptors of Elephanta, Ellora or Mahabalipuram, wood carvers of Bharhut and Sanchi, painters of Ajanta, Bagh and Badami, and other craftsmen of ancient and medieval times did not have any formal education and yet they could create immortal works of art. Today, there are institutes of art, but few masterminds.
The paradigms of education in the 21st century ought to be creative, not superficial knowledge, soul-consciousness, not body consciousness, and consmocentricity, not egocentricity. Each individual should be taught to see himself as part of the cosmic self.
Since the same self embodies all, one can view the other as one's own self in a different human frame. The concept of "universal selfhood", being different from "universal brotherhood", which posits two entities, is sure to neutralise a person's negative feelings towards his fellow beings.
The barricades that separate men would come down.
Education should tame our beastly instincts, if a better society is to be created. Since one can be both angelic or devilish depending on one's inner environment, value-based education can help restrain the senses, the mind, the intellect and imagination from going astray, provide a blueprint for disciplined living, inculcate scientific temper and a sense of social responsibility and transform juvenile delinquents into responsible citizens.
Prayer, meditation, spiritual discourses and tales from the lives of great men, can go a long way in altering the mental environment of pupils and save them from drugs, drinking, depression and suicide.
Since positive values are better transmitted than taught, these must be adequately imbibed by parents and teachers; so that they can be passed on without much effort. A teacher who skips his classes, leaves courses incomplete and is often late cannot be a role model of discipline, honesty and punctuality for his students.
Likewise, a parent who earns by dubious means, leads an ignoble life, does criminal deeds or revels in clubs and parties, while his children groan at home, cannot speak of the higher values of life. Education, besides preparing boys and girls for their specific roles in society and at home, should also help them integrate the physical, mental, vital, aesthetic and moral aspects of their personality. It should teach them to harmonise with their own being, with the people around, and with nature.
The renaissance of higher values through education would help us overcome the crisis of character, resolve tensions and conflicts and stem the mad race for power and pelf.