M A I N N E W S
Amrita Pritam is no more
Tribune News Service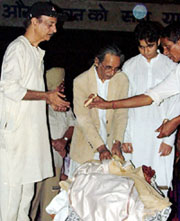 Navraj, son of Amrita Pritam, artist Imroz (centre) and grandson Aman perform last rites of the writer in New Delhi on Monday evening. — Tribune photo by Rajeev Tyagi
New Delhi, October 31
Doyenne of literature and the first woman recipient of Sahitya Akademi Award, Amrita Pritam, died here today. The 86-year-old writer, who had become a household name through her writing, had been ailing for some time.
Her last rites were carried out late in the evening today, with her companion for years, noted writer Imroz, her son Navraj Kwatra and grandson Aman lighting the pyre.
Survived by her daughter Kundala and son Navraj, Amrita Pritam was born in 1919. She carved a niche for herself as the first most prominent woman Punjabi poet and fiction writer. A witness to the gory events that marked Partition, Amrita Pritam captured in her writing the pain and grief that the people of the two nations underwent.
Author of over a 100 books, some of which have been translated into several languages, including French, Japanese and Danish, Pritam's accounts of Partition became the theme for the Hindi film "Pinjar".
A former member of the Rajya Sabha and recipient of the Padma Shri in 1969, she was awarded Sahitya Akademi award for her book "Sunedeh" and Jnanpeeth Award for her contribution to Punjabi literature.
"Rasidi Ticket", her autobiography, was one of her most controversial books. they also received three D Lit degrees from Delhi, Jabalpur and Vishva Bharti Universities. She continued writing and editing a monthly magazine in Punjabi, "Nagmani", for years despite her failing health.