SIGHT & SOUND
Keep baba log out of reporting
Amita Malik

It seems that the end of October, which should have seen the joys of Divali and Id, was doomed this year. First, the terrible train accident in Andhra Pradesh with the deaths running into three figures. Being trapped in overturned coaches was bad enough, but to be drowned inside them as the train fell into deep water made rescue even more difficult. With passengers asleep at 4.30 am, and people seeing their children, sisters and entire family members dying in front of their eyes made everything unbearable. The NDTV reporter on the spot was Uma Sudhir.
It is to her credit that she depended on tactful verbal description and shots of living people, however sad, rather than subjected us to close-ups of the dead and mutilated.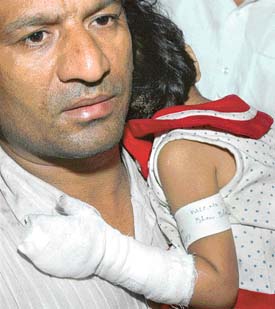 A child injured in the recent Delhi blasts: Disaster reporting calls for restraint and tact. — Photo by Mukesh Aggarwal
But there were shots of people being rescued by helicopter, the gallant rescue efforts of neighbouring villagers and, of course, the armed forces. Throughout, Uma Sudhir spoke in calm, clear tones without shouting or going too fast. That is the way to report disasters.
The reporting of the Delhi bomb blasts was, however, rather different. The women reporters from Aaj Tak, Zee and Star seemed to think that in order to be the first in the rat race for "exclusives" and "breaking news" they had to, firstly, shout at the top of their voices and, secondly, had to do speak at such a fast speed that no one would be able to catch up with them. In the process, they sounded agitated when they should have been calm and clear. They made themselves incomprehensible to anxious viewers who naturally would have been looking for clear news about what was happening where and with what danger to life and limb.
There were, again, the usual impossible questions from the studio about details which were not, and could not be, available so soon. This puts the already harassed reporters at a disadvantage and does not do any good to the channel. Disaster reporting should be in the hands of experienced and balanced reporters and not those who some refer to as "the baba log" of the channel. In this respect, Anasuya Roy and Manu Sharma of NDTV again stood out for model reporting.
Incidentally, on Sunday last, the man in Aaj Tak's studio at 7 pm made a mess of getting an expert opinion from someone invited to the studio. Ved Marwah, one of Delhi's former police commissoners, a governor recently and a highly experienced broadcaster, was literally made to stand in the studios while the anchor held forth with his own opinions. Ved Marwah hardly got a word in. It is time that anchors realised they are not experts — they are only there to introduce the guest, ask relevant questions at the most and let the expert have centre stage.
To change the subject, I watch DD when there is no alternative such as seeing the ODIs. I usually watch better programmes on the private channels. Incidentally, for the Mohali ODI, after Dravid won the toss, DD cut off his remarks totally about why he had chosen to field and also cut off most of what the Sri Lanka captain had to say. Typical of DD.
I am, therefore, grateful to viewer Prem Sagar Chanana of Chandigarh, who watches only Doordarshan, for giving me some valuable feedbacks about what goes on DD. He finds DD's serials "poor in plots, dialogues and direction, loaded with unrealistic situations and unduly clogged with advertisements. I am afraid such stuff only lowers the literary and cultural interests of our people". Chanana mentions the serials Dishayan, Quamayat, Mehar, Kaanch and Raaz ki Ek Baat. He also objects to the way "women are portrayed as cunning, callous, wicked, treacherous and cruel." This is disgusting to older people like him who cherish an image of women as compassionate, gentle, sweet and chaste. He suggests that advertisements should be shown in the middle of a serial and viewers should be saved from repeated distractions.
I could not agree with you more, Chanana. But I doubt if Doordarshan either cares or listens.