To integrate Ladakhis into the national mainstream and to provide them wholesome education, the Army has opened more than a dozen schools in Ladakh, reports Vijay Mohan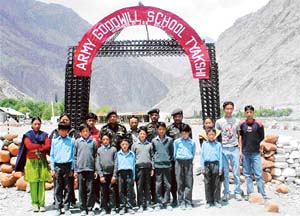 Miles to go: These boys of Army Goodwill School, Tyakshi, appeared for the Sainik School entrance examination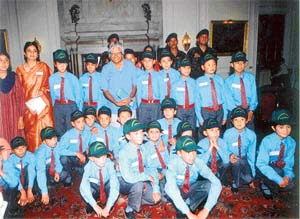 Moment to savour: Students of Army Goodwill School, Nubra valley, with President A.P.J. Abdul Kalam at Rashtrapati Bhawan
IN the remote, mountainous Ladakh, the Army has opened a window to the rest of the world for the local populace, which has by and large been living in a world of deprivation and destitution.
Under Operation Sadbhavana, Leh-based 14 Corps has set up a number of Army Goodwill Schools (AGSs) to provide education to students from remote villages. These schools aim for the all-round development of students and strive to groom them as enterprising and contributing members of society.
"The idea behind setting up these schools is to nurture and guide the young generation of locals and pull them out of the morass of illiteracy," a spokesperson for 14 Corps Headquarters said. "Army Goodwill Schools aim at awakening the young Ladakhi mind to a new consciousness by providing them with quality education. Unless they are mentally well equipped and responsive, developmental schemes introduced in the region would be wasted on them," he added.
Operation Sadbhavana was launched in what is perhaps the most difficult and inhospitable terrain in the world. It aims to integrate the local populace of Ladakh into the national mainstream. Going by the principle that the core element of national security is human security, which can only be attained through development and progress, the operation will focus on primary education, women empowerment, human resource development and information technology coupled with health care and rural development.
At present, 14 such schools are being run by 14 Corps. These are located in Partapur, Tyakshi, Bugdang, Karu, Dras, Badgam, Channigund, Kaksar, Darchik, Budhkharbu, Lalung, Harkabahadur, Tambis and Batalik. Similar schools are also being run by other Army formations in Jammu and Kashmir.
All these schools are recognised by the Jammu and Kashmir Government's Department of Education and the teaching pattern is based upon the curriculum prescribed by the Central Board of Secondary Education. All schools provide education up to Class-VIII except AGS at Harkabahadur, which is up to Class-X.
In all 1,514 students are currently enrolled in these schools. This translates to an average of about 100 students in each school, which, Army officers say, is a fairly good number considering the remoteness of the region and the ruggedness of the inhospitable terrain.
From these schools, four students each have been sent to Army Public School in Beas and Sainik School in Nagrota, seven to Vidya Devi Jindal School in Hisar and 17 students to Sarhad in Pune, thus giving them an opportunity for higher studies and further expanding their horizons.
Army Goodwill Schools employ qualified staff to fulfil their endeavour to impart quality education. A total of 101 teachers and 24 administrative staff members are serving in these schools. To upgrade the technical experience and hone the skills of the faculty, regular workshops and training capsules are organised. Recently, a workshop for local teachers was organised at Vasant Valley School in New Delhi.
Though a nominal fee is charged from students, free education is imparted to orphans or those from economically weaker families. Morning tea and mid-day meals as well as transportation is provided free of cost to all students. Hostel facility also exists in some of the schools.
The Internet and computer training aids have been installed in all schools. This encourages students to try out the self-help methods of learning. The schools also have extensive games and recreational facilities, including libraries. Music and dance classes, sports and physical activities, painting and quiz competitions, debates, excursions, various cultural activities and inter-school competitions are regular features in all AGSs. Meets between different schools are also organised from time to time to promote interaction among students.
Extra classes are held to help weak students and coaching is provided to take entrance examinations for Sainik Schools and Rashtriya Indian Military College. Another noticeable feature of AGSs is the periodic medical and dental examination of students.
Students are also sent on annual excursions to cities of historical and cultural importance like Delhi, Agra, Jaipur and Chandigarh. These trips give them an exposure to the rich heritage of the country and an opportunity to interact with people from different regions. Trips to metropolitan cities like Mumbai give them a glimpse of a lifestyle vastly different from their own.
Recently, students from the Nubra valley, adjacent to Siachen, the world's highest battlefield, had the opportunity to interact with the President, Dr A.P.J. Abdul Kalam, at Rashtrapati Bhawan.