Fantasies of a fading master
In the latest offering by Gabriel Garcia Marquez, the scenes and descriptions when the writing ignites are fewer and further between than in any earlier Marquez. Review by Amanda Hopkinson
Memories of My Melancholy Whores,
by Gabriel Garcia Marquez, translated by Edith Grossman Jonathan Cape, £ 10, Pages 115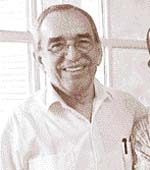 Gabriel Garcia Marquez: Love in the face of death
IN Colombia, a lorry was hijacked and the load was clandestinely sold, piece by piece, in a matter of hours. The load was of pirated copies of Memoria de mis putas tristes, and its author responded furiously and inventively, altering the ending before the official version was published. The Los Angeles Times ran a cartoon of a Hispanic hawker opening his jacket as he accosts a passerby: "Do you want to buy a book?" runs the caption. In California, the Spanish edition was top of the bestseller lists until the English edition replaced it. Here The Guardian ran excerpts from this fictionalised autobiography, selecting episodes that took place in the small-town brothels where the whores numbered nursing and counselling, cookery and housekeeping, alongside their skills in sexual initiation and experimentation.
These Memories draw heavily on the earlier accounts in a romance of old age. The main character is approaching his 90th birthday and awards himself a night of bliss with a young virgin at Rosa Camarcas' famous cathouse. La Camarcas is an old companion and confidant and reckons on knowing precisely her most famous client's true desires. She presents him with a 14-year-old seamstress who desperately needs additional funds to support her impoverished family, so exhausted by the factory day job that she slumbers throughout their innocuous nocturnal encounters.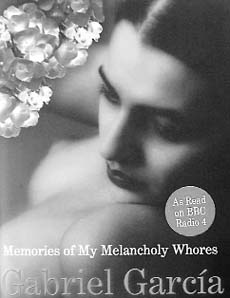 Like the author himself, known throughout Latin America by the avuncular abbreviation of Gabo, the protagonist is a literary Grand Old Man, clasped to the collective heart of the nation for his writing. As with Gabo in his earlier years, he is a newspaper columnist, who still writes by hand ("with a quill and ink"), weaving tales based on local observations and vehement opposition to government corruption. We are thus presented with a Chinese box in which no secrets are concealed: Since we already have the autobiography and, much more important still, a whole library of novels and short stories that are paeans to human love in its manifold varieties, by the same hand this story-within-a-story functions as a fable in which the plot is irrelevant. For Gabo is not so much addressing love as death in this novella.
Just as well, since the amorous encounters are coy and squeamish enough to make the reader wince. He is a master of minute observations: looking at a photograph, "I confirmed with horror that one ages more and more with intensity in pictures than in reality", and, for Rosa Cabarcas, "death was a mere kitchen matter." An assassinated client is "an enormous corpse, naked but with shoes on, (which) had the pallor of steamed chicken in the blood-soaked bed." But then the writing rambles: "I began to measure my life not by years but by decades, transfixed by the agreeable idea that life was not something that passes by like Heraclitus' river but a unique opportunity to turn over on the grill and keep broiling on the other side"; and "..a short while before my fiftieth birthday... I was shaken for the first time and almost knocked to the ground by the roar of death. It was like a brutal oracle in my ear: No matter what you do, this year or in the next hundred, you will be dead forever."
Feet, always a favoured preoccupation, feature at both birth and death. Before the anonymous Maestro learns of his solitary vocation, he has a youthful flutter with matrimony. During the protracted engagement, his fianc`E9e and he sit in silence, having nothing to converse about, he knitting blue and she pink bootees for the future offspring they are not to have. It's a pastime he resumes when he loses contact with Delgadina (his pet name for the half-starved adolescent, meaning "little skinny").When the bicycle he has bought her is found wrecked after a car accident, he pursues the ambulance to the morgue. The cyclist's young face is crushed, but the incident terminates in relieved realisation that the corpse's feet do not belong to the girl.
The scenes and descriptions when the writing ignites are fewer and further between than in any earlier Garcia Marquez. This is matched by a variable translation that reads as if rushed. Can there be "an unappealable ultimatum"? Can a racked, or roasted, martyr be caught "broiling"? What to make of "one of the poor little whores who hunt solemn clients"? Edith Grossman is a past mistress of translation who has a dozen tomes by Garcia Marquez under her belt. But neither translator nor, more seriously, the author are truly on form in this, the slightest of their many works.
By arrangement with The Independent