Nirmal Verma (1929 — 2005)
Ahead of his time
Pioneering Hindi novelist Nirmal Verma who changed the face and foundation of Hindi literature, was a truly global writer much before it was fashionable to be called one. Pratik Kanjilal pays a tribute to the eminent novelist who passed away recently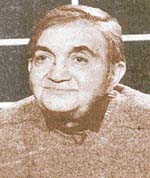 Nirmal Verma
Nirmal Verma, perhaps the most acclaimed novelist in Hindi after Premchand, died last week at the age of 76. In his work, he dwelled often on loss, but rarely on death. His last novel, Antim Aranya (The Last Wilderness), is probably the modern master's only deep exploration of the final event of a lifetime. A tale of a man in his twilight years who has retired from life but must face the ghosts of the past before he can take his leave, it gave rise to some speculation about whether it reflected Verma's own state of mind.
Coincidentally, Parinde (Birds), Verma's short story which changed the course of Hindi literature half a century ago and launched him as a major writer, also opened with an observation on death. Not his own, though — he had borrowed the words of Katherine Mansfield: "Can we do nothing for the dead? And for a long time the answer has been — nothing!"
Indeed, a personality of Verma's stature does not stand in need of human aid to perpetuate his memory. Even as in his life, he did not really need the numerous State awards that came his way, including the Sahitya Akademi Award, the Jnanpith and the Padma Bhushan, to secure public respect. He will live on in the hearts of his readers, perhaps generations of them yet unborn, who will look back on his work as a turning point in the course of Hindi literature.
Along with a small handful of writers like Kamleshwar and Mohan Rakesh, Verma spearheaded the Nayi Kahani or the New Story movement in the late 1950s and brought Hindi writing into the modern age. It was no mere cosmetic makeover. He altered the very foundations, built upwards anew and created an entirely fresh aesthetic. And he was the man best equipped to do it, for he stood apart from the community of writers in Hindi.
Verma grew up in the hills in the fading twilight of the Raj, took his degree from St Stephen's, Delhi, worked in Czechoslovakia for seven years as a translator and filed reportage for the Times of India from London. In fact, thanks to his work in Prague, readers of Hindi were entirely familiar with the work of Czech pioneers like Milan Kundera and Bohumil Hrabal long before most readers of English had even heard of them. And even in his last days in hospital, he kept in touch with East European literature.
In the eyes of the community of Hindi writers, a community so rigidly structured that it verges on the feudal, Verma had stepped way out of line. Throughout his career, he was disparaged as a deracinate propped on hand-me-down stilts borrowed from European literature.
Indeed, many of his stories betray a very Continental lyricism. Nevertheless, it is a curious and irrelevant charge, in a world where borders, political and cultural, are becoming less meaningful with every decade that passes. Twenty years after Verma made the break from the received tradition of writing in Hindi, Salman Rushdie was lauded for producing great English literature by borrowing freely from Gunter Grass and Gabriel Garcia Marquez. In retrospect, Verma was ahead of his time in embracing the modern culture of openness.
Paradoxically, Verma was deeply rooted in his traditions in his private life. Or perhaps it was only natural, distance from one's natural roots permits one to re-examine and critically accept one's cultural roots anew. A critical conservative, Verma the writer never allowed his fiction to be coloured by the beliefs of Verma the private citizen. In the age of Hindutva, in our polarised society bereft of neutral ground, where every individual is allocated by default to one camp or its opponent, he found himself on the saffron side of the divide, whose methods he did not agree with. He was often attacked for what people believed he must certainly have said, given the position they had ascribed to him. Yet he was one of the few writers who always took a stand against political attacks on liberty in any form — whether it came from Sanjay Gandhi or Narendra Modi.
Now that he is gone, perhaps there will be room for a more measured appraisal. In the course of his life, he had run through the gamut of political leanings, from Communism in his early years to conservatism in recent times, and he had been exposed to cultures and literatures from all over the world — his books typically open with bon mots from sources as diverse as Elias Canetti and the Tao.
With that experience as a foundation, he was attempting to define an idea of 'Indianness' appropriate to our times—an essentially humanist synthesis of Nehruvian socialism and the cultural traditions of India. With the benefit of distance, his critics may finally see this experiment in revisioning for the act of courage that it is, and not allow it to colour their appraisal of his literature. And his readers`85 well, they don't really care. They will always treasure his work.
(Pratik Kanjilal translated Nirmal Verma's last novel Antim Aranya into English as The Last Wilderness and is the publisher of The Little Magazine)