Food Talk
Doubly sweet
For most of us, bread does not mean chapatti or phulka. It means dubbal roti. Pushpesh Pant gives us the recipe to make Dubbal ka meetha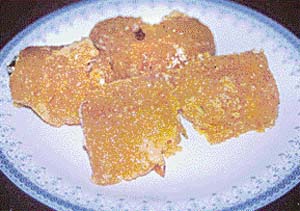 IT has been well said that, "Man does not live by bread alone," but one should never forget that one cannot live without it either. And for most of us Indians, bread does not translate as home made roti-chapatti or phulka, tandoori or tawe ki. It means dubbal roti or pav, the inseparable twin of bhaji.
Dubbal seems to have been derived from the English 'double' and who can deny that the 'swollen' leavened bread consumed by the gora sahibs was much larger in size than the humbly flattened desi stuff? Pav of course is easily identified as the progeny of the Portuguese pau—their name for bread. What glorious variety this import has provided in our cuisine. Gone are the days long ago when slices of bread graced the table only at the bada khaana in the mess or accompanied the main course in continental repast.
Dubbal ka meetha
Ingredients
Twelve slices of fresh white bread
Half litre milk
Half-cup cream
150 gm sugar
Two tbsp rose water (a pinch of saffron soaked in)
One tbs lukewarm milk
10 almonds (soaked overnight and slivered)
Six pistachios (sliced)
150 ml refined oil
Two-four leaves (chandi ke varq)
Method
Mix sugar in equal quantity of water and boil, stirring regularly to obtain syrup. Add cream to the milk and boil in a thick-bottomed pan until reduced to almost half. Remove the crust from bread slices and quarter each slice. Now heat the oil and shallow fry the slices till these are golden. Place the bread slices in a tray lightly greased, pour the thickened milk, sprinkle strands of saffron and the syrup. Garnish with almond and pistachio slivers. Let the dubbal roti slices soak in the liquids. Bake in an oven till hardly any moisture remains. Gently spread the silver leaves before serving.
Years ago we were struck by Kaushalya 'manning' the tandoor in old Rajinder Nagar. She fed her hungry child Modern bread while spearing out garma garam tandoori roti for the regular patrons. Toast and butter, with or without jam, are staples at breakfast time in many middle-class Indian homes and forget the 'toasted bit', slices have been adopted even by the underprivileged and the plebian bread pakora has graduated to a semi-specialty dish.
The delicate finger sandwiches, indispensable at high tea, may be aliens here but local fillings—left-over subzee or keema, spicy paneer or tangy sprouts—have greatly popularised sandwich-makers, electrical and others. Top of the heap of the bread delicacies has long been the shahi tukra, draped with rabarhi and crowned with silver leaf, studded with almond and pistachio slivers with resins but, believe you us, we have tasted worthy competition.
What our host delighted us with in Hyderabad recently is far less tricky to prepare at home and, minus the dazzling appearance, no less satisfying. The locals like it "doubly" sweet but we strongly believe that in this case you stand to gain more by not following the adage about "Doing in Rome as Romans do" but insist on pleasing your own palate.
If you don't have the saffron handy, worry not, crushed green cardamoms are fine and at a pinch even the silver leaves can be dispensed with. Just retain the almonds; don't yield to the temptation of substituting these with cashew pieces. Save them for the gajar ka halwa to be cooked repeatedly in winters.