In a class of his own
Today is Sanjeev Kumarís 20th death anniversary. He had the rare ability to get under the skin of a character. M.L. Dhawan pays a tribute to the actor par excellence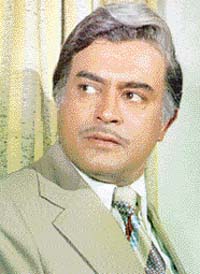 Sanjeev Kumar believed that for an actor the best asset was his face.
IT has been 20 years since Sanjeev Kumar passed away on November 6, 1985, at a comparatively young age of 46, but he still rules over the minds of his fans who throng the cinema halls showing his films. Harihar Jethalal Jariwala, popularly known as Haribhai, started as an actor with IPTA. He was hardly 22 or 23 when he played an old man in Do Jahaan Ke Beech with Leela Chitnis playing his wife. His performance was appreciated by the stage and screen thespian Prithviraj Kapoor.
When Sanjeev entered the film industry, he had to survive by doing stunt films like Husn Aur Ishq, Alibaba and 40 Thieves and Nishan, etc. In Anokhi Raat, Satyakam and Ashirvad, Sanjeev proved that he was no fluke. His role as a mentally imbalanced hero in Khilona took him to dizzy heights.
Sanjeev, who did not fit into the idiom of a conventional hero, asserted the supremacy of talent over looks and dancing skills by accepting challenging and experimental roles. His association with filmmaker Gulzar proved rewarding. When Gulzar approached Haribhai for the role of Jayaís father in Parichay (1972), he did not mind dyeing his hair grey as it could add another dimension to his performance.
Sanjeev went on to rewrite many conventions of the film industry by playing Jayaís lover in Anamika (1973) and then her father-in-law in Sholay (1975). The Midas touch Sanjeev brought to his role as a father in Parichay made him a favourite with filmmakers. In Trishul, Sanjeev as R.K. Gupta explored an array of emotions to express stoic acceptance of his illegitimate sonís rejection.
If Amitabh Bachchan, as his illegitimate son, personified imploding rage and unforgiving bitterness, Sanjeev countered it with expressions and actions that spoke of his helpless frustration. In Sholay, as a policeman and a thakur, Sanjeev Kumar overshadowed Amitabh, Dharmendra and Amjad Khan more with his smouldering eyes than with amputated arms.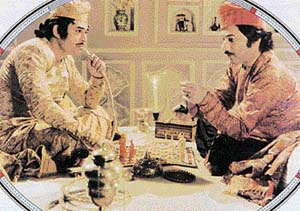 A still from Shatranj Ke Khiladi
For Sanjeev, the double role of a father and a son in Vishvasghat was a vehicle for him to demonstrate his creative prowess. He modulated his voice and body language to express a rage of emotions. As a cowering son, we saw a young man with downcast eyes and a diffident gait. As father, an underworld don, Sanjeev walked with a jaunty swagger. In fact, Sanjeev did everything to lend authenticity to his roles.
Sanjeev Kumarís total commitment to his roles irrespective of their length was something that put him in a class apart from many of his colleagues. In Sangharsh, he faced Dilip Kumar but held more than his own. He treasured all his life Dilipís words of encouragement.
He was cast with Dilip Kumar again in Vidhaata and their confrontation scene remains a cinematic landmark. In Koshish, Sanjeev conveyed more pathos as the moist-eyed mute and a handicapped man whose eyes depicted the storm raging in his heart. The scene in which he lambasted his son for refusing to marry a handicapped girl through his smouldering eyes, was the hallmark of his creativity.
Sanjeev Kumar was not camera-conscious. He was never theatrical. His body language was eloquent. All these qualities made him a complete actor. In Mausam, he gave a riveting performance as the long-lost father of Kajli, a prostitute who mistook him for a client. As Dr Gill walked up the stairs of the brothel, the feelings of remorse, regret for deserting her mother are writ large on Sanjeevís face.
Sanjeev Kumar belonged to the breed of instinctive actors. Once before the camera, he would become the character he was to portray. He would ger under the skin of the character. During the shooting of Naya Din Nayi Raat, assuming the stance and posture of a leprous beggar, Sanjeev shuffled quietly to Jaya and in a whining, wheedling tone of a beggar he started pestering Jaya for alms. When the studio staff tried to chase the beggar away, Sanjeev talked to Jaya in his normal voice. Not only Jaya but even the director, Bhim Singh, was taken in when Sanjeev, having assumed a dacoitís disguise strode aggressively and loomed menacingly towards him and spoke to him in a gruff voice.
Sanjeev Kumar was a master of comedy as well. In films like Manchali, Manoranjan, Ladies Tailor, Biwi-O-Biwi, etc he raised silliness to an art form. Just look at him in film Angoor, when he is trapped in an unfortunate situation with Moushami Chatterjee who does not know that he is not her husband but his look-alike.
Over more than 25 years, he acted in about 153 films, investing the characters he played with a unique charm. Sarosh Modi did nine different facial get-ups for nine different roles that Sanjeev did in Naya Din Nayi Raat. Sanjeev embellished these performances with inflexions of his voice. This film proved a milestone in his career. He believed that for an actor the best asset is his face and what happens on it. Just see his expressions in Shatranj Ke Khiladi when he loses the game of chess. He gave his best to each role as if his career depended upon it.
In the matters of heart, Sanjeev Bhai was quite unlucky. Once in an inebriated condition, he poured out the whole heartbreaking story of his dream girl and how his old mother had gone with a traditional thali laden with gifts that are given to a bride-to-be by the elders of the bridegroom-to-beís family. And how the next day that thali and all its contents were unceremoniously returned to his mother.
For an actor who went out of his way to play an old manís role in many popular films, Sanjeev himself did not live long to grow old. He died of a heart ailment. His fans will surely wish him eternal peace in his heavenly abode.