Television
Return of the famous five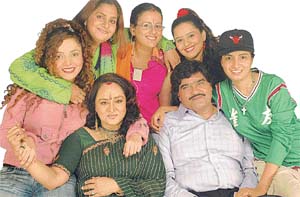 The dysfunctional Mathurs of Hum Paanch…Comic relief.
BACK in the early 1990s, it brought about a refreshing change in the way sitcoms were made. It launched one of the most successful personalities and production houses on Indian TV, Ekta Kapoor and Balaji. And it ushered in an era of smart comedy.
Now, almost a decade later Hum Paanch is back once again to regale viewers. The bi-weekly serial, being aired Saturday and Sunday at 8 pm on Zee, is the story of an ever-hassled father, Anand Mathur, whose five (mis)adventurous daughters, are the root cause of his woes.
The serial takes off from the time Mathur returns from America. His main worry is not about coping with life in India but how to cope with his five unruly daughters, Meenakshi, the huntress who detests men, Radhika, the 'defective piece' who is challenged with poor eyesight and a hearing disability, Sweety an ardent Shah Rukh Khan fan, the bird-brained Kajal Bhai and Chhoti, the gossip monger.
Ably supported by the irrepressible Pooja Aunty (oops, Aunty mat kaho!) the Mathurs are all set to once again will ensure your weekly dose of fun and adventure.
Spice of life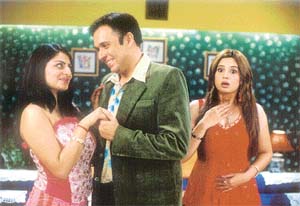 Hari Mirchi Laal Mirchi…Trouble comes in twos
THE press note claims that he is on the threshold of creating history with his new soap. In fact, if Rakesh Chaudhary has his say he would say that the amount of mirth his new series would generate should go down in the Guinness Book of World Records.
So what is Hari Mirchi Laal Mirchi all about? The comedy, every Thursday on Doordarshan at 9 pm revolves around the pain of a man trapped between two wives.
The two women gloat over his agony and say that all his misery is well deserved and a just punishment for cheating his wife. Instead of turning it into a saas-bahu sob story, Chaudhury gives it a comic twist. " This was a great challenge. I wanted to portray the tussle between the two women into a comedy," says Chaudhury who's earlier made serials like Bante Bigadte and Chunauti. Now it's for the viewers to decide how he's lived up to this Chunauti!
HOST BALIYE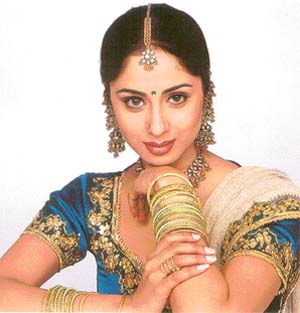 Sangeeta…New anchor in life.
HER stock has shot up after she surprised viewers with her immense talent as a peppy anchor of Nach Baliye on Star One.
People now come upto Sangeeta Ghosh and ask for her autographs not as a TV star but sas the anchor of Nach Baliye. " When it first happened to me I was speechless. The show has worked wonders for me," says Sangeeta.
It is not surprising then that she is getting more offers for hosting shows than for serials. On October 29, she co-hosted the Zee Diwali Dhamaka with her Rabba Ishq Naa Hove co-star Nikhil Arya. "I had never anchored any show earlier but Sangeeta was a great help. With Nach Baliye, she's become one of the best anchors in business," gushes Nikhil Arya.
But it was Sangeeta who stole the show with her quick one-liners and perfect timing with the script. — NF