PUNJAB

HARYANA

JAMMU & KASHMIR

HIMACHAL

REGIONAL BRIEFS

NATION

OPINIONS

MAILBAG

BUSINESS

SPORTS

WORLD
Friday, November 11, 2005, Chandigarh, India
Updated at 3:00 am (IST)

Withdrawal of POTA charges against Raja Bhaiya
New Delhi, November 10
In a severe blow to Samajwadi Party Government in Uttar Pradesh, the Supreme Court today quashed its order for withdrawing POTA charges against state's controversial Minister Raghuraj Pratap Singh, alias Raja Bhaiya, and directed that the case against him be transferred to neighbouring Madhya Pradesh for trial.
UP Minister for Food and Civil Supplies Raghuraj Pratap Singh, alias Raja Bhaiya, announces his decision to resign from the ministry in Lucknow on Thursday. — UNI photo

SC ruling big blow for UP Govt
Raja Bhaiya resigns as UP minister
Resignation accepted



CAST YOUR VOTE
Should the UN lead the war against terror?

CHANDIGARH

LUDHIANA

JALANDHAR
New

DELHI

JALANDHAR PLUS

AMRITSAR PLUS

LIFESTYLE
New

FORUM

EDUCATION

JOBS & CAREERS

HEALTH & FITNESS

SCIENCE & TECHNOLOGY

SPORTS

SOCIETY

TRIBUNE CLASSIFIEDS

BRIDES WANTED

GROOMS WANTED

OTHERS

HOW TO PLACE ADVTS
Narayanan cremated with full honours
New Delhi, November 10
India's first Dalit President K.R. Narayanan was cremated here with full military honours in the presence of a large number of leaders and dignitaries, including President A.P.J. Abdul Kalam and Prime Minister Manmohan Singh.



Special prayers at Narayanan's village


Opinions page: Common man's President
Farewell, Mr Narayanan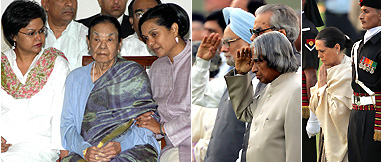 (From left): Former President K. R. Narayanan's widow, Usha (centre) and daughters Chitra ( right) and Amrita sit in front of the mortal remains of the former President in New Delhi on Wednesday. President A.P.J. Abdul Kalam, Vice-President Bhairon Singh Shekhawat and Prime Minister Dr Manmohan Singh pay their last respects to the mortal remains of the former President before the funeral at Karam Bhoomi in New Delhi on Thursday. Congress Party President Sonia Gandhi pays homage to the former President ahead of his cremation. — Tribune photo\PTI\Reuters photo

In Science & Technology today

THE TRIBUNE MAGAZINES
On Sundays

On Saturdays

Cabinet clears statutory powers for Pathak probe panel
New Delhi, November 10
The Union Cabinet today approved the setting up of an "Inquiry Authority" to be headed by former Chief Justice of the Supreme Court, Mr Justice R.S. Pathak, to probe the Paul Volcker Committee report.



Nation page: Andaleeb Sehgal grilled by ED again


Cong glossing over Volcker report: BJP

FM hints at probe into tax violations
New Delhi, November 10
Union Finance Minister P. Chidambaram did not rule out the possibility of looking into any tax violations by the 125 Indian companies named by the Paul Volcker Committee report on UN's oil for food programme in Iraq.
Rs 65 lakh looted from Jalandhar bank
Jalandhar, November 10
In a sensational daylight robbery in the heart of the city, three tall turbaned armed men looted more than Rs 64.76 lakh from the UCO Bank branch situated on the busy Nakodar road here this afternoon.
A fingerprint expert examines the gun of the bank guard, which was snatched by the robbers in Jalandhar on Thursday. — A Tribune photograph


In Jalandhar Plus today

E - Revolution 2005:
A Two-day IT conclave

Assembly Elections - 2005

Turbans

Chandigarh is 50

EARLIER FEATURES
K.R. Narayanan dead
November 10, 2005

Buta's role unfortunate, says PM
November 9, 2005

Natwar divested of portfolio, but in govt
November 8, 2005

Dayal to hold probe into Volcker charge
November 7, 2005

RJD minister quits, Shahabuddin held
November 6, 2005

Volcker: Natwar was notified
November 5, 2005

Govt determined to get to the truth
November 4, 2005
10 killed in Srinagar blast
November 3, 2005
1 to die, 2 get life term in Red Fort attack case
November 1, 2005
Terror-hit Delhi rebounds
October 31, 2005
BLASTS ROCK DELHI,
60 DEAD
October 30, 2005