PUNJABI ANTENNA
Double dhamaka
Randeep Wadehra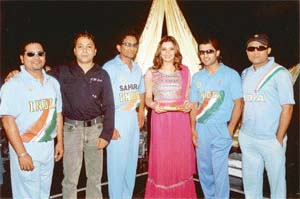 A glorious line-up of duplicates in Kujh Pal Tere Naam
WHILE watching Divali festivities on the idiot box one does a double take all of a sudden. What are Indian cricket titans like Sehwag, Sachin, Laxman, Ganguly, Kaif, etc doing on the sets of Kujh Pal Tere Naam and dancing away to glorious bhangra beats? And, how come they've forgotten their own accents and acquired Punjabi enunciation? Or, perhaps, adlibbing comes easy to our star cricketers. But soon one is disabused of all such speculative thoughts. They are duplicates of our willow-wielding heroes.
However, come to think of it, celebrity doubles are not all that uncommon nowadays. Right from Dev Sahib to Big B and Shah Rukh Khan, they have had their share of duplicates. Even former Prime Minister Narsimha Rao's double was interviewed on television once. So 'manufacturing' duplicates is a full-fledged industry in India, already. The Punjabi television has entered the scene a bit late. But is it good? One really can't say for sure, but festival season is fun time, and on such occasions duplicate fun bhi chaloogha jee.
Musical shows – live or otherwise – continue to dominate the small screen. Harbhajan Mann Live on ETC and Zee Punjabi channels was truly a humdinger of a musical presentation. Accompanied by his sibling Gursewak Mann, Harbhajan had the Jalandhar crowd dancing to his tunes. However, it was his evergreen rendering of the Mirza legend that had us all spellbound. Having said this, one can't help pointing out the confusion that prevailed on the stage during the inevitable memento presenting ceremony. There was no apparent sense in having politicians, artistes et al together on the stage when they could have been called in for receiving their gifts individually. Rajee Shinde looked lost even as Rabindra Narayan gave away the souvenirs before Satti could announce the start of the ceremony. Looks like no rehearsal was done for this particular ritual.