No. It never occurs to our politicians that they all live in glasshouses and nevertheless indulge in throwing stones with irresponsible abandon.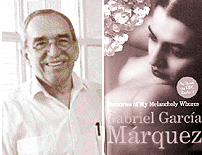 Gabriel Garcia Marquez
I hold no brief for Natwar Singh. He has a high opinion of himself which none of his colleagues in service with him shared: they referred to him as Nit-wit Singh. He also has aristocratic pretensions and adds letter 'K' standing for Kunwar (Prince) to his name. Actually, he is only an aristocrat by marriage: his wife is the daughter of Maharaja Yadavindra Singh of Patiala and sister of Capt Amarinder Singh, Chief Minister of Punjab.
He also professes to be a man of letters and has a few books of little consequence to his name. All this makes him arrogant and pompous. He has a piercing look to add to his self-esteem. He is madly ambitious and has got where he had by hitching his wagon to the rising star of Indian politics, Sonia Gandhi. His claim to an impeccable record is flawed by some scandalous episodes which were kept under wraps by the Ministry of External Affairs to preserve the prestige of the foreign service. In short, he is an unsavoury character. However, none of this is pertinent to the hitherto unsubstantiated charges against him. What was pertinent is should he have remained a foreign minister in a government which did not share his views on foreign affairs?
There were a few important international conferences in the offing where his views would have given a false picture of the government's intentions. And in the Winter Session of Parliament, he will be a sitting duck for the Opposition and put Manmohan Singh's government in an acutely embarrassing position.
Nobel whore monger
Gabriel Garcia Marquez (b. 1927), Colombian author of the classic (One Hundred Years of Solitude) was awarded the Nobel Prize for literature in 1982. His latest offering is Memories of my Melancholy Whores (Knopf). It is about a journalist who writes a column everyday for the leading paper of his city. He spends his nights in the red-light district in different brothels. He started early — from the age of 12 — and continued his daily routine all his life. He insisted on paying for his pleasures because then there were no emotional hassles involved. Once at home his laundry woman, while she was bending over the laundry basket, bared her behind. Our hero got so excited that he jumped of his hammock and forced himself upon her. The washerwoman protested mildly that it was not the right way to do things but let him do it his way once a week. He had also sodomised boys at school.
He jotted down the names of the whores he had laid. After 514, he lost count. When he came to his 90th birthday, he asked the madam of the brothel house he had patronised more than others to send him a virgin. For the first time in his life, he fell in love with the teenager. He was no longer able to perform but made up by staring at her naked body while she slept. The moral of the story, if one can use that word, is "Sex is the consolation you have when you can't have love." However, in his case it is the other way round: when he falls in love he is unable to have sex.
I am unable to fathom reasons which induced Marquez to write this novella almost entirely confined to prostitutes. The urge to write about my own fantasies came to me when I was in my eighties. I churned out The Company of Women (Penguin). I wrote a short prefatory note admitting that as a man ages, his sexual desires travel from his middle to his head. And all that I have written were the imaginary escapades of an octogenarian.
Needless to say, it was panned by most critics, and predictably also went into several editions. Marquez's latest will make it to the top bestsellers list and earn him another fortune. It does not shake me. My consolation is that I did a better job than him even if the world does not agree with me.
False predictions
Kunji Lal said. "Come what may,
My stars tell I will die today."
His prediction proved wrong like a mythical lore.
He is still alive and kicking as before.
A swami said, "For my ashram, give donation.
I assure you, you will go straight to the heaven."
Both the swami and the ashram are doing well.
But his devotees are rotting in the earthly hell.
A neta said, "If I win the election race,
India will shine like Lune's face!"
To the voters, he made promises big and tall. When he became an MP, he forgot them all.
A common trait of our character is deceit.
Wherever we go, we find a cheat,
Still, how marvellous: from dusk to dawn,
We live happily in our desh mahan.
(Courtesy: G.C. Bhandari, Meerut)