AUDIO SCAN
Avadhoot all the way
Aana Dobara
(Sagarika)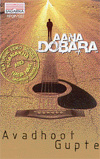 Here is a veritable one-man show by Avadhoot Gupte, for he is the singer, composer and lyricist of this album. He is not outstanding in any of the departments but he is not disappointing either.
There is a lot of variation in the tone and tenor of singing, for sure. There are some dance numbers, there are some serious ones and then there are some inane ones as well.
The album begins with the title song, which is about the most promising of the lot. How one wishes the quality was maintained all through the album. But that is easier said than done, especially if you are handling all the departments yourself.
The song Nana nani is the weakest lyrics wise but given that it has that streak of madness about it, it may have a good run. Most of the heavyweight numbers seem to be packed on side B. Kabhi kabhi and Kankhiyon se yun are so very easy to hum along.
The better of the lot happen to be Aansuon ki khwaishen and Manjilon se manjilon tak, both of which have been sung with a lot of feeling by Gupte. Mahive is semi-Punjabi, making fun of the current trends in singing.
Of the nine songs, two have been made into video songs. These are Khamkha and Nana nani. These two have been apparently selected because they have an infectious beat and can be an asset on the dance floor.

Kaniaan: The Raindrops
(T-Series)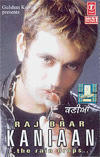 Donít be taken in by the western dresses worn by the singer Raj Brar in the photographs that appear on the jacket of this cassette. His singing and music are typically Punjabi. The new kid on the block is going retro to stand out in the crowd.
Far too many people are trying to make use of the current boom in Punjabi songs. Few of them happen to have a distinctive style. Raj Brar is proving to be one of them. He has chosen lyrics which are typically ethnic. The music too is earthy. The end result is a welcome addition to the folk stock. Brar tries out serious notes in Alwida. He is equally sentimental in Punjab, which speaks of the tragedies that the land of five rivers has suffered down the ages.
There are 10 songs. The remarkable thing is that all of them have been written by different lyricists. So we have here Dlibag Urang, Babu Singh Mann, Jarnail Chakkhalipuri, Inda Raikoti, Lakhwinder Mann, Gurwinder Brar, Rakj Kakra, Mintu Mukatsar, Jeet Chandigarhia and Kanwardeep Lakhewali. ó ASC