More than his cup of tea
Nalini Ranjan meets Laxman Rao, a Hindi writer who runs a tea stall to sustain himself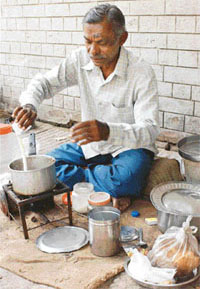 Laxman Rao, who has 16 books to his credit, earns his livelihood by selling tea. — Photo by AFP
At first glance, one may pass him off as a chaiwala (tea vendor), but even a casual chat with him is enough to grab your attention. He sounds like a political commentator, argues like a philosopher and talks about his creative works like a critic. Fiftyone-year-old Laxman Rao runs his own publishing house, Bharatiya Sahitya Kala Prakashan, from Vishnu Digambar Marg, ITO, Delhi.
Situated between the Punjabi Academy and Hindi Bhavan, Rao prepares and serves tea from his roadside tea stall under the open sky. To customers who throng his wayside shop, he boasts of having written 18 books so far, including a variety of novels and plays.
In his first title, Nayi Duniya Ki Nayi Kahani, he wrote in 1979, he narrated the hardships that he faced and the massive will he mustered to elevate, and then sustain himself as a writer. His play, Pradhan Mantri written in 1984, was an outcome of his encounter with then Prime Minister late Indira Gandhi at the Teen Murti Bhawan in 1984. "I completed the play in three months. The plot portrays the Prime Minister in a social set-up with her subordinates responsible for corruption. I was thinking of gifting the first published copy to her, when the news of her sudden death shocked the entire nation." He published his next novel, Ramdas, in 1992. It was sold in over 200 schools in Delhi. Recently, he was conferred with Inderprastha Sahitya Bharti Award. In Parampara Se Judi Bharatiya Rajniti, Rao has incorporated the experiences of his struggle.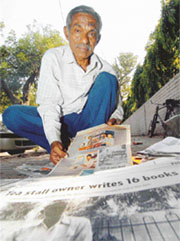 Born in a family of farmers in Amravati district, Maharastra, on July 22, 1954, Rao's fondness for Hindi literature saw him complete his matriculation in Hindi medium from Mumbai University in 1973. "In Class VII, I got addicted to Gulshan Nanda's novels. Pundits of literature never recognised his writings but they proved very useful for me to write lucidly in Hindi."
As a child, Rao was quite fond of reading but the thought of becoming a writer never crossed his mind. A young boy, Ramdas, was drowned while taking a bath in the river. The incident was such a shock that Rao looked for an outlet to vent his intense pain and he decided to write.
Circumstances forced him to give up studies after Class X and he began working in a local spinning mill to earn extra money. After the closure of the mill, he started assisting his father in the fields. "I was never at peace with myself. I was scared of calling it quits and surrendering to life's trials," he recalls. With Rs 40 in his pocket, he left his hometown and headed for Bhopal in 1975 in search of greener pastures. He worked as a labourer at a construction site but as he says, "I did not let the tribulations demoralise me. After a couple of months, the fear of losing my creativity made me board the train to Delhi. I landed here on July 30, 1975."
After wandering about jobless for some time, he sought shelter for three days at the guest house in Birla Mandir. During the day, he worked as a mason at construction sites and washed dishes at a roadside tea stall.
Daryaganj's famous Sunday Market became a hunting ground for Rao. He read works of Mahatma Gandhi, Jawaharlal Nehru, Karl Marx, William Shakespeare and Lenin. Realising the need to educate himself, he gradually aquired a Bachelor of Arts from Delhi University as an external candidate.
Rao will never forget the day he was preparing for his exams sitting at his kiosk, when a demolition squad of the Municipal Corporation of Delhi (MCD) came. The kiosk was given to him by Pepsico. "They razed my kiosk on July 19, 1999 terming it illegal. It shattered me and was the most painful time of my life. I applied for the kiosk again in 1981, with supporting documents, including court and MCD challans, but the authorities were apathetic."
Laxman's writings are woven around ground realities of life. As he says, "I have led a turbulent life and I understand the intensity of feelings of others in similar circumstances. My books epitomise the struggle and triumphs of ordinary people in a realistic manner."
Rao recounts the rejection that he faced repeatedly, "I approached a number of publishers in Daryaganj but all of them, on one pretext or the other, turned me away. One of them even said 'get out'. Now he is his own printer, publisher and distributor.
He lives in a rented house in Shakarpur in East Delhi with his wife and two sons, Hitesh and Paresh, and is now busy writing Pattiyon ki Sarsarahat.
Today Rao's books can be found in various branches of the Delhi Public Library and at some school libraries. Despite making a name for himself, he has not earned from his writings. Whatever he earns from the sale of one book goes into publishing the next one. "My wife Rekha is my best critic. She often gets frustrated and says if you still have to sell chai and paan, why write? But I know she is proud of me as a writer and as a responsible father and husband," he says. The plight of Rao is a comment on the system which does not value creativity.