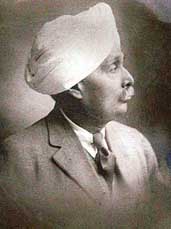 Aptly called the Lion of Punjab, Lala Lajpat Rai's contribution to the freedom struggle has been well documented. The Collected Works of Lala Lajpat Rai, edited by eminent historian and biographer
B.R. Nanda, brings out Lalaji's role in the struggle for freedom and perspective on nationalism and vital social issues of the time. Much of what he wrote is still relevant.

There was hardly any Indian leader, with the exception of Gandhiji, whose public activities covered such a wide range as those of Lalaji, wrote Krishan Kant, former Vice-President, in his foreword to the book. Excerpts:


Moved by nationalism
Lala Lajpat Rai
There can be no doubt that Indian nationalism is receiving a great deal of support from the world forces operating outside India. On the political side it has been inspired and strengthened by the forces of European nationalism — the struggles and successes of the English proletariat, the sufferings and the eventual triumph of the French revolutionists, the efforts and victories of the Italians, the continued struggle of Russians, Poles, Finns, Hungarians, and others.

Plain Janes replace glam dolls
Randeep Wadehra
Much as we revile DD, we forget that it had given us some classic shows like Hum Log, Deewar and that unforgettable telefilm Tamas – a record that is yet to be matched by any of the so-called quality-conscious up-market private channels. Real people's real situations were depicted in these serials. What was the reason for their success? Obviously original storylines, portrayal of real-life situations and inputs like good direction, acting etc. Glamour was certainly not the reason for their success.

Scenic splendour at the doorstep
At the Renuka lake, you can boat on the placid waters while lions roar in the neighbourhood and birds chirp, writes Santosh Utsak
The Nahan-Renuka-Paonta sector constitutes a distinct tourist triangle of Himachal tourism and is a part of the erstwhile princely state of Sirmour.

The Shahs of comedy
Forget the tear-jerking soaps and meet the squabbling new age family of the Sarabhais. The saga of a high-flying socialite and her distinctly middle class daughter-in-law has been regaling viewers for over a year. Sarabhai vs Sarabhai on Star One has been climbing the popularity charts unobtrusively and has now proved that it is more about genuine smiles then canned laughter.

Question of crore
There's no stopping copycats. If for every Super Sale on Star One there's a Deal Ya No Deal on Sony Entertainment Television, then for Kaun Banega Crorepati there's now going to be Mission Ek Crore. And if superstar Amitabh Bachchan has viewers hanging on to his every word, then Sanjay 'Munnabhai' Dutt is going to work his magic in Mission Ek Crore on SaharaOne.

A cinematic feast
The 10-day International Film Festival of India, opening in Goa on November 24, will present a wide range of entries to whet the appetite of film lovers,
reports Saibal Chatterjee


Goa learns from past mistakes
The powers that be are trying to avoid a repetition of 2004. They have decided to shift the beach screening from Miramar to Caranzalem. There is also a move to provide IFFI with a Goan flavour, writes Ervell E. Menezes

Drop your thinking cap
The Legend of Zorro, with its special effects folks working overtime, provides ideal escapist entertainment, observes Ervell E. Menezes
From the 1970s onwards Hollywood specialised in sequels with The Godfather and The French Connection cashing in on the marketability of the parent film. Now the strategy seems to have changed and sequel has probably become a dirty word.

Girl next door
Bhumika Chawla wants to essay roles that are unconventional. V. Ananth talks to her about her forthcoming films
She looks as fresh as she did when she breezed in with her maiden venture Tere Naam opposite Salman Khan two years ago. Since then three more films starring Bhumika Chawla have been released—Run, Dil Jise Apna Kahe and Silsilay.