The Shahs of comedy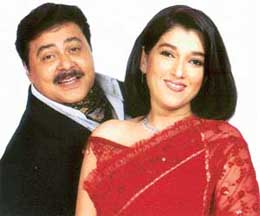 Sarabhai vs Sarabhai: Ruling pair of comedy.
Forget the tear-jerking soaps and meet the squabbling new age family of the Sarabhais. The saga of a high-flying socialite and her distinctly middle class daughter-in-law has been regaling viewers for over a year.
Sarabhai vs Sarabhai on Star One has been climbing the popularity charts unobtrusively and has now proved that it is more about genuine smiles then canned laughter. It was the star attraction at the recent ITA Awards Night where it bagged five awards key awards.
While J.D. Majithiya got the award for the Best Serial, Atish Kapadia for the Best Dialogues and Deven Bhojani for the Best Director, the biggest applause was reserved for the Best Actor and Actress awards that went to Satish Shah and Ratna Pathak Shah whose transition from Filmi Chakkar to Sarabhai vs.Sarabhai has been smooth and refreshing.
But unlike Filmi Chakkar, which was a laugh-riot, this one is at best a ribtickler. The storyline flounders at times though the sitcom is still eminently watchable especially for the excellent performances of Shah and Shah. — NF