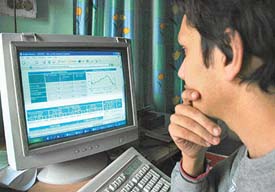 To market, to market,
To buy a fat lot of
shares
A booming economy, high disposable incomes and online stock trading are attracting more and more young investors to the equity cult. Shveta Pathak on the growing investor community
IN Mandi Gobindgarh, a small town near Ludhiana, when 22-year-old Satinder Kaur, a student, asked her father for Rs 10,000, he was obviously curious.
Rich visuals but lengthy
In Harry Potter and the Goblet of Fire, Mike Newell does his best with the visuals but not the story. The length works against the film, writes Ervell E. Menezes
SO, the J. K. Rowling's Harry Potter saga goes on and on with each film surpassing the earlier one, in quantum at least and the fourth film Harry Potter and the Goblet of Fire is all of 160 minutes.



Potter facts