Three-year-old Budhia is being trained by his coach to make a name for himself as the youngest marathon runner but social, activists and doctors are concerned about the life-threatening repercussions of his rigorous schedule. Bibhuti Mishra reports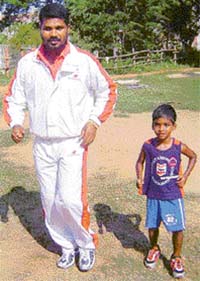 Three-year-old Budhia with his coach Biranchi Das
HE is no more than three and a half years old and his coach wants him to feature in the Guinness Book of World Records as the youngest marathon runner in the world.
Budhia, the youngest of four children, comes from a very poor family in the Goutam Nagar slum in Bhubaneswar. He lost his father Krushna Singh last year. His mother, Sukanti, unable to make both ends meet from washing dishes in houses, sent her two elder daughters to two households as maids and gave Budhia away to a hawker for Rs 800, keeping the third daughter with her. President of the Kalingaputre Basti Basinda Association and general secretary of the Orissa Judo Association Biranchi Das, who visits slums, brought Budhia home along with his sister, five-year-old Mama, after paying off the hawker.
Budhia now lives with his foster parents Biranchi and his wife Gitanjali, who dream of making him a world champion.
"When he came to us, he stayed purely because of the two bowls of rice that came his way every day. His mother had sold him to a hawker and he was out on the streets," reveals Das, his coach and guardian. The judo association is looking after Budhia and his food intake. He gets to have a lot of pulses and milk. They are planning to get him admitted to a government school soon. He now lives in the judo association hostel.
Budhia's talent for running was discovered by a quirk of fate. Some months ago, judo coach Biranchi Das asked little Budhia to run in his judo training centre in Bhubaneswar, as punishment for using wrong language. Biranchi had wanted to check on him in 15 minutes but forgot to do so. When he got back five hours later, the three-year-old was still running. Amazed by the child's stamina, Biranchi took him to a doctor, who found him absolutely fit.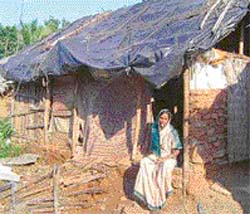 Budhia's mother Sukanti sits in front of their house
Budhia, who maintains a speed of 10-15 kmph over several hours and runs almost seven to eight hours every day, created a storm on October 16 by running seven km in a half marathon held in Delhi.
His coach now aims to have him in the Guinness Book of World Records for becoming the youngest to run a full 42 km marathon race. However, the participation of the kid in "road shows" at several places in the state almost every other day has evoked adverse reaction from doctors, social activists and sportspersons. There are apprehensions that the wonder kid may face breakdown if he is not given proper training and adequate rest. There have also been allegations that Budhia is being 'exploited' by his coach.
Sanjukta Mohanty, member secretary of a council under Women and Child Development Department, filed a petition stating that the coach should be forbidden from subjecting Budhia to such severe physical exertion as it could be disastrous for him.
Mohanty said even though Budhia is gifted, there are limitations to what his body can tolerate at such a tender age. Budhia has covered the 60-km Bhubaneswar-Puri stretch 10 times in the last five months, clocking his best at 5 hours and 45 minutes.
Though he is checked by one Dr S Mohanty, who is satisfied with his physical fitness, the All-India Paediatricians Association is far from happy. They are afraid that if Budhia is made to run so much so frequently, he could get disabled or develop arthritis. Says Dr Aurobindo Mohanty, secretary of the Orissa chapter of the paediatricians association, "Every MBBS doctor is not qualified to give a fitness certificate to a kid like Budhia. His blood pressure, blood sugar, ECG and ENG need to be properly checked. There should not be improper use of ability. Too much cricket gave Sachin Tendulkar a tennis elbow. So if the fitness level is not properly checked, Budhia could be totally invalid after sometime because kids of his age should not run more than seven km. And, Budhia is being made to run 10 times more than that." He called for the state government to take care of Budhia and even insure his limbs.
Recently Indian legend P T Usha had also expressed concern. She said it was okay for four-year-olds to go for gymnastics in track events but runners should be at least 12 years old. In fact, Budhia was disallowed from running the Delhi half marathon officially as he was underage.
Also warns Arun Das, a government coach: "The experiment may also affect the kid's lungs, heart and overall growth. For marathon, one is trained after the age of 12. Even at that age, the maximum one runs at a stretch is 15 km once or twice a week."
In fact, a number of paediatric experts are of the unanimous opinion that the kid must not be put under such rigorous training. At this age, the body virtually has no fat and all that the kid uses is protein. If an average person's requirement of protein is 70 gm per day, Budhia would need more than that in view of his activities. Moreover, the excessive running would put tremendous pressure on his thigh and leg muscles. The other muscles of his body, as a result, would not get enough nutrition. Excessive running could also lead to seizure.
The government is thinking of shifting Budhia to an SOS village for his proper upbringing. Budhia now does not go to school. Women and Child Development Minister Pramila Mallick has said that a decision to this effect was taken by her department on receiving allegations about the "over exploitation" of Budhia.
The Das couple, however, deny the allegations. "He gets both a home environment with family members as well as a sports environment at the judo institute. All this talk of exploitation is sheer rubbish and petty politics," the couple said.