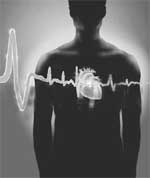 Driven by rising obesity and inactivity and generally poor lifestyle habits, associated with recent affluence and increased motorised transport, a sharp increase in the number of diabetics in India is almost inevitable unless drastic steps are taken today. According to Prof Sir George Alberti, immediate past president of the International Diabetes Federation and Britain's foremost expert on the disease, "It is a catastrophe waiting to happen." The financial and social burden will be intolerable unless strong government action is taken now.
Diabetes affects 150 million people globally and causes 5 million deaths a year. The number of the affected has almost tripled in 50 years, from 55 million in 1955, and will rise to 300 million in 2025 - of this, 70 million will be in India . More than 80 per cent suffers will die of heart attack or stroke and more than a 1000 a year will need dialysis for kidney failure.
What is even more important to note is that diabetics are more prone to heart disease and related problems. Diabetes mellitus is an established risk factor for the development of coronary artery disease. Epidemiological data from the Framingham and other studies have clearly documented this fact. Coronary artery disease (CAD) is two-three times higher in diabetics than in non-diabetics - the risk being further higher in women. Accelerated coronary and peripheral arterial arteriosclerosis is one of the most common and serious chronic complications of long-term diabetes.
CAD is not only more prevalent in diabetics but is also more extensive, involves more vessels and is progressive. The arteries tend to be narrow in diabetics and the blockages are more diffuse. Also, when a diabetic develops heart disease, it is generally more severe and there is much higher risk of death than in a non-diabetic.
The risk multiplies if hypertension is associated with diabetes - a not uncommon combination. According to the American Diabetes Association, if you have a coronary problem and are diabetic, you are already "one heart-attack old".
It is estimated that almost 3.2 million people die of diabetes across the world every year and there are 30 to 33 million diabetics in India now. Every fourth diabetic in the world today is an Indian. The World Health Organisation predicts that the number of diabetics in India would go up to 40 million by 2010 and 74 million by 2025. The country stands to become the "Diabetes Capital of the World."
International health officials say diabetes needs much more attention, particularly in India. It is unfortunate that Indians are genetically more susceptible to diabetes. Compared to Americans, whose average age for the onset of diabetes is 59, in India it is much less at 43.
The management of diabetes has always been a matter of research and discussion. Over the years diabetes specialists have been adopting an aggressive approach towards the prevention and treatment of the disease and are adopting the following targets of prevention: BP to be 130/80 mm Hg, fasting blood sugar levels less than 120 mgl and cholesterol as low as possible.
Diabetic patients coming for coronary artery bypass grafting (CABG) are now generally younger, comprise more women, have a greater incidence of high blood pressure and previous heart attack, have a worse class of angina, have a higher incidence of heart failure, severe triple vessel disease or left main disease (known as 'the widow maker'), a higher incidence of diffuse disease, a lower heart function, and a greater incidence of associated carotid and peripheral vascular disease and renal failure than non-diabetics.
It is well known that there is a much higher rate of recurrence (restenosis) after PTCA (angioplasty) and stent placement in diabetics. Insulin dependent diabetics fare worse than non-insulin dependent ones.
Cardiac scientists have risen to the challenge by using various methods for better control of diabetes, a better technique of harvesting the internal mammary artery, use of minimally invasive techniques to harvest the saphenous vein, use of off-pump techniques to avoid the heart-lung machine with all its attendant side-effects (immunological, haematological, neurological, pulmonary, renal, hepatic, psychological), development of robotic techniques for CABG and endoscopic vein harvesting techniques.
The single most important advance in CABG in the last decade has been the uniform acceptance of off-pump (beating heart) CABG first started in Punjab 10 years back - as a standard technique. Eliminating the heart-lung machine with its attendant neurological, pulmonary, renal, cardiac, hepatic, immunological and hematological adverse effects has a significant salutary effect on the high-risk diabetic, patients.
It has been clearly shown that with off-pump techniques in diabetics, there is a great benefit from less blood product usage, less incidence of prolonged ventilation, less incidence of postoperative renal failure requiring dialysis and less rhythm disorders. This translates into a much reduced incidence of infection and a shorter hospital stay.
In spite of our intention to use arterial grafts quite often, we are faced with the need for additional vein grafts. A significant morbidity in the diabetic patients is an infected leg/thigh wound, which prolongs the hospital stay and delays ambulation and physiotherapy. Special endoscopes have been developed which are hooked up to TV screens to give a magnified view of the endoscopic view. With special instruments, the surgeon is able to dissect out up to 40 cm of the greater saphenous vein via a 2mm incision at the knee. The patient has no incision, no pain, no possibility of leg wound infection and is able to ambulate early. This writer has been the first in Asia to have independently used this technique in 2001.
Continuous advances will ensure that the risk to the patients continues to decline and the long-term results further improve in the high-risk vasculopaths.
The writer, who was earlier associated with Escorts, New Delhi, is Director and Chairman, Cardiac Sciences, Ludhiana Mediciti Superspeciality Hospital, Ludhiana.