Back to the Books
They fascinate, mystify and even have a cathartic effect on our emotions. Gayatri Rajwade delves deep in the delightful world of something that never ceases to captivate—books.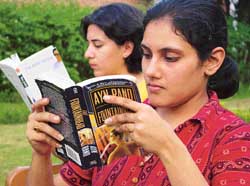 University students taking time out to read their favourite authors.
It is a captivating world of solitary splendour and salty emotions, of crunchy words which mingle to create a palette of fables that whisk you away to another world. The whiff of ruffling pages, the feel of paper carefully sprinkled with words forming magical pictures in the mind's eye—books delight.
After the flutter the boy wizard Harry Potter created in our world of "Muggles" (commoners!), there is a motley assemblage of books that have come to captivate, enthral and make our senses dance!
Dan Brown remains the king of the bookshelves, however, creating a big buzz right now is our very own Chetan Bhagat—with his two offerings glittering aisles at bookshops—'One Night @ the Call Center' and 'Five Point Someone'—continuing to pull the crowds at all leading bookstores in the city.
Sidney Sheldon's new autobiographical offering, 'The Other Side of Me', has caught the fancy of readers purely for the large tome of work the author is already known for.
Non-fictions like Vikram Seth's 'Two Lives', Amartya Sen's 'The Argumentative Indian: Writings on Indian History, Culture and Identity', and 'The Mitrokhin Archive II: The KGB and the World' by Christopher Andrew and Vasili Mitrokhin have held readers' attentions.
According to Pankaj Singh, owner of Browser, "Reading is a habit that has to be encouraged from a young age, only then will the child grow up to read right through his or her life."
So, for the young ones, there are a splendid variety of excellent choices to be made. "Christopher Paolini's 'Eldest' has been a huge success despite coming on the heels of 'Harry Potter and The Half-Blood Prince. The book has been appreciated by a gamut of people, not necessarily just children," avers Pankaj.
He points towards a series of Puffin books that have come into the market, stories with Indian content and good Indian authors. "After decades of hand-drawn, cheap paper and books with flimsy bindings, publishers are waking up to a whole new world of children's books. Publishers like Tara, Katha even Zubaan are coming up with wonderful books for young ones."
In the fiction category, the publicity behind Booker Prize winner John Banville's 'The Sea' has prompted people to pick this one up to read as has the huge reputation of Salman Rushdie which has pumped sales of 'Shalimar the Clown'. 'Kardamom Kisses' by Shinie Antony has also caught the imagination of readers which "despite little publicity has done well through word-of-mouth".
Ajay Arora of Capital Book Store-17 believes the slant towards fantasy, especially for 18 years and above is the swinging mantra for the day! "Reading parents have reading children", he declares, so Harry Potter, the Bartimaeus Trilogy by Jonathan Stroud (the third one—Ptolemy's Gate is out) and self improvement books like the Dale Carnegie's 'How to Win Friends' are some of the hot picks. "In addition, J. R. R. Tolkein's 'The Lord of the Rings' and Paulo Coelho's 'The Alchemist', is popular as are Agatha Christie and Sidney Sheldon.
Christina Singh, Deputy Manager at the British Library, has a definite pulse on young readers since she is "at the desk" a lot! "Computer Science books, career oriented books are popular amongst the city's 18 year olds."
Amongst the piles of fiction doing the rounds, there are British author Andy McNab, Dan Brown (of course!), Robin Sharma, Robin Cook and Vikram Seth's 'Two Lives' for which the demand is very high.
British Library's biography section is very popular. "Young people dream and they want to know how to achieve these dreams." So queries on Kalpana Chawla, Anoushka Shankar, Sachin Tendulkar even Sania Mirza flow in.
However, the final word belongs to Chetna Sethi, a housewife and an avid reader living in Phase 9, Mohali. "If there is anybody who knows how to write, it is Nobel Laureate Toni Morrison."
So peruse, pause, ponder and pick—for reading is food for the soul, no less.