AUDIO SCAN
Enter Rajasthani pop
Do The Ghoomar
(Taal Music)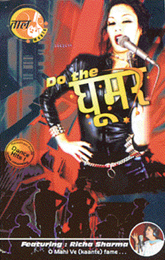 Punjabi music has gone international after a bit of tinkering with the beat to suit global tastes. So, what is wrong if the same is done with Rajasthani folk? This album takes many traditional Rajasthani songs, adds a few seconds of rap here and there, uses western instruments, and presto, you have brand-new music. The intentions are clear from the dust jacket itself. The first part of the title, "Do the" has been printed in English and the second part, Ghoomar, in Hindi.
Two of the songs are by Richa Sharma, who came into the limelight with the O mahi ve `85 number in Kaante. She has also done playback in Mangal Pandey, Kaal and Taal etc. The rest have been sung by Manju Sharma and Nandini Srikar (two songs each) who are more into ad jingles.
Despite the remixing, the original feel of the songs is intact. Even the lyrics are traditional. So, the songs are not a radical change from what has been sung and heard in Rajasthan for ages. The only song which breaks new ground is the
title one.
Most of the Rajasthani folk songs are meant for the numerous dance sessions that the state is famous for. They become all the more so after the facelift job. The album may indeed become a hot seller outside the state. Some of the words may be difficult for outsiders (for instance, Toote bajura ri loom, but then music has a universal language of its own which is understood by everyone.
The instrumental version of Cham cham chamke is particularly enjoyable.
Husn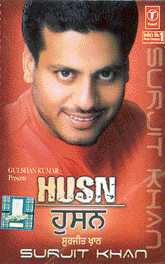 (T-series)
There is hardly a Punjabi singer today who is not out to record a cassette, whether he can carry a tune or not. This is money well spent, because, one, it adds to one's popularity and, two, it helps them to demand much more for their stage shows. The cassette scene has become so crowded that it is well nigh impossible to separate grain from chaff. One indicator is the music company which is releasing the cassette. Those releasing it on an all-India basis are more quality conscious.
This one by Surjit Khan comes from the production line of T-series. What sets it apart is that it does not kowtow too much to Western tastes. Most of the songs are reminiscent of the typical folk fare still popular in rural Punjab.
With change of times, lyrics have gone a sea change. So, he sings of muscle bana laye and jeep nun alloy wheel paa laye but the typical Punjabi lilt remains intact.
Lyrics of Jind Sawara, Gurupkar Gill, Jaily Manjit Puri, Nishan Malkpuri, Gurtej Tej and Babu Rajwali have been set to music by Sukhpal Sukh.
— ASC