FASHION
Bridal special
A bride's make-up is considered incomplete without solah shringar, writes Dhanvanti Keshavrao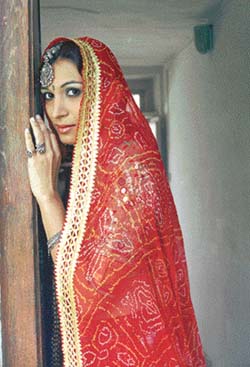 THE marriage season is here. Brides can be seen attired in their best for this auspicious day. Solah shringar or 16 adornments of a bride relates to the 16 phases of the moon that is believed to influence a woman's menstrual cycle. Names and designs vary with each community and state, but the basic 16 adornments are the same.
According to Sanskrit texts, the ingredients of a solah shringar are: bindi, necklace, earrings, flowers in the hair, bangles, rings, armlets on the upper arm, waistbands, anklets for the feet, kohl, toe rings, henna, perfume, sandalwood paste, the upper garment lower garment. Solah shringar is the same for Hindus and Muslims. The only difference between the two is that Islam does not permit bindi.
On the wedding day, women relatives of the bride ceremoniously adorn her. The maang tikka, worn along the parting of the hair, is usually a simple round gold disc set with precious stones, attached to the parting of the hair by a chain. In South, a sun and moon clip is worn on either side of the parting. In the southern and western states, white orange and pink flowers are woven around the plait. The tikka or kumkum, symbolising fertility, is worn on the forehead.
Then follow the earrings. Tamilians prefer the diamond-studded earrings: a central diamond encircled by smaller ones. The Kashmiri jeroo is an essential part of the bride's ensemble and is comparable to the mangalsutra of South. The bridal nose ring varies from region to region, with some communities using rings, while others prefer studs. In South, diamond setting of five stones forming a triangle is worn on both sides.
The necklaces of pure gold set with precious stones are usually heavy and vary in length, are worn with the heavier kanthi, or choker, that hugs the neck. The mangalsutra, or the wedding chain, is later added during the wedding ceremony.
The rings are made of gold. A unique ornament is the haath phool. Five rings worn on all five fingers, with gold chains from each ring meeting a medallion encrusted with stones at the back of the hand, and joined by five gold chains to a bangle.
The gold rings, bracelet and bangles are important jewellery pieces, along with ivory bangles, glass or conch shells. A bazuband or armband is worn on the upper arm, is usually of gold or silver, set with pearls and diamonds.
The waist belt, or a tagadi, odiyanam or kardhani, is made of gold or silver and helps keep the bride's heavy saree in place.
The saree may be the Maharastrian green nine-yard paithan, the Tamilian maroon and gold-bordered koorap-podavi, or the red and gold benarasi of North, where some also wear a rich churidar-kameez alternately.
The anklets whether as simple chains, heavy bracelets, or with bells attached, are compulsory. In Bengal, a thick red line is drawn along the outer border of the foot, while in other regions, mehndi is applied to the feet. The last of the solah shringar are the toe rings usually made of silver, and signifying fertility. — MF