Light on the life of a master
B.K.S. Iyengar is the pre-eminent yoga teacher of our times. He introduced yoga to the West and made it a household name. His book Light on Yoga, published in 1966, is the best-selling yoga book of all times. Harsh Desai met him recently for an exclusive interview to The Tribune, on the publication of his 18th book Light on Life. He turns 87 on December 14. Excerpts:


Can you tell us a little about your family background? We are very keen to know about it.


(Laughs). My family background is not worth recording. My parents were from a remote village, Belur, near Bangalore. My father was a primary school master who moved to Bangalore after retirement in 1924 and worked as a grocery clerk.



B.K.S. Iyengar has over 5,000 students who teach yoga in India and abroad. Photos by Courtesy Ramamani Yoga Ashram, Pune

In the book, you describe yourself as a sickly boy who suffered from malaria and tuberculosis during childhood.
In 1918, I was affected by influenza when I was born. My mother, too, was affected as there was a global epidemic. I used to contract malaria every year for many years. I also developed typhoid and was diagnosed as having TB.
Did you start learning yoga by accident?
My brother-in-law who was a yoga teacher was on tour to various parts of Karnataka to visit Kevalyadham in 1934, during the summer holidays. He told me why donít you go to Mysore and spend some time with your sister. Afterwards he asked me to join school there.
Was he a great teacher?
Shreeman Krishnamacharya was a top-class teacher. At that time, there was no one close to him. He was also a great scholar, an intellectual giant. A pandit, he had passed the six darshanas.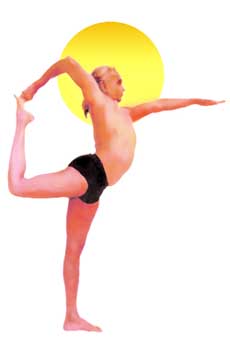 So, how did the teaching go?
He taught me for a few days and saw my body was very stiff and lost interest. He said you go on practising what is taught to you. He had a favourite student who left the house never to return, so he forced me to take his place. It was a case of destiny. Then he taught me a few asanas. There was a YMCA world conference in 1935 and he asked me to give a demonstration there. I gave it and also won the first prize of Rs 50 from the Maharaja of Mysore.
What was he like as a teacher? Not much is known about him and you have not even written about him in this book.
Because of his intellectual superiority, he could not socialise, something that made him lonely. None of his colleagues could come close to him because he was a very intellectual man. He was a very rough, strong teacher and very demanding. If he taught you something, you had to demonstrate it within 24 hours, otherwise no food. I learnt because of the fear complex. That made me work hard.
You learnt just hatha yoga or Patanjali yoga?
There you are mistaken. Yoga is one. It is believed that hatha yoga is physical yoga whereas Patanjali yoga is spiritual. But that is not true. The contents are almost identical. In the Yoga Pradipika it was said that the body must be a good foundation. Do you know what hatha means? It means stubborn Ė hatha yoga is the yoga of will power.
He was not communicative?
Yes that is what I told you. Because of his intellectual powers he did not want to mix. There was distance and a fear complex.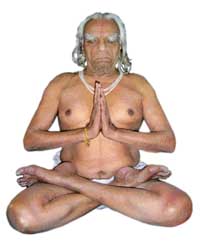 Iyengar: The body is the container of the consciousness
Did he teach you the subtleties of asanas?
Not at all. Within two years I had to go and teach in Pune.
How did you happen to go to Pune?
In 1936, at a demonstration in Belgaum, a surgeon called V.B. Gokhale was impressed by me as I could do a lot of backbends. He said, "I have not seen this range of movement." He wanted the people of Pune to learn. And he wanted someone to come and teach there for six months. He wanted a senior student. He wrote to Guruji. But no one was willing to go; so Guruji asked me to go. I came to Pune in 1937. The classes were arranged in the Deccan Gymkhana and colleges.
But then the classes closed down because the yogis at that time thought that yoga could not be taught in large groups and had to be taught one to one. Then I had to start on my own. I thought a known devil was better than an unknown devil. So I continued in Pune. I had great difficulty in running classes.
Initially, I could not even pay the rent. At that time, a famous film producer Balaji Pandarkar asked me if I could help him learn yoga. "Just be with me and stay with me and I will take care of your food and home," he said. Then I got a few students and continued up to 1943.
And then what happened?
Then I got married. Gradually, the number of students increased. I started taking patients, people whose health I could work on, people with various ailments. I did not know much about the causes of diseases but I took a chance. And it worked. I started with cases like hernia, backache, cold that could not be cured and then also looked after paralytic cases.
You went to England in 1954. How did that happen?
Yehudi Menuhin was touring India in 1952. Dr Rustom Jal Vakilís wife was a student of mine in Pune. She told Menuhin "there is a man in Pune who is very good at yoga. Why donít you meet him?" I was told that Menuhin would meet me for five minutes.
I refused to go as I said that I am not going to travel for 10 hours to meet Menuhin for five minutes. Melli Mehta and others insisted and said that if I could get him it could happen even within a minute. So I went and met him at Raj Bhavan. He was very tired, so I told him I would treat you in savasana.
I manipulated his eyes and ears and he went to sleep for 45 minutes. He woke up after 45 minutes and then I said "you gave me five minutes, it is 45 minutes now, so I will go". He said "we have not also discussed anything. So please stay." I told him that I had read in the papers that he did yoga. "Can you show me what you do?í He said, "I wonít show you what I do. But can you show me that you do?" So I gave him a 45-minute demonstration. After completing the demonstration, I asked him to show me what he did. He did shirshasan. When I told him that this was not shirshasan and corrected him, he immediately felt light in the body.
He asked me to teach him. So I taught him morning and evening for the next four days, after which he performed extremely well in the concert. He told me to go abroad and teach him.
In 1954, when he came back to India he wrote to me asking me to come and teach him. He had had a nervous breakdown, prior to 1952 that had been so bad that he could not even hold a violin. Yoga relaxed him a great deal and I toured with him for a month. All the concerts were grand successes and then he called me to Switzerland; so I went. His colleague, a pianist, had a concert in England, so I went to England. When I was in London I tried my best to give a demonstration but got no response. I then went back to Switzerland and told Menuhin that I had got no response.
In 1956, I went to America. The heiress of the Standard Oil Company invited me. She had some stomach problem and I helped her to solve it. In 1956, I went again to England to teach Menuhin but it was only in 1960 that I succeeded in starting a class.
You have said that you were regarded as a contortionist?
It is true that in the early days I was regarded as contortionist. But I did not succeed initially in the West. I only managed to give a demonstration in Washington DC, courtesy our Ambassador G L Mehta. It had a great effect on the audience and Life wrote an article calling it a "new twist to society."
I came back to London and, among others, taught the Queen of Belgium. When I came to India, Nagaraja Rao of the Times of India wrote that yoga is the king of exercises and B. K. S. Iyengar teaches only kings and queens. This affected me a great deal so I told Menuhin that I would also like to teach common people. This time also I did not succeed. In 1963, the Asian Music Circle of which Yehudi Menuhin was the Chairman, sponsored some classes in England. However, these were not very successful. In 1966, after much effort, my book Light on Yoga was published. Taraporewala publishers rejected the book because it had more than 600 photographs and I refused to compromise on that. Many foreign publishers also rejected the book. Thereafter, George Yorke of George Allen and Unwin publishers noticed the manuscript and told me that I seem to be an original teacher but was not an original writer. He forced me to make many changes in the book and ultimately it got published in 1966. It has sold a million copies since then and is the best-selling yoga book of all times.
In 1971, calisthenics was taken off the curriculum in England to be replaced by yoga. In 1973, a student, Mary Palmer, asked me to teach a class of about 40 students in Ann Arbor, Michigan. The next year I went to San Francisco and slowly but surely yoga classes became popular all over America and Europe.
How did you master the art of yoga?
From the beginning, I had the ability to observe the body and see what was happening to it and explain it. Even in Patanjaliís Yoga Sutra, the effects of an asana are explained in detail but not the technique. My mind is very open and I could slowly but surely master the technique. By learning how to align the body muscles and the joints and understand the relationship between the motor nerves and the sensory nerves and how they affect the body, thereafter I learnt more about chitta (consciousness) and chitty (atma).
You were always a hard taskmaster and never hesitated about slapping a thigh when you thought the student was not doing an asana.
My Guruji was a hard taskmaster himself. I suppose that I adopted his style. When you are a hard taskmaster, people learn a lot faster.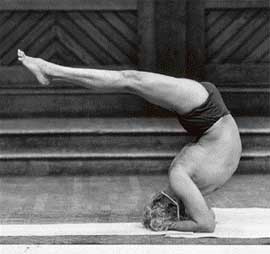 Iyengar has the ability to observe the body and see what is happening to it
As Patanjali says, yoga is about stilling the consciousness. If that is so, why is so much importance paid to asanas?
The body is the container of the consciousness. The cleaner the container is, the healthier the contents. Lord Krishna in the 13th chapter of the Bhagavadgita speaks of oneness between the fielder and the field, so also Patanjali speaks in Yoga Sutra of the oneness between the seer and the seen.
There are many health benefits of yoga but have they been scientifically documented?
The Shankara Nethralaya will publish a report next month on the effect of shirsasana on relaxing the eyes. Similarly, many studies have been conducted throughout the world.
In your book, you have written that sethubandh sarvangasan is effective in fighting depression. What is the explanation for it?
In sethubandh sarvangasan, the heart is higher than the head and the conscious and sub-conscious are flipped and so depression is relieved.
You say in your book that you had a bad accident in 1979. How did it happen?
I was driving a scooter and it hit the rock and fell off because of which my spine was twisted. Only very slowly, did I recover. I had to virtually re-learn yoga.