PUNJAB

HARYANA

JAMMU & KASHMIR

HIMACHAL

REGIONAL BRIEFS

NATION

OPINIONS

MAILBAG

BUSINESS

SPORTS

WORLD


Monday, December 5, 2005, Chandigarh, India
Updated at 3:00 am (IST)

Mathrani questioned by ED
RAW, IB join interrogation
New Delhi, December 4
Even as Minister without portfolio K. Natwar was being increasingly isolated in the Congress for being adamant in not resigning from the government, India's erstwhile ambassador to Croatia Aneil Mathrani was being questioned by the Enforcement Directorate and other agencies about his controversial statement pertaining to the UN's
oil-for-food scam in Iraq.


Natwar vehement on not resigning



Nation page: Dwivedi blasts BJP over Mathrani episode


CAST YOUR VOTE
Should Natwar Singh resign from the Union Cabinet?


CHANDIGARH

LUDHIANA

JALANDHAR
New

DELHI

JALANDHAR PLUS

AMRITSAR PLUS

LIFESTYLE
New

FORUM

EDUCATION

JOBS & CAREERS

HEALTH & FITNESS

SCIENCE & TECHNOLOGY

SPORTS

SOCIETY

TRIBUNE CLASSIFIEDS

BRIDES WANTED

GROOMS WANTED

OTHERS

HOW TO PLACE ADVTS

Cabinet reshuffle after winter session, says PM
On Board Prime Minister's Special Aircraft, December 4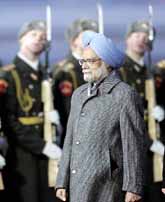 Although there is growing pressure in the Congress that former External Affairs Minister K. Natwar Singh steps down from the Cabinet following fresh revelations in the Volcker case, Prime Minister Manmohan Singh remains evasive on the issue.


Prime Minister Manmohan Singh inspects Russian honour guards upon his arrival at Vnukovo II airport outside Moscow on Sunday.
— AFP photo

Advani to act on Uma's reply soon
New Delhi, December 4
The BJP today said party President L.K. Advani will act on suspended leader Uma Bharti's reply to the show-cause notice in a couple of days.

No breakthrough in BJP MLA murder case
Lucknow, December 4
Even six days after the murder of Uttar Pradesh BJP MLA Krishnanand Rai, along with his seven supporters in Ghazipur, the state police was yet to get a major breakthrough in the case.

Hurriyat keen to discuss options
Self-rule, joint control can be considered
Jammu, December 4
Notwithstanding their support to the idea of self rule, to be preceded by demilitarisation, for resolving the Kashmir issue, leaders of All-Party Hurriyat Conference wish to make it clear that the "idea is not our baby."


India: The Tasks Ahead

SPECIAL SUPPLEMENT

125TH ANNIVERSARY CELEBRATIONS,
INAUGURAL SESSION
THE TRIBUNE MAGAZINES
On Sundays

On Saturdays

Punjab wants 5 SSPs to have powers of ED
Chandigarh, December 4
Claiming that organised crime of kidnapping, hawala transactions and drug money were interlinked, the Punjab Government has asked the Central Government to give powers of the Enforcement Directorate to five SSPs in Punjab.

Amitabh security up after journalist sneaks in
Mumbai, December 4
Security has been tightened for Amitabh Bachchan for a television journalist sneaked in to film the interiors of his hospital room. Sources at Lilavati Hospital, where Bachchan has been admitted, said two security guards at the hospital had been sacked for not preventing the journalist from sneaking into Bachchan's room.


In video: Big B recovering. (56k)


Torrential rains flood Chennai
75,000 lodged in relief camps
Chennai, December 4
Hundreds of thousands of people in this Tamil Nadu capital have been rendered homeless after rain-fed rivers and lakes inundated almost three-fourths of the city, even as the administration struggled to provide succour amidst rising water level and forecast of more rains on Sunday night.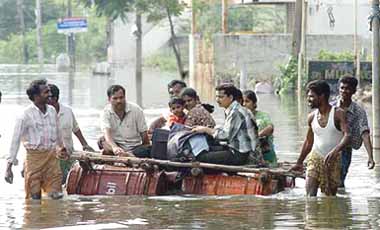 Residents are transported by a makeshift raft in Chennai on Sunday. Cyclone Baaz, which was hovering in the Bay of Bengal, weakened into a depression but brought rain to drench the southern metropolis. — AFP photo



E - Revolution 2005:
A Two-day IT conclave

Assembly Elections - 2005

Turbans

Chandigarh is 50

EARLIER FEATURES
Natwar meets PM, says he is innocent
December 4, 2005

Pandemonium in Parliament
December 3, 2005

PM calls for war against AIDS
December 2, 2005

Palki reaches Nankana Sahib
December 1, 2005
Pawar elected BCCI President
November 30, 2005

Guilty to be punished, says FM
November 29, 2005

Raj Thackeray quits all Shiv Sena posts
November 28, 2005

Chauhan to be CM of MP
November 27, 2005

Govt can't stop Judges' selection: SC
November 26, 2005

Volcker report rocks Parliament
November 25, 2005

Taliban kill hostage
November 24, 2005