Medical imaging of bulky patients
K.S. Parthasarathy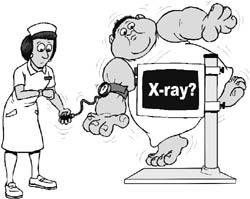 It is difficult to x-ray bulky patients. They seldom receive the benefits of other life-saving, medical imaging techniques such as computed tomography (CT), magnetic resonance imaging (MRI) or ultra-sonography.
Researchers identified abdominal obesity as a problem in India. But I do not know of any publication from India on the difficulties of imaging obese patients.
In "Radiology Rounds", the July 2005 newsletter from Massachusetts General Hospital (MGH), Dr Janet Cochrane Miller says that 4.7 per cent of Americans are extremely obese. Technologists have to increase the tube current and also exposure time to improve the quality of x-ray pictures of bulky patients. Radiation dose to patient increases. Increased exposure time causes blurred pictures.
The issue is so important that on November 30, the Radiological Society of North America (RSNA) held a special focus session on "Obesity: The Impact on Radiology" during its Annual convention (RSNA 2005) at Chicago.
Dr Peter Mueller, division head of abdominal imaging and interventional radiology at MGH, who moderated the session, noted that obesity surgery is the fastest growing area of elective surgery in the abdomen. All radiologists should have working knowledge of this type of surgery and the potential problems these patients may have.
Dr Paul Uppot, an assistant radiologist at the Massachusetts General Hospital (MGH), had presented his study on how obesity affects medical imaging during RSNA 2004. He received many phone calls since then.
He observed that in a 15-year-old retrospective study of radiologic exams at MGH, researchers found that the diagnostic information of 0.15 per cent of the five million studies was limited by the body weight of patients. They did not include patients whose examinations were cancelled because they could not fit on the table.
Dr Walter Pories, professor at the Brody School of Medicine, East Carolina University revealed that 10 to 15 per cent of all images of obese patients had
limitations.
Dr Janet Cochrane Miller noted that fat affects ultrasound images to a greater degree than any other medical imaging modality. At the frequency range normally used for abdominal imaging, one cm of fat attenuates 50 per cent of the beam intensity. At lower frequencies attenuation is less; image resolution is also less.
According to Dr Miller, 20 patients in 1000 may not get the benefit of ultrasound scans because of excess body weight. Corresponding data for MRI scan is one in 1000; abdominal CT is 4 in 1000; chest x-ray is 5
in 1000.
Some obese patients are too large to image using even x-ray films of large size. They need multiple cassettes. "When they exceed the weight limit for x-ray tables, patients can sometimes be imaged while standing" Dr Miller wrote.
Dr Miller observed that poor image quality in CT exam due x-ray attenuation can be corrected by increasing the tube current and the speed of rotation of the gantry. But the bore of the gantry is only 70 cm, at times too small for some patients; the weight limit for the CT tables is 425-450 pounds.
Absorption and scatter of photons affect the quality of image in nuclear medicine. Miller's prescription is to choose the appropriate radioisotope. This also has limitations.
In 1881, Roentgen watched helplessly while his mother was dying of some vague disease. His family physician could not diagnose the malady as he could not see inside the human body. Fourteen years later Roentgen discovered x rays. Many medical imaging modalities made rapid strides. But for many obese patients, the physician has to depend on observation. He may have to operate to identify the problem. Physics of imaging does not offer any solution till now.
— Dr K.S. Parthasarathy is a former Secretary, Atomic Energy Regulatory
Board, Mumbai