Green Space
Place the plants near a window
Joyshri Lobo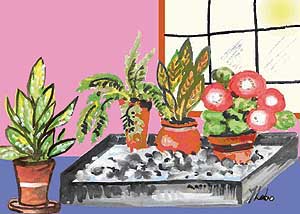 The happy season is here. Unusual flowers are in riotous and colorful display.
The Rose and Japanese gardens invite picnickers and honeymooners. The Bougainvillea Park and Leisure Valley boast of joggers and walkers who are purposeful, recognizable but unapproachable.
The scent of flowers is all pervading. Private gardens reach peaks of perfection and are the envy of neighbours.
Winter is the best time to get these colourful flowers home in the apartment. When it is freezing and cold in the Northern plains, your flowering pots are going to love the warmth of the apartment. However, never forget the humidity factor.
Feed your plants from the ornamental compost pot; remember the index finger rule while watering; use the mist sprayer and loosen the soil with that fork.
The following chart may help you decide the ideal spots to place your pots. You will notice that flowering plants require the maximum light.
Very sunny window: Agapanthus, Bougainvillea, Celosia, Citrus, Hibiscus, Iris, Jasmine, Lantana, Oxalis, Passiflora, Rose, Hydrangea, Zebra plants, Palms, Cacti and Succulents. The last two need minimal watering - once in two or three weeks. Palms too should not be over watered.
Some sunlight in an east or west facing window: Ornamental chillies, Chlorophytum, Chrysanthemums, Cordyline, Ficus, Plumbago, Poinsettia, Tradescantia , Norfolk Pine and zebra plants. Keep watching Chrysanthemums for aphids and Poinsettias for mealy bugs. Turn the pots once a day to get even light.
Bright but sunless window: Anthurium, Asparagus, Azelea, Begonia, Bromeliad, Chlorophytum, Coleus, Columnea, Cyclamen, Fuchsia, garden bulbs, Hedera, Impatiens, Monstera, Peperomia, Philodendron, Pilea, Violets and Spathiphyllum.
Semi-shaded window: Aspidistra, Dracaena, Fatshedera, Ferns, Creeping Fig, Ivy, Philodendron and Tolmiea. Remember that all vines like Ivy, Philodendron, Monstera and Creeping Fig require moss sticks to climb on. These can be bought and have to be kept moist.
Full shade but with enough light to read a printed page: Aglaonema, Aspidistra, Asplenium, Fittonia and Philodendron.
All these plants have common names too which will be more familiar to you. If you go to a good nursery, ask for their lay identification. Choose the most robust plants which are absolutely disease free. Don't forget to maintain the watering, weeding and feeding chart.