THIS ABOVE ALL
Treat for book lovers


Khushwant Singh
I keep a record of the books I read. On an average I read between 30 to 40 every year. Some I review for The Outlook, others I mention in the two syndicated columns I write for papers every week. This year, I have already read 39 and still have a few days to go and may add a couple more to my list. They cover different topics: pure (or impure) fiction, fiction mixed with facts, politics, biographies, religion, mysticism and pornography.
Two I rate as first class are facts-cum-fiction : Diddi : My Mother's Voice by Ira Pande (Viking-Penguin) is a combination of the Hindi writer Shivani's life with a selection of her short stories based on profiles of the men and women who came into her life at different times. Likewise Mira & the Mahatma by Sudhir Kakkar (Viking-Penguin) is an account of the relationship between Mahatma Gandhi and his chief English disciple Madeline Salade, daughter of an admiral who took on the name Miraben and the goings on in the Sabarmati ashram. It was published last year; I read it this year.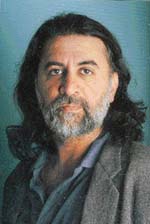 Tarun Tejpal has an eye for detail
For pure fiction, I can recommend Tarun Tejpal's Alchemy of Desire (Harper Collins) and The Red Carpet by Lavanya Sankaran (Review). Tejpal's main characters are a highly sexed couple who perform acrobatics like randy mountain goats on plains and hills. Other characters equably high on libido, homo and hetro, go in and out of his story. He has an eye for detail, knows his flora and fauna and can be very amusing when reproducing dialogue as he does between two Sikh truck drivers on their first visit to Delhi. Lavanya Sankaran is a new name in Indo-Anglican writing which will be heard in years to come. The Red Carpet is a collection of stories and profiles of men and women based in Bangalore and mostly employed in high-tech businesses earning handsome salaries. She is a gifted writer who wields a light pen.
However, much the greatest event in fictional writing about India was Salman Rushdie's Shalimar The Clown (Jonathan Cape). Like most of his earlier fictions, his latest is unbelievable. Untrue yet unputdownable.
There was a spate of books on Jinnah, the Partition and Pakistan, largely triggered by L.K. Advani's about turn describing the Qaid-e-Azam as truly secular person. It brought about his political downfall and discredit to the BJP, but revived interest of publishers. Of the many I waded through, I recommend Radha Kumar's Making Peace with Pakistan (Viking Penguin). She is objective in her analysis, optimistic about our relations with Pakistan and writes lucid prose. One biography which all Indians should read is the life and achievements of Varghese Kurien written by Gouri Salvi: I Too had a dream (Roli).
Besides these books, I also read M.J. Akbar's yet unfinished manuscript Victoria Jute Mills, renamed Blood Brothers. It is his family history from his grandfather who left Bihar as a Rajput Hindu boy in his teens, settled in Bengal, converted to Islam and made his fortune. From what I have read (his last chapter remains to be written) it has the makings of a bestseller for 2006.
Ghalib obsession
In the last three years' time I got to know him, he rang me up everyday from Chandigarh to enquire about my health. There was no call after November 10. I wondered why he had lost interest in my well-being. A note from his niece solved the mystery of his sudden silence. He had died that morning. He was an old man and yet a lot younger than me. And in better health than I am. This was Arjan Singh who had been Chairman of Coal India based in Asansol. On retirement, he made Chandigarh his home.
Our acquaintance began with a note written by him in calligraphic-perfect Urdu about his interest in poetry, particularly that of Mirza Asadullah Khan Ghalib. I was at the time struggling to translate some of Ghalib's couplets into English: he is as obscure as he is brilliant. So the correspondence began. His letters starting with a few paragraphs went on steadily increasing in length, till they became 50 pages each: nothing about himself or affairs of the world, only about Ghalib. My replies remained a few lines on a 10-paise post-card.
We met a few times: first when he dropped in to see me in Delhi on his way from Asansol to Chandigarh. He looked like a sardar in his late seventies or early eighties. Small snow-white beard, white turban and a slight hunch. He had a soft, gentle voice which often became a mumble, hard to follow. I marvelled at his dedication. He told me he would have his thesis on Ghalib published in English, Urdu and Hindi, no matter what it costs him.
Two encounters last year remain etched in my mind. He drove up to Kasauli with a friend to have afternoon tea with me. I invited a young couple interested in poetry to join us. No sooner the tea was over, that Arjan Singh began reciting Ghalib's poems he knew by heart. He went on for over an hour: no one got a chance to interrupt. He paused for a while and asked me if he could rest for half an hour before resuming his recitation. My patience was at an end. "No, Arjan Singh Ji," I said firmly, "I've had enough to last me a year. Now you must leave and let me get on with my work." He looked hurt but quietly hobbled back at his car to return to Chandigarh. I thought he would never speak to me again. I was wrong. He resumed his daily calls to enquire after my health. He asked me when he could come up to Kasauli again. "Next summer," I replied, "I am returning to Delhi in three days." I made the mistake of telling him I would be taking the evening Shatabdi from Chandigarh.
As is my habit, I got to Chandigarh railway station an hour before time. I entered a crowded waiting room. Sardar Arjan Singh was waiting for me with a bundle of papers in his lap. He resumed talking about Ghalib. Then said, I am travelling with you to Delhi so that I can finish what I have to. I lost my cool. "Arjan Singh Ji, you are doing nothing of the sort. I want to relax, enjoy my drink and dinner. I've had enough of Ghalib." Without a word of farewell, he got up and walked out of the waiting room. This time I was sure it was the last time I would hear from him. I was wrong again. He resumed his daily calls enquiring about my welfare till the last day of his life. No doubt he knew by heart his hero's immortal lines when his heart stopped beating:
Rau mein hai rakht-e-umar
Kahaan deykhiye thamein
Na baagh hai haath mein
Na paa raqaab mein
(Life travels at a galloping pace
Where it will stop, we do not know,
We hold not its reins in our hands
Nor have our feet in the stirrups.)
I wonder what will happen to the reams of passages he had written on his singular passion for the poetry of Mirza Asadullah Khan Ghalib.
Life's like that
My father was serving on the Fort, Allahabad, the year my sister was born. Maids were interviewed, and finally, mother settled for the illiterate, eccentric widow Ramvati as she was good with the baby. Ramvati could not memorise my father's surname, Bahuguna, so mother picked up a large cooking vessel and advised her to tell the sentry at the gate that she was an employee of Major BHAGONA.
Next morning, Ramvati failed to show up. As father was leaving the Fort premises on some official work, he heard a series of hysterical shouts from Ramvati at the Fort gate, complaining that the sentry on duty wouldn't let her in. When father yelled at the sentry, the baffled chap replied, "But sir: she's been insisting that she's an employee of Major PATEELA".
(Contributed by Smita Agarwal, Allahabad)