Voicing women's concerns
Ambika Sharma
Sexuality, Gender and Rights
eds Geetanjali Mishra and Radhika Chandiramani. Sage Publications. Pages 313. Rs 350.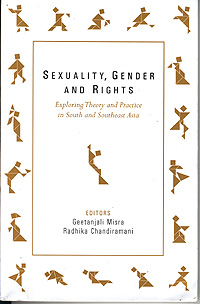 THE human rights of women have been a topic of debate the world over. The right to make choices about sexuality, control over such rights and related issues are voiced regularly at international forums.
The book throws light on some attempts made to recognise these rights and ensure their acceptance in society.
The book has 15 chapters by experienced writers who have dealt with the lesser-talked-about topic of gender difference, sexuality and rights in various South Asian countries, including Sri Lanka, Pakistan, Indonesia, Malaysia, China, Thailand and the Philippines.
The writers comprise social activists having immense experience in women-related issues, including reproductive health, rights and sexuality. Geetanjali Mishra is the Founder and Executive Director of a Delhi-based NGO, Creating Resources for Empowerment in action. Radhika is the director of an NGO, TARSHI, which educate the masses about sexual and reproductive choices.
With taboo being an inherent feature of different societies across the globe, the task of creating awareness about issues related to sexual behaviour, reproductive choices and more significantly sexual choices is an arduous task.
It is a global belief that those confirming to the permissible sexual behaviour are welcomed in society, while those trying to transgress are often marginalised.
Shonini Ghosh brings out an apt presentation about the manner in which violence and sex is depicted in the media in India.
She dwells on the lack of study done to access the issue of spectatorship and avers that the media influences, inflects and mediate. Lea Lastrilla Espallardo, a Philippine artist teacher, has endeavoured to portray the role of a Philippines Educational Theatre Association as an empowerment tool to sensitise women-related issues that find little vent in the conservative society.
Shilpa Phadke, a sociologist working on gender issues, avers that while a middle-class woman in India has to confirm to the new visions of desire and modernity she has to remain an icon of values. It is a women etched in tradition who finds more respect at home than a modern woman earning her livelihood by appearing in flashy advertisements.
While rights of the non-conformists have been an issue of debate, the problems of the same sex sexualities, including their gender bias, violence, education, etc. have been explored by Jaya Sharma and Dipika Nath. Khartini Slamah, an AIDS activist, has attempted to ameliorate the lot of "Mak Nyahs" (male transsexuals) in Malaysia.
With the concept of rights being totally amiss, they face the worst ever discrimination.
The rights of the same sex have also found significance in China where the homosexuals constitute 30 per cent of the HIV/AIDS cases. Various writers have highlighted the pioneering work done by various NGOs including SIS forum in Malaysia, YKF in Indonesia and Likhaan in Philippines.
These NGOs took up the cudgels against their respective Islamic or catholic religious groups to carve a niche for these lesser fortunate and marginalised sections of society.
Shazia Mohamed, a human rights activist, has flayed the moral guardianship in Pakistan blaming it for creating hurdles in addressing the issues of vital concerns related to sexual health and reproductive choices. She writes about a tireless struggle where she used religion as a tool to penetrate rigid doctrines of male dominance.
Various writers have also dealt with the issue of prostitution in India, their exploitation due to weak economic status and the abject lack of initiatives taken by the social workers to ameliorate their lot.