Tapping employees' potential: Drucker and beyond
Amy Joyce
Peter Drucker's philosophies enlightened managers and executives the world over for 60 years and still resonate with today's corporate crowd. But how relevant are his teachings in the face of increasing global competition and workplaces where head honchos and managers put profits before employee development?
WHEN Peter F. Drucker, the management guru whose work spanned the latter half of the20th century, passed away recently, it caused a few managers to think. Again. Drucker was renowned for urging corporate leaders to listen to employees and get out of the way so the workers could achieve company goals. He believed companies would be better if employees had more control over their environments.

Careercature
Sandeep Joshi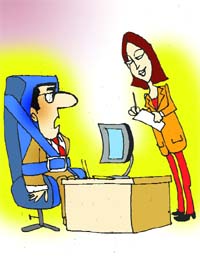 This belt keeps me stable in the face of office problems that can otherwise throw one out of gear.

Know thy interviewer and future boss
Mary Ellen Slayter
DO you work for a Wannabe, Suppressor, Pretender, Confounder, Dumbfounder, Propagator, Player, Bully, Manipulator, Cult Maker, Pilferer, Saboteur, or a Combination Type? Bad bosses are a fact of working life. No matter what career you choose, chances are you're going to have to deal with people who steal your ideas, criticise your work constantly, and flake out just when you need them most.


Right ways to write resume
Arvind Sharma
THE resume is visually enticing, a work of art. Simple clean structure. Very easy to read. Symmetrical. Balanced. Uncrowded. As much white space between sections of writing as possible; sections of writing that are no longer than six lines, and shorter if possible.


Get organised at work
I.M. Soni
YOUR chance to getting job and then going up the greasy ladder of success depends on mental efficiency. It means, you must be work-smart. You can be intellectually brilliant and yet the unaware of what is going on around you. The efficiency of others leaves you unimpressed and you are averse to your own success. What can you do to make yourself more alert mentally?


Smart Skills
Go for alternative medicine
Usha Albuquerque
WITH increasing concern for natural healing practices, traditional medicine appears to be gaining in popularity. India being home to a variety of traditional healing plants and practices has and can benefit greatly from the expanding use of natural and herbal medicines.


Trendmill
Jobs in aviation to touch a new high
THE aviation sector will need 2 million job seekers in the next five to seven years as there are big job opportunities in the sector, Union Minister of State for Civil Aviation Praful Patel said recently. "There are now big job opportunities in various sectors, including aviation, but how surprising it is that there is no good pilot or aero-engineer today available in the country," Patel told students of Mayo College at Ajmer after a prize distribution ceremony.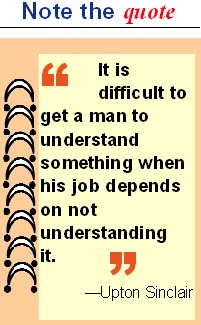 Workability
Building the first-time-right culture
T.P.S Walia
DOING things 'first time right" is not only a desirable thing for any company, but it has become a key factor for success in today's cut-throat competition, where the market forces will not give you a second chance to correct your mistake.


Bits & bytes
'Centre for excellence' in plastic processing training
THE Pondicherry Government- run Industrial Training Institute for Men at Mettupalayam, near Pondicherry, has been selected by the Union Government as a centre for excellence to impart training in the plastic processing sector, Health and Labour Minister E. Valsaraj said recently.


Career Hotline
Soar to new heights
Pervin Malhotra

Nurse big dreams

Not a beast-ly choice

Job experience

NRIs and foreigners

SAT study

Future in farming