Eat you cake & gift it too
Even though Christmas is still a few days away, desserts loaded with Yuletide spirit are selling like hot cakes, says Saurabh Malik after taking a round of the bakery shops in the city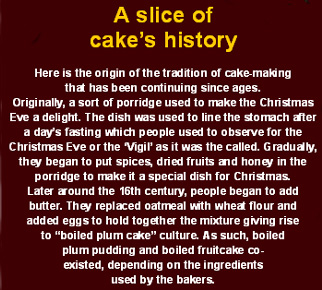 Little Santa is back. All sugar and cream, he is reposing on a reindeer stuck deep in a frosty field covered with snow clad Christmas trees. If you haven't seen him in his traditional red cloak with a box full of goodies, it is not too late. Just drive down to any bakery in the city and watch him beam on a Christmas cake.
Yes, guys, Christmas cakes with Santas, stars and so many other decorations, are already here.

Dazzling under the synthetic daylight on sparkling glass shelves in bakeries all over the city, they are coaxing you to push open the impressive doors to taste the Yuletide spirit.
The whiff is unmistakable. As your eager feet carry you inside the shops, fumes exhaled by rum sozzled raisins greet you. The trail mingles with the aroma of freshly-baked cakes to give you the essence of Christmas, merrily. Wow! Isn't it?
Inhaling the fruitiness of the baked wonder, you realise buying them is not a cake walk. For, almost all the shops in the city are offering you something "unique" for that special Christmas evening. "In fact, there is so much to choose from. Guessing which cake to buy becomes a task in itself," says Rajni Nehra, a housewife staying in Sector 48.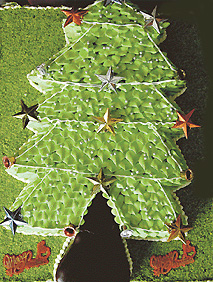 Don't be so confused. You can take cakes cut in shapes of Santas and Christmas trees. Kandy's Pastry Parlour in Sector 32 is offering the stuff, along with other cakes baked with care and affection. "For some of the cakes rich in fermented dry fruits, you will have to pull out something like Rs 300. But it's worth it," says owner Jagdish Seth.
Or else, you can go in for cream cakes with decorations moulded out of chocolates. Placing them on the counter, Jagman of Sweet Nothings in Sector 8 says, "Some of the cakes are full of raisins soaked in rum two to three months in advance."
Go to Monica's in the same sector and find the shop full of chocolate walnut and so many other Christmas cakes all wrapped in sparkling packs. Giving way to temptation is not easy. Tarunum Shergill tried to resist, but found it hard to control the urge of taking home the cake. Pulling out crisp currency notes from her wallet on Sunday evening, the young IT professional working in a call center ordered three cakes full of liquor, currents and nuts. All to be delivered at a later date.

Putting up in a palatial house in a posh northern sector, she plans to throw a gala bash on the Christmas eve. "The Santa cake is going to a major attraction," she asserts with a broad smile playing on her happy lips. Her school teacher friend Nethra Roa, and so many other residents, have also placed orders for plum cakes loaded with raisins and festive spirit.
No wonder, Christmas desserts are selling like hot cakes. "Christmas is over 10 days away, but we have already started received orders for the cakes," says Seth. So, guys, what are you waiting for. Order you cake, now.