AUDIO SCAN
In step with singing
G (T-Series)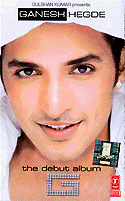 Ganesh Hegde has made a name for himself as a choreographer in films like Khushi and Dum. He is also blessed with a tuneful voice. So, he has gone ahead and cut his debut album. These days the success of an album depends on how its video does. Since Ganesh is a good dancer and has screen personality, he can be depended on to plug his songs extensively in stage shows. The remarkable part is that music too is by Ganesh.
The hottest property he has with him is the opening number, Main deewana, which really rocks. This is the song on which he seems to have worked the hardest. That is not all. This song also figures in a remix version. Interestingly, Ganesh has also roped in Asha Bhosle to share the mike with him in Kabhi kabhi, which too is a lovable track.
In another, Aa bhi jaa, he has with him Kailash Kher and Sonu Kakkar, who lend it a bit of classical flavour. His co-singer in Aa jaane jaan is Suzzane. The lyrics are by Manoj Santoshi and Vicky Sharma.
Salute To Bollywood: Blast Of The Past
(Nupur Audio)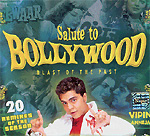 It is really frightening that so few good new songs are coming into the market. Things are so bad that most of the time even established music directors are remastering their old tunes. Lesser artistes are busy minting money through the remix route. A bit of synthesiser is all that is needed to re-do an old song. This CD sung by Vipin Anneja is different from a zillion others of the past in only one detail: it only has songs which are at least 20 years old. What is remarkable is that he does not even know that Arey yaar meri is not from Prem Pujari and credits it as such. One more difference is that it packs in as many as 20 songs, whereas normally CDs have only about half as many. But then someone who does not have to pay royalty can shove in more than average.
Among the oldest songs which have been refurbished are Uden jab jab zulfein teri from Naya Daur and Hawa mein udta jaye mera laal dupatta malmal ka. The first of these has a "dance mix" and a "sweet mix". So sweet!
In duets like Puchho na yaar from Zamane Ko Dikhana Hai and Sar pe topi laal from Tumsa Nahin Dekha, he has with him Sanjivni Bhelende and Shibani Kashyap. — ASC