Smashin' Sachin
The Master Blaster stands indefatigable as the worldís highest Test century maker.
Abhijit Chatterjee on the matchless strokes of the cricketing legend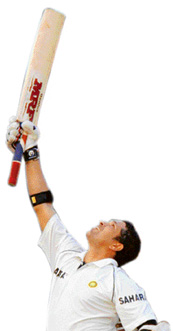 On December 10, as the sun was slowly dipping over the boundary wall of the Ferozeshah Kotla ground in Delhi, cricketing history was being created. After being stranded at 99 for seven deliveries, when Sachin Tendulkar turned the ball from Sri Lankaís Chaminda Vaas to the square leg area for a single, not only did the spectators at the stadium stand up to salute the greatest contemporary Indian cricketer but the entire nation came to a near standstill. The cricket-crazy country rose as one to salute his 35th century ó a feat for which the whole nation and the entire cricketing fraternity had waited for nearly one year.
Congratulatory messages flowed in from the President, the Prime Minister, UPA President Sonia Gandhi, senior functionaries of the cricket control board right to the common man but the most relieved man was probably the protagonist himself who has played competitive cricket for 16 long years. At 32, as he stands on top of the cricketing world, one is sure there is still a lot of cricket left in him, and more records to set which coming generations would find difficult to break.
It was exactly one year ago that Tendulkar equalled Sunil Gavaskarís record of 34 Test centuries, when he scored an unbeaten 248 against minnows Bangladesh, and the year-long wait has been worth the while. Of course the elbow injury restricted Tendulkar's Test appearances to just six during this period in which he managed to get six half centuries.
And the nearest he came to the magical three-figure mark was at the PCA Stadium in Mohali earlier this year when playing against Pakistan he was out in the nervous nineties. That Tendulkar recovered from a career-threatening injury to return so magnificently to the cricketing arena is a tribute to the strides made by modern medicine and, more important, to the grim willpower of Tendulkar.
That the Master Blaster was destined to go places was apparent when as a 16-year-old he accompanied the Indian team to Pakistan in 1989 under the leadership of Krish Srikkanth. After seeing Sachin play there, pundits of the game were of the firm view that this youngster would go places and set the cricketing world on fire. And they were absolutely right, as 16 years later their surmise has not been wrong. (Pakistan always seems to be the happy hunting ground of young Indian cricketers. In 1979, another young Indian who answered to the name of Kapil Dev broke into the international arena during a tour of Pakistan. Kapil went on to break the then world record of the most Test wickets.)

Tendulkarís first century came within his first year in international cricket when he scored an unbeaten 119 against England at Manchester which saved the Test for India. The second came at Sydney against Australia, where his efforts nearly earned India a rare Test victory.
The home fans had to wait for some time before they could see his first home century, his fifth, which came at Chennai against England. After 35 centuries, 41 half centuries and over 10,000 runs in Test cricket, and 38 centuries and 13,642 runs in one-day internationals, there is little that Sachin has to conquer.

Truly Ton-dulkar
In 125 Test matches, he has scored the maximum seven centuries in 21 matches against Australia ó now said to be best cricketing nation in the world. He has scored another seven against Sri Lanka (15 matches), six against England (16 Tests), three each against New Zealand (16 matches), South Africa (16 matches), the West Indies (16 ties) and Zimbabwe (nine matches), two against Pakistan (13 Tests) and one against Bangladesh, 248 not out, which is his highest score in Test cricket.
Nineteen of his centuries have come abroad but more important is the fact that for nearly a decade he waged a single-handed struggle on behalf of his team. It is only now that India has batsmen of the calibre of skipper Rahul Dravid, V.V.S. Laxman, Sourav Ganguly or Virender Sehwag who can carry on from where Sachin leaves. One record which Tendulkar has been unable to get is a triple Test hundred but this has more to do with his temperament rather than his technique. But then to be fair to him, he is never willing to wait for bad deliveries to score runs but rather is willing to attack the opposition even when a bowler of the class of Shane Warne or Muttiah Muralitharan is operating.
Better than Gavaskar?
Now he stands alone on top of the cricketing summit. By scoring his 35th Test century at the Ferozeshah Kotla in Delhi ó incidentally, Gavaskar had scored his 29th century to equal Sir Don Bradmanís world record at the same venue ó Tendulkar has surpassed the Little Master Gavaskar in the game of Test centuries. But cricket historians will forever debate the question: who is the better cricketer: Gavaskar or Tendulkar?
Comparisons would, however, be unfair to both master batsmen. Each of them has played in a different era, different time. If in the days of Gavaskar cricket was still a game and played at a leisurely pace, now the game is not only a profession but also a passion and played in a frenzied pace. Every weakness of the batsmen is probed and analysed (not that either of the two had any apparent weakness). To take the comparison further, Gavaskar was an opener while Sachin is a middle-order batsman.
It must be said in favour of Gavaskar that when he started playing for India it was an era when Indian cricket had very little to boast about and the team mostly played Test matches to draw a match rather than to win. The mark that Gavaskar left on his first tour of the West Indies would be the envy of anybody. His exploits with the bat on his very first foreign tour made the cricketing world sit up and take notice of the youngster. It was the time when India went on to win their first series abroad (barring a previous win against New Zealand). And it must be remembered that in the era of Gavaskar, the batsman had poorer protective guards than those used today. And to top it all, pundits will tell you that the fast bowlers of Gavaskarís era (especially those from the West Indies) were probably more menacing than modern-day bowlers.
After playing 60 Tests, Gavaskar had scored 22 centuries while Sachin in comparison had scored 15. But in the next 20 Tests, the gap had narrowed down with Gavaskar taking his tally to 25 compared to Sachinís 24. Both scored their 28th century in their 88th match. Gavaskar did it against the West Indies at Georgetown (probably his most favourite cricketing venue) on the tour of 1982-83, just prior to the 1983 World Cup, while Tendulkar reached the same landmark against England at Ahmedabad in 2001-02.
Both got their 30th century in their 99th Test match and their 34th in their 119th Test match. While Gavaskar got his last century (his 34th) against Sri Lanka at Kanpur, Tendulkar got his 34th against Bangladesh (a country which did not enjoy Test status during the playing days of Gavaskar). Of course Gavaskar had also not played Test cricket against South Africa (because of apartheid) as also Zimbabwe. Gavaskar played a total of 125 Tests, while Tendulkar, even after playing in his 125th Test against Sri Lanka in Delhi, has much more cricket left in him.
Captainís call
In 1996, at the age of 23, Sachin Tendulkar became Indiaís youngest captain, barring of course the Nawab of Pataudi, who was elevated to the hot seat at 21 years due to the near-fatal injury sustained by the then Indian captain Nari Contractor during the tour of the West Indies in 1962.
Sachin took over the leadership of the team shortly after the 1996 World Cup from Mohammad Azharuddin when he led India against Australia in the Delhi Test for the Border-Gavaskar Trophy. Sachin held on to the job till the 1999 season and relinquished it after leading India for the last time against South Africa at Bangalore. Sourav Ganguly took over from Sachin and led India right till this year before Rahul Dravid took over.
During the period when Sachin led India, the team played a total of 25 Tests, winning four, losing nine and 12 matches ending in draw. On the personal front, Sachin played a total of 43 innings (three not out) during this period and scored 2054 runs at an average of 51.53. He notched up seven centuries and an equal number of half centuries when he led India. In contrast, in the remaining 100 Test matches that Sachin has played for the country, he has scored 8227 runs in 158 innings for an average of 58.76. As many as 28 of his centuries and 34 half centuries came in this period.
In the one-day format, Sachin led India in 73 matches during which the team won 23 matches and lost 43. There was no result in six matches, while one match ended in a tie. In the 70 matches that he batted in the one-dayers, he scored 2454 runs at an average of 37.75 with six centuries and 12 half centuries. In contrast, in the remaining 258 one-day matches he has played, he has averaged 45.63 while scoring 11,455 runs (32 centuries, 59 half centuries).
One reason why Sachinís average drops so dramatically while leading India could be the fact that other things occupy a captainís mind when he is in the hot seat. But there is no denying the fact that while playing, Sachinís mind is always thinking. This has been confirmed by coach Greg Chappell when he said
ó after the master batsmanís recent return to Test cricket after nursing a tennis elbow ó that a half-fit Sachin was still an asset to the team. ó A.C.

Who can break his record?
Vikramdeep Johal


Ricky Ponting (left) and Brian Lara can give Tendulkar a run for his tons

When Sunil Gavaskar retired in 1987 after scoring 34 Test centuries, not many people thought his record could be broken. His illustrious peers like Vivian Richards, Allan Border and Javed Miandad, who continued to play even after the Little Master left the scene, never came close to the magic figure. Sachin Tendulkar, on the other hand, has a couple of contemporaries who can give him a run for his tons. Brian Lara, with 31 hundreds, seems to have a good chance, provided he remains on song next year and Tendulkar hits a horribly lean patch (God forbid!). But even if he manages to surpass Tendulkar in the near future, he could himself be overtaken by the Indian maestro sooner than later. Moreover, age is not on Laraís side ó he is 36, about four years older than Tendulkar. The Master Blaster has it in him to score more hundreds and he is almost certain to outlast Lara in Test cricket. So, in the long run, Lara can only come second-best.
Matthew Hayden and Inzamam-ul-Haq have 24 centuries each in their kitty, but they, too, are no spring chickens. Hayden is 34, while Inzamam will turn 36 on March 3 next year. Both donít have many cricketing years left to catch up with Tendulkar, who was born on April 24, 1973.
Rahul Dravid, who will turn 33 on January 11 next year, has scored 20 hundreds so far. Even at his best, he is unlikely to go past his legendary counterpart.
The batsman who has age and form firmly on his side is Australian captain Ricky Ponting. He turns 31 on December 19 this year, and has hit 25 hundreds in 97 Tests. However, his task would become more and more difficult with each century Tendulkar scores from now on.
If Ponting fails to do it, we might have to wait very long for an out-of-this-world batsman to emerge and scale Mount Sachin (50 centuries?). Donít forget that Tendulkar was a nobody when Gavaskar set the 34-ton record. With cricket being a game of glorious uncertainties, history could repeat itself one day in the distant future. Letís hope we remain alive to see that day.