Flashes of Wonder magic
Gavin Martin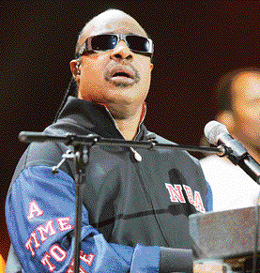 Stevie Wonder recently cut the album
'A Time For Love'

Steveland Morris was the boy genius who became Stevie Wonder. Black American music has had a long venerable tradition of performers born into poverty and blindness and, as a child, Wonder was quick to pick a role model. "When I was young and I heard Ray Charles was Black, I loved him; when I heard he was black and blind, I really loved him," he said. Being placed in an incubator and given too much oxygen just after he was born caused Wonder's blindness.

But, before his 10th birthday, he had mastered the piano, harmonica and drums and, by 1963, he was the hottest young star on Tamla Motown, the hottest young label in the states.
The Motown marketing department played on the Ray Charles connection, marketing Wonder as "the 12-year-old genius". But Wonder would become an increasingly autonomous talent within the label's conveyor-belt set-up. The decisive break came with the renegotiation of his contract in 1971, when he turned 21.

Pioneering the use of synthesisers to add warmth, colour and emotional richness to his music, Wonder's songwriting and production skills shone on a run of classic albums that included Where I'm Coming From, Music of my Mind, Fulfillingness' First Finale and Songs in the Key of Life. Wonder's mastery of orchestral arrangements, funk, rock and reggae idioms was truly awesome. His multi-faceted vocals were capable of capturing love's joy and heartbreak alongside formidably venomous blasts of social and political outrage such as You Haven't Done Nothin' and Living for the City. One of his many vocal signatures was the basis for Michael Jackson's future success.
Touring with the Rolling Stones, recording a (subsequently aborted) live album with Eric Clapton at the Rainbow in London and appearing in a one-off supergroup with Lennon, McCartney and Nilsson, Wonder's pre-eminence with White and Black listeners was all-encompassing. By 1975 his stature was such that when Paul Simon received the Best album Grammy he said, "I'd like to thank Stevie Wonder for not making an album this year."
The fall from which Wonder's career never quite recovered came when he followed up his acclaimed 1976 double masterpiece, the four-time Grammy winner, Songs in the Key of Life. Although it has been argued that The Secret Life of Plants — album's central theme (the life of plants as a key to human knowledge)— made it the most ambitious release of the 1970s, it was a commercial and critical failure. Dismissed as an exercise in self-indulgence by an artist who had lost the plot, the reaction to his most cherished project left Wonder shattered.
In many ways his career since has been an exercise in retreat and caution, delivering the occasional commercial sweetener ("I Just Called to Say I Love You") but unable to reignite the exploratory zeal and shock of newness that had gone before.
His latest album, A Time For Love, is hardly a return to his golden era, but it still has flashes of the old Wonder magic.